While there are six teams with at least 29 wins among the Class A SoDak 16 volleyball field, as last week's region action showed, records do not guarantee success at this time of the year.
Multiple 20-win squads did not make it past their first post-season match last week and a top-seeded team in its region also had its season come to a close.
The reward for one more victory on Tuesday is a trip to this year's state tournament Nov. 17-19 at the Premier Center in Sioux Falls.
Here is a look at each of the Class A matches involving area squads:

15 Groton (14-14) vs. 2 Miller (31-2), 5:30 p.m. at James Valley Christian
All of the signs point to Miller being the favorite this matchup. While the two teams did not meet during the regular season, they did play several common opponents which included six Miller victories over teams that Groton lost to.
The Rustlers have lost only nine sets all season are a poised to enter the state tourney as no worse than the second seed.
Don't sleep on Groton, though. Even though the Tigers are just .500, they gained a measure of revenge against two of the foes they lost to in rematches during regional competition last week.
12 Redfield (19-12) vs. 5 Sioux Falls Christian (29-5), 6 p.m. at Madison
This is what happens when an elite team faces a schedule of premier competition. Defending State A champion Sioux Falls Christian somehow ends up as a fifth seed after being the top-rated team all season.
The Chargers are certainly battle tested and will likely be favored against every opponent they face on the road to defending their title.
Redfield looked sharp in its regional semifinal contest. And speaking of playing a solid schedule, the Pheasants' last eight losses all came against squads that are still competing in either the Class A or Class B SoDak 16.
10 Mobridge-Pollock (26-6) vs. 7 Belle Fourche (31-6), 6 p.m. at Harding County
While most of the SoDak 16 matchups pit unfamiliar foes against each other, there is definitely some common ground between these two squads.
Not only have they played several of the same teams, they played each other early in the season with Mobridge-Pollock pulling out a hard-fought five-set victory.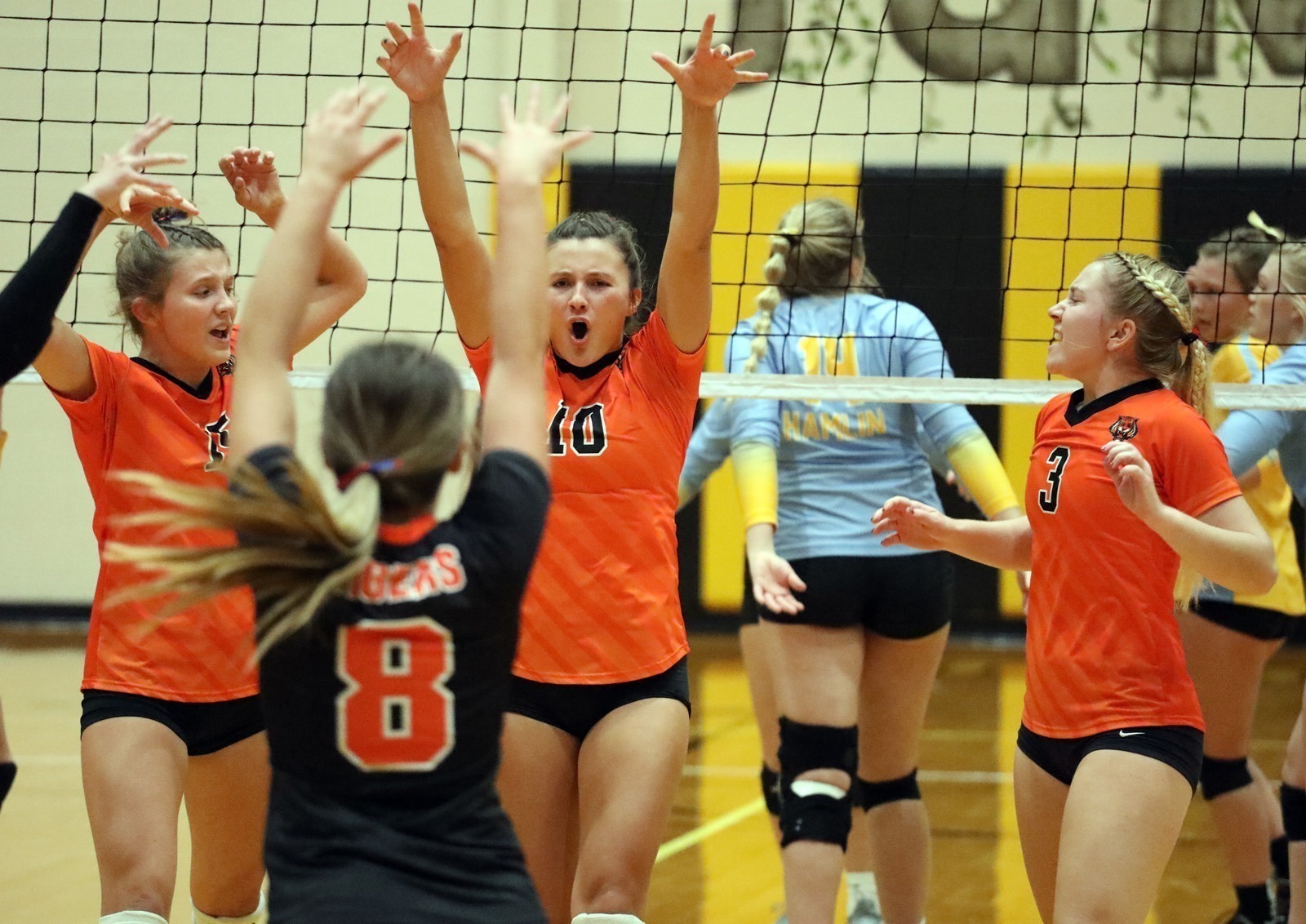 The Broncs have been tough under fire the last half of the season and have won 21 of their last 22 matches, including 14 in a row.
Mobridge-Pollock is highly motivated after losing in the SoDak 16 last season and the Tigers are just one win away from their first state tourney appearance since 2016.
9 Platte-Geddes (26-7) vs. 8 Hamlin (26-4), 7 p.m. at McCook Central
This is an intriguing matchup as most 8 vs. 9 contests usually are.
Both teams have solid volleyball traditions, and both competed in the state tournament last season (Platte-Geddes in Class B).
Platte-Geddes swept Hamlin in two sets during the Pentagon tournament earlier this year. That day resulted in three of Hamlin's four total losses on the season.
While the Black Panthers have suffered seven setbacks this fall, it should be noted that all but one came against teams that are still competing in either the Class A or Class B SoDak 16.
Expect this one to be a tight battle.