While the wind was howling and temperatures dipping outside, action was heating up during the opening day of the Aberdeen Swim Club's Annual High Point Meet at the Aberdeen Family Y on Saturday.
For some swimmers, it was a chance to improve times and compete against swimmers from other towns. For others, it served as a bit of a warm up for next weekend's 14 and Under Midwest All-Stars Swim Meet in DesMoines, Iowa, which features some of the top swimmers in the region.
The Sting Rays have multiple swimmers heading to that meet including Lula Karst. To qualify for the event, swimmers need to be ranked in the top five in a particular event. The 11-year-old Karst will be competing in the backstroke.
"I love backstroke," Karst said. "I love the motion."
Karst began swimming three years ago and enjoys being in the water, but especially likes being around her ASC teammates.
"I love cheering on my teammates," Karst said. "It's just a really fun sport. It's just amazing."
Other Aberdeen swimmers selected to compete at the all-star meet include Ashlee Bingenagel, Jackson Borchers, Jackson Isaak, Claire Malsam, Max Nelson and Pierson Schaeffer.
ONE FINAL HOME MEET
This weekend marks the final home competition for Jacob Angerhofer. The Aberdeen Swim Club member, who just turned 18 this past week, will be participating in sports in college, but it won't be swimming.
Angerhofer will run cross country at Northern State next season. Interestingly enough, he didn't even like running when he was growing up.
"When I was younger I used to love swimming so much, and it was like running was the worst thing ever," Angerhofer said. "I think the more that I ran cross country, the more I got to value the sport and see the great parts about it."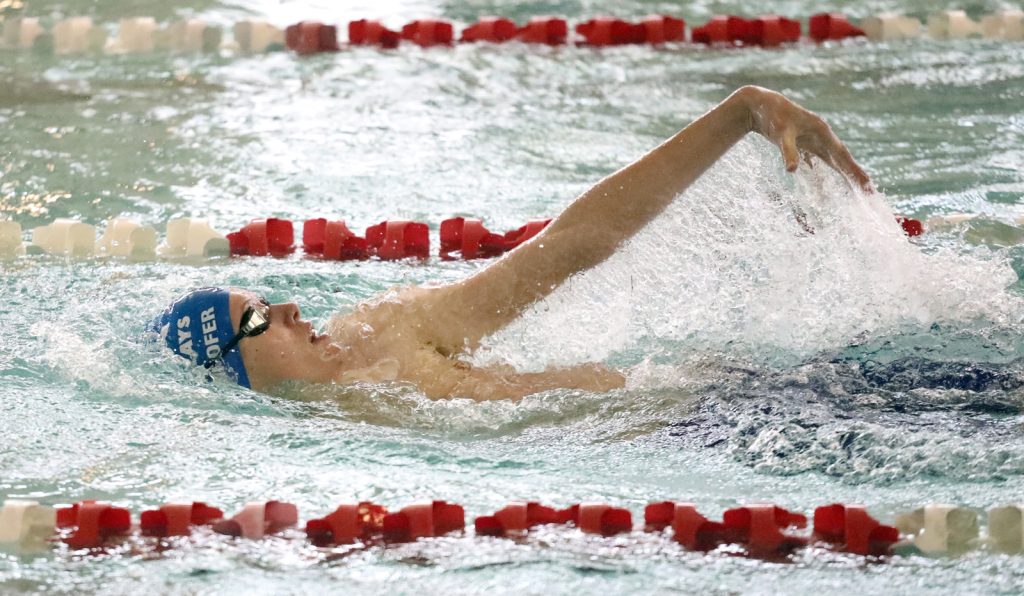 He was using his final home meet as another chance to enjoy being around his teammates.
"I think I'm a lot less stressed out this week compared to other meets, because I know that I'm not going to do swimming in college," Angerhofer said. "There's not a lot at stake really. It's just good to see my team, have a fun time, swim fast, see some teammates."
Angerhofer was easy to spot because of his flowing long hair, unlike most of the swimmers. He said a big key is that everybody wears swim caps.
"I realized that in cross country there's a lot of guys with long hair. Here it's not really a thing. Maybe it's just the runner in me. I don't know," said Angerhofer, who plans to keep his hair longer when he runs at NSU. "I think swim caps are the secret though. It makes everybody seem bald even though they might not be bald. In swim practice it is kind of annoying, because I don't wear a cap, so it's just like a mop in my face."
RECORD-SETTER
One individual got his weekend off a big start Saturday morning.
Mason Ward-Zeller of Pierre not only picked up multiple wins, he broke the state record in the 200-Meter Individual Medley.
"I've been working on my breaststroke a lot and I improved in that today,"he said of one of his victories. "That was fun."
The 14-year-old is part of a swimming family. His 17-year-old sister, Ella, also swims.
When asked if there was a bit of a sibling rivalry, he said "There's a little smack talk."
Ward-Zeller, who is also heading to the all-star meet in Iowa next week, said he prefers swimming indoors compared to outdoors.
"I like the indoor," he said, "because I'm pretty skinny, so I don't like the cold outside."
HOME POOL ADVANTAGE
The indoor swim meets take place at the Aberdeen Family Y, instead of Northern State where the Aberdeen Swim Club Sting Rays normally practice.
That's because the pool at the Y has eight lanes compared to six at the Barnett Center, plus there is additional seating.
"It's kind of a different environment. I kind of like the Barnett Center better," said Joseph Miller of the Sting Rays. "It's the one I'm most used to. It has kind of a more homey environment."
There is no doubt where the 13-year-old prefers to swim if he has a choice in the matter: the Aberdeen Aquatic Center.
"There's a lot going on," Miller said of the outdoor facility. "There's a lot of stuff to do."
Whether indoor or outdoor, as usual coaches and fans line the pool and shout "Go!" to various swimmers in the pool.
That makes for an interesting situation when your name is actually Joe.
"I can hear a lot of it. When people say 'Go', it sounds a lot to me like 'Joe,' since I only hear the 'O' part of it," Miller said. "That's kind of stressful sometimes."
Miller was preparing to swim in his toughest event on the weekend, the 500-meter individual medley.
"My main goal is just to survive that," he said. "That's the toughest one I'll be doing."
When asked what goes through his mind during such a long race, Miller responded, "Well, mostly I'm wondering how many more strokes until the wall."
BENEFITS OF SWIMMING
There are numerous multi-sport athletes competing in the swim meet, including twin sisters, Paige and Sarah Schmidt.
The 15-year-olds are standout runners on the Aberdeen Roncalli cross country and track and field squads.
"I'd say swimming is more intense," Sarah said comparing swimming to running. "There's a lot of more practices and also the practices are harder, because you use your whole body; running you only use your legs."
Paige said the sports compliment each other.
"I think swimming in general is very beneficial for all other sports, just because it uses almost all of your muscles," Paige said. "It's a great way to stay in shape and if you're in shape for one sport, it's going to help a lot with the other sports anyways."
Both girls said that they enjoy running more than swimming, but there is no denying their competitive spirit, especially when they are right beside each other racing in the pool.
"We're a lot of times right by each other, which is kind of weird," Sarah said, "but it's nice because then I can always see her."
The sibling rivalry is usually civil, but each does like to beat the other.
"We're normally pretty nice," Paige said, "but we are definitely pretty competitive with each other."
The meet wraps up today. To see complete first day results, click on the following link:
https://www.teamunify.com/sdasc/UserFiles/Image/QuickUpload/2022-asc-winter-meet-saturday-results_008823.pdf