The Golden Goose is making a comeback.
The long-time traveling trophy for Lake Region Conference boys' basketball is being resurrected after years of inactivity.
The trophy has resided in Warner for many years and recently became the topic of discussion as to it's history and significance. Monarchs coach Derek Hoellein asked fellow LRC coaches what they thought of bringing the trophy back and they supported the idea.
"Every team I think should have the goal of winning a conference title. Every year I think that should be everybody's goal," Hoellein said, "but I think this is obviously going to bring a little juice, whether it's that night, or following it. Where's the goose? Keeping track of the trophy. I think it's a cool thing."
It's hard to say exactly how long the Golden Goose has been in existence, but it can be traced back as far as the late 1960s. Former Langford standout Kevin Carson, who played from 1967-1971, recalled the games featuring the trophy.
"I remember at the time, whoever had it was required to bring it to that gymnasium," Carson said, "and it set right in the middle of the scorer's table, and whoever won the game got to take it home until they got beat."
There was a time when the trophy took a break from the action. It resided in Warner until the late Chuck Welke decided to put it back into action when he started coaching the Monarchs in 1976.
"He says we should start taking that around again, getting a little more emphasis to win the game," said Gene Smith, who drove the bus for the Warner team. " So he started bringing it on the bus with him and I would carry it around."
It's safe to say that Smith probably touched the Golden Goose way more than anybody else through the years, taking it from gym to gym.
"My fingerprints are probably still on it," Smith said.
However, during one of those many road trips, the trophy got damaged.
"I was either bringing it on the bus or taking it off the bus and I hit one of the wings," Smith said.
The trophy was repaired, and eventually received a whole new goose figure.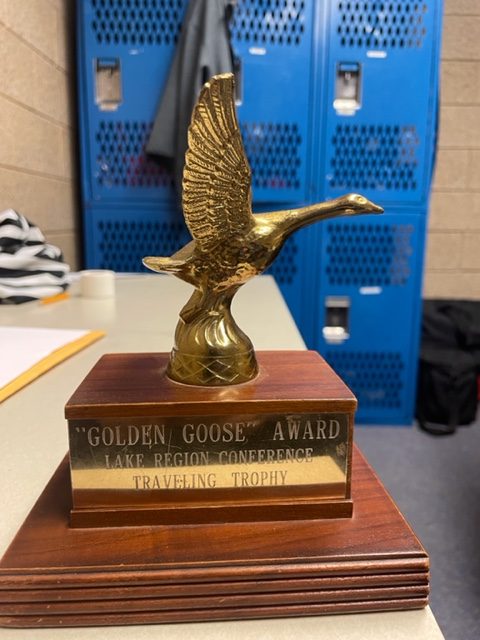 It came to rest in Warner, where it sat in relative obscurity for years, and nearly got thrown away at one point.
The history and importance of the trophy was passed along from Welke to then Warner girls' basketball coach Stew Bohle.
"Honestly, once I found out what it was all about, it sat in a trophy case all by itself," Bohle said, "because it felt like it was so nostalgic."
For that reason alone, the return of the Golden Goose may initially have a bit more meaning for the parents sitting in the stands than the players who will be fighting for the right to claim it.
"I think it adds a little something to each game," said Leola-Frederick boys' basketball coach and LRC boys' representative Brock Paschen. "I feel the parents will enjoy it more for nostalgia. It will be just be something that continues on."
Carson, who still attends games on occasion, had no idea where the trophy even was, but said he would probably still recognize it.
"I think I would," Carson said. "I haven't seen it for probably 45 plus years."
For sure, the Golden Goose has endured decades of use and could probably tell its fair share of stories.
"It's quite a piece in the LRC," Bohle said. "It's outlasted a lot of coaches, that's for sure."
Fittingly the trophy will make its triumphal return to the spotlight in Ipswich on Jan. 5 in a game that will pit its current owner Warner against a team coached by Bohle who now has a deep appreciation for the marker.
Bohle said it will be an emotional moment for him.
"I'll think about Chuck," Bohle said. "That will be probably be the thing – that when I see it sitting up on the scorer's table – that I'll probably think of. He was such a mentor to me."
Coaches are hoping that the trophy will instill a little more excitement to the games like it used to.
"It was a great motivator back in high school," Carson said. "That was a big deal."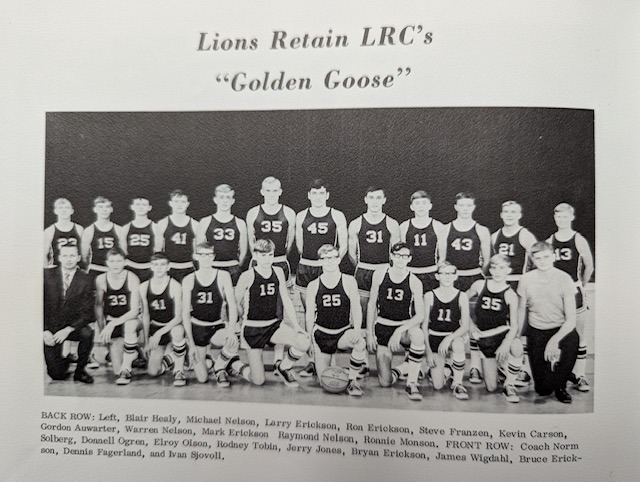 Hoellein believes that fans will enjoy not only cheering for their team to obtain or keep the trophy, but also tracking just where the Golden Goose is residing.
"It can move," Hoellein said of when and where the trophy will make an appearance at a game. "You just never know when it's going to be there. That's why I think it's going to be a fun deal, to chase it a little bit."
As fans begin to reconnect with the trophy, there will likely be an extra buzz generated around the Golden Goose games, whenever and wherever they may be.
"With all the TV remakes, people are trying to bring back the 90s and all that," Paschen said. "Any time you can incorporate school pride and school history, that's a cool thing, I think."
Traveling trophies are nothing new these days, especially in college football like the trophy in the annual Dakota Marker game between North Dakota State and South Dakota State.
Carson said the Lake Region Conference coaches of the 1960s may have been ahead of their time in coming up with the traveling trophy concept.
"It's kind of like maybe we started some of that stuff," Carson said, "because the Dakota Marker hasn't been around that long."
Like anything of true value, the Golden Goose has stood the test of time and is now ready to bring motivation and enjoyment to a whole new generation of LRC players.
"That darn thing means a lot," Bohle said.