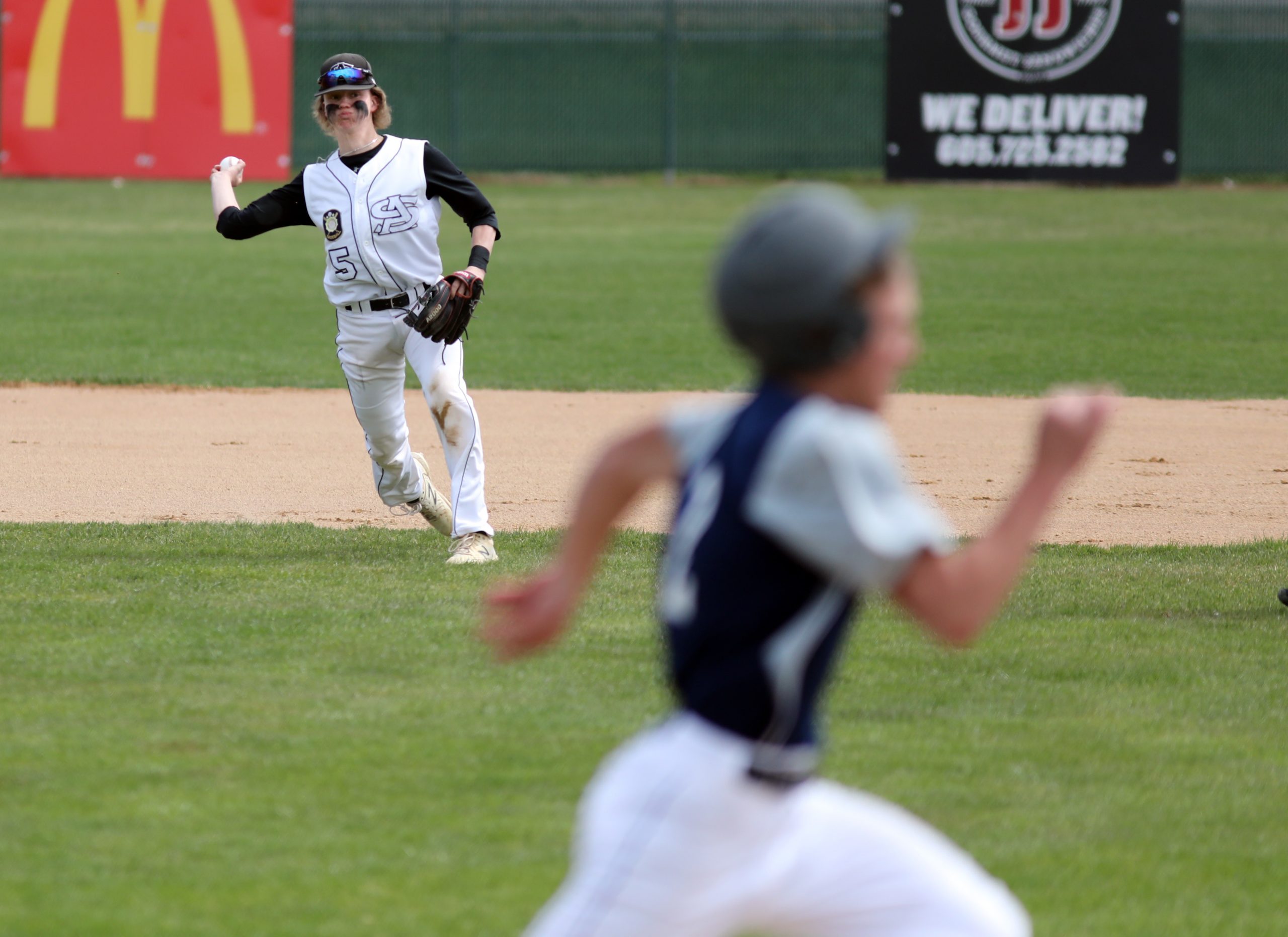 SPEARFISH – The Aberdeen Smittys dropped a pair of late-inning contests, before setting the tone and dominating their final game of the weekend on Sunday in American Legion baseball action.
The local squad fell to Rapid City Post 22 7-6 on Saturday, and could not hold on to a 9-1 lead losing to Spearfish 10-9. The Smittys then scored early and often in a 14-3 win over Spearfish to cap the action.
Connor Kannas had a pair of singles and drove in three runs in a five-run first inning of the victory over Spearfish. Nick Clemens finished with three hits, while Brian Holmstrom, Tyler Hoffman and Aiden McCafferty also had two hits as the Smittys collected 14 hits in all. Eian Risager drove in three. Hoffman scored three times.
Aberdeen was rolling along in the first game against Spearfish before the hosts plated nine runs in the last four innings, including two in the bottom of the seventh for the walkoff win.

Holmstrom had three hits in that game, while Matt Feiock, Nick Clemens and Risager each drove in a pair.
Aberdeen trailed Rapid City Post 22, before exploding for five runs in the top of the sixth to wipe out a 5-1 deficit and take a brief 6-5 lead. The Smittys received run-producing hits from Brock Martin, Austin Wagemann, Tyler Hoffman and Aiden McCafferty to highlight the comeback.
The Hard Hats then responded with a pair of runs in the bottom of the sixth to regain control.
Hoffman led the Smittys with a pair of hits and knocked in three.
The Smittys play at Groton on Wednesday.
Aberdeen Smittys 320 400 0 – 9 8 1
Spearfish 001 250 2 – 10 10 2
Brock Martin, Josh Steinwandt (5) and Matt Feiock; Sundstead, Keller (4), Feyereisen and Lyon. 2B – Aberdeen Smittys, McCafferty, Risage; Spearfish, Haught.
Aberdeen Smittys 511 232 – 14 14 2
Spearfish 000 120 – 3 7 2
Austin Wagemann, Max Prehn (5) and Brian Holmstrom ; Comer, Hartwig (4), Keller (5), Haught (6) and Scharf. 2B – Aberdeen Smittys, Tyler Hoffman; Spearfish, Sieber. 3B – Aberdeen Smittys, Nick Clemens, Aiden McCafferty.
Saturday's Game
Aberdeen Smittys 001 005 0 – 6 8 3
Rapid City Post 22 041 002 x – 7 9 1
Connor Kannas, Tyler Hoffman (3) and Brian Holmstrom; Miller, Dansby (3), Wetzler (6) and . 2B – Aberdeen Smittys, Matt Feiock, Brock Martin; Rapid City Post 22, Tillery. 3B – Rapid City Post 22, Dansby.