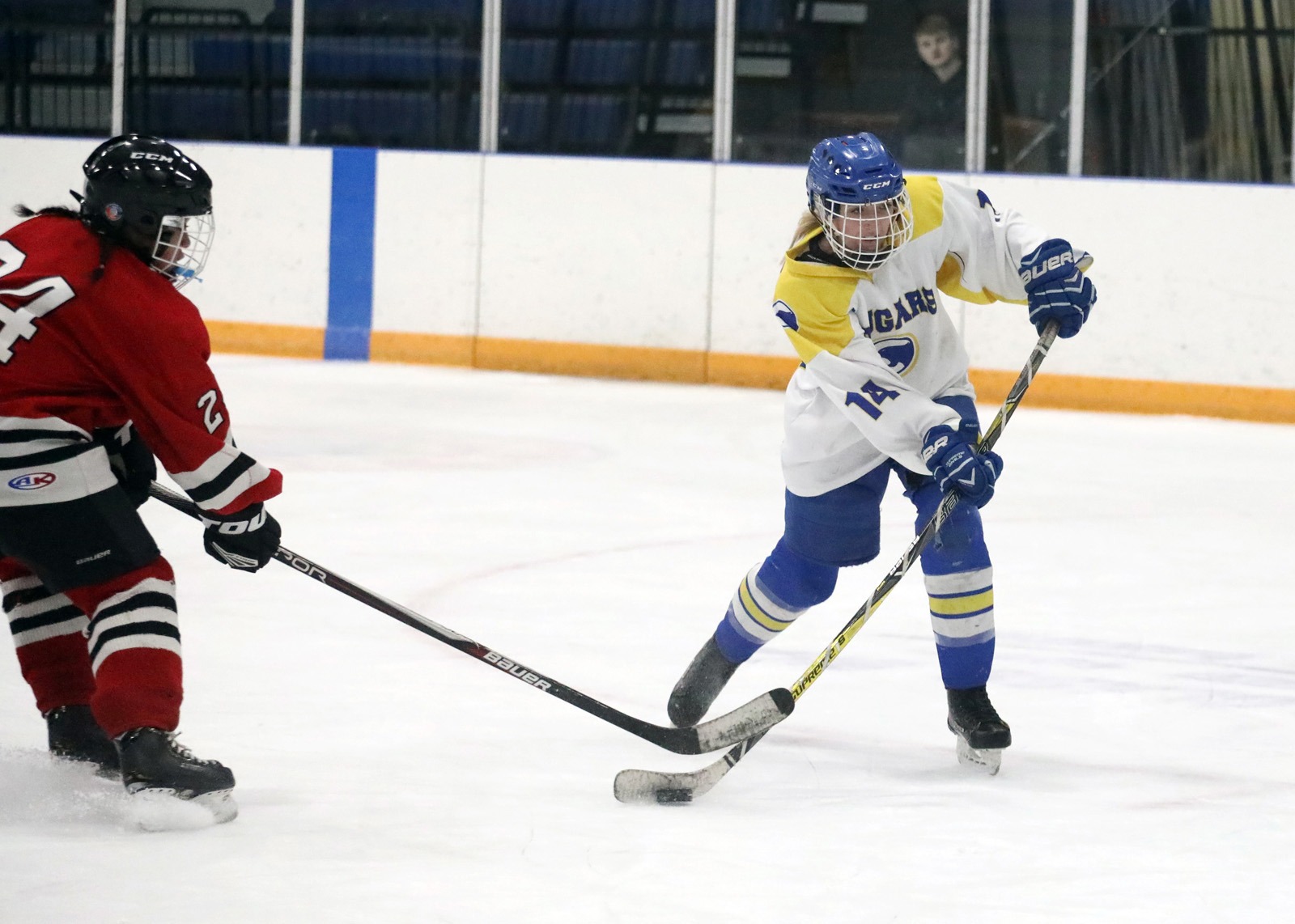 The Aberdeen Cougars girls' hockey team finished an unbeaten regular season schedule by rolling past the Brookings Rangers 9-2 Sunday at Odd Ice Center.
"Big win for the girls today," said Cougars Coach Shelby Edwards. "I think everyone knew when we showed up that although we won league champions with the win (Saturday) it was still important to win today to complete a perfect season and create momentum going into next weekend."
The hosts scored three times in each period on the way to the win.
Danielle Podoll had four goals and one assist. Podoll scored twice when the Cougars bolted out to a 3-0 first-period lead.
Morgan Dean also had a big game with two goals and five assists. Kaitlyn Holland finished with two goals and three assists.
Joclyn Orr scored the other goal for Aberdeen.
The contest was the final home game for a group of seniors who have left their mark on the program.
"We also had six girls that played their last game at home today," Edwards said. "We had a special moment towards the end of the game where I pulled the goalie to allow them to complete their regular season on the ice together."
Next up for the Cougars is the state tournament which starts Friday in Watertown. Aberdeen faces the Oahe Capitals at 7 p.m.
Brookings Rangers 0 1 1 – 2
Aberdeen Cougars 3 3 3 – 9
First Period: 1, Aberdeen Cougars, Kaitlyn Holland (Morgan Dean), 8:00; 2, Aberdeen Cougars, Danielle Podoll (Dean), 10:58; 3, Aberdeen Cougars, Podoll (Holland), 13:21.
Second Period: 4, Aberdeen Cougars, Podoll (Dean), :16; 5, Aberdeen Cougars, Dean (Holland), 5:28; 6, Aberdeen Cougars, Holland (Podoll), 6:28; 7, Brookings Rangers, Kiran Vugteveen (unassisted), 11:34.
Third Period: 8, Brookings Rangers, Mckenna Geraets (Savannah Barber and Vugteveen), :26; 9, Aberdeen Cougars, Joclyn Orr (Dean), 2:18; 10, Aberdeen Cougars, Dean (Holland), 13:17; 11, Aberdeen Cougars, Podoll (Dean), 15:37.
Goalies: Brookings Rangers, Jadyn Runge (40 shots, 31 saves); Aberdeen Cougars, Ava Myhre (12 shots, 10 saves).