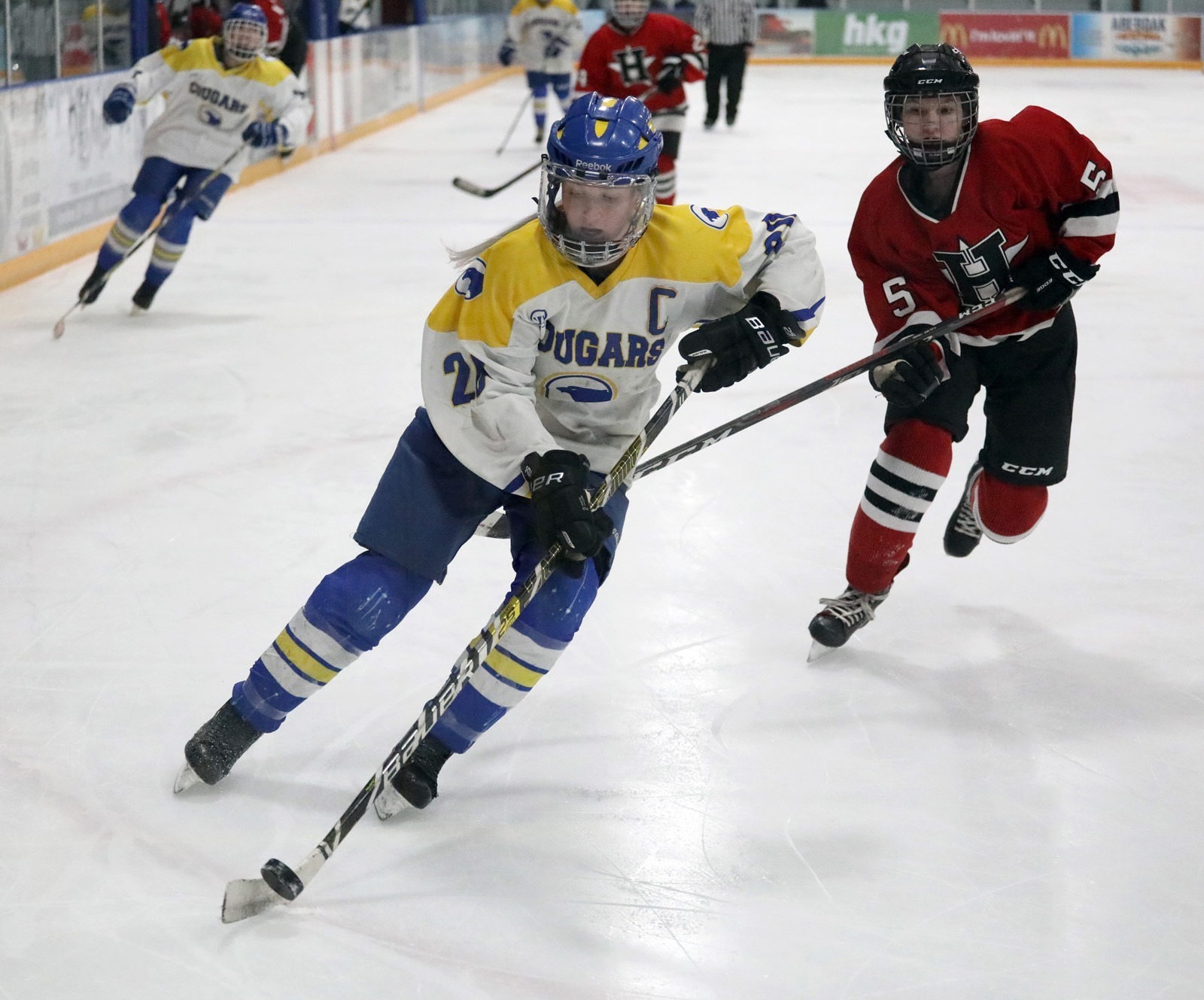 Her numbers are so staggering, they almost defy logic.
Kaitlyn Holland has been a leader on one of the most dominant high school squads of the past decade. The senior for the Aberdeen Cougars routinely scores multiple goals in a game, a rare accomplishment in hockey at any level.
She also has a trait that sets the greats ones apart: she makes those around her better.
"She's not a one-man show, skating down the ice, scoring all those goals. She sets her linemates up," said Cougars Coach Shelby Edwards. "It's someone for younger girls to look up to, not only how she performs on the ice, but what kind of person she is, too."

To be sure, Holland is a special talent who sometimes surprises herself.
"Sometimes it's kind of crazy. It's like how did I just do all that?" Holland said, before quickly adding, "I have amazing teammates and I have a great line that helps."
Holland has produced a whopping 488 points during her career, not including out of league tournaments. While she does have a large amount of goals, she has a lot of assists as well.
"I've coached her for a long time and I think the best part of Kaitlyn's game is that she is very successful, but she's not selfish in her success," Edwards said. "She does have a lot of points. She scores a lot of goals, but she also has a lot of assists."
Holland has been a part of the Cougars since fifth grade. Yes, fifth grade.
"I probably was a little nervous," Holland said of her initial appearance with the squad, "but I knew most of the people so it wasn't that scary."
Soon, Holland found herself playing alongside her sister, Hailey, and eventually became a cornerstone on a team that has won six of the last seven state championships. She is one of six seniors on the team this season.
"We've all been playing since we were pretty young. We've been bonding for a long time," Holland said.
That bond and chemistry have played a key role in the squad's success through the years.
"I feel like it's a lot to do with how close we are together. We know how to talk to each other," Holland said. "With my line we all kind of know where we're at on the ice. It's easier to connect passes and move down the ice together."
Holland remembers the days when others served as a role model for her. Now, she has become a leader that others look up to. Edwards says Holland and the other five seniors (Morgan Dean, Estelle Harrison, Justice Small, Danielle Podoll and Shelby Nash) set the tone.
"They're very disciplined. They're not out messing around, getting in trouble," Edwards said. "They show up and work hard and they know that's what the expectation is."
Holland is at the forefront of that group.
"She's our head captain this year," Edwards said, "so for her to be able to show leadership in those ways just helps drive the whole team."
Holland will be competing in her last state tournament this weekend, but has plenty more hockey in front of her. She plans to be reunited with her sister and play at Gustavus Adolphus next year.
"My sister goes there, but I also wanted to play hockey so I thought Minnesota would be a nice state to go," Holland said. "I want to major in biology and they have a really nice science program so that helps me quite a bit."
Edwards said it should be interesting to have the two sisters on the ice together once again.
"I think she'll fit in just fine," Edwards said. "Obviously, it's a benefit for her and her family to have her play with her sister again. I think that will be really exciting to see."
In the meantime, Holland and her senior teammates will try to bring back one more state championship before their time comes to a close. It's been an era unlike most others in state hockey history and it all started with a grade-school girl, who with the help of her teammates, has left a lasting legacy.
"She's been on this team since fifth grade. It's not like she woke up one day and all of a sudden was a good hockey player. She's put in years and years of work," Edwards said. "Obviously with the support of her teammates around her she's had a very successful career."