A variety of players from area teams garnered spots on the Class 9AA all-state football team.
Hamlin had three players, Leola-Frederick two, and Ipswich one on the honor unit.
Trevor Heinz of Ipswich had a record-breaking season for the Tigers. The senior receiver had 60 receptions (school record) for 760 yards and 10 touchdowns. He also had a school record 15 catches in a single game. He returned a kick for touchdown, had 52.5 tackles and four interceptions.
"Trevor was a dynamic playmaker for us," said Ipswich coach Brian Hogie. "He had some of his biggest games against our toughest opponents."
Leola-Frederick was represented by Austin Mantei and Brayden Sumption on the all-state unit.
Mantei was selected as a linebacker. The senior had 51 tackles, one sack, and three fumble recoveries this past season for the Titans. He finished his career with 89 tackles and 3.5 tackles and four fumble recoveries.
"Austin led our team in tackles and was by far our most physically aggressive player," said Leola-Frederick coach Jeff Kosters.
Sumption did a little bit of everything for Leola-Frederick. Selected as a special teams player, Sumption averaged 23.8 yards per punt return, and 18 yards per kickoff return. He also averaged 36.8 yards per punt, rushed for 430 and 10 touchdowns, and threw for 547 yards and a pair of TDs.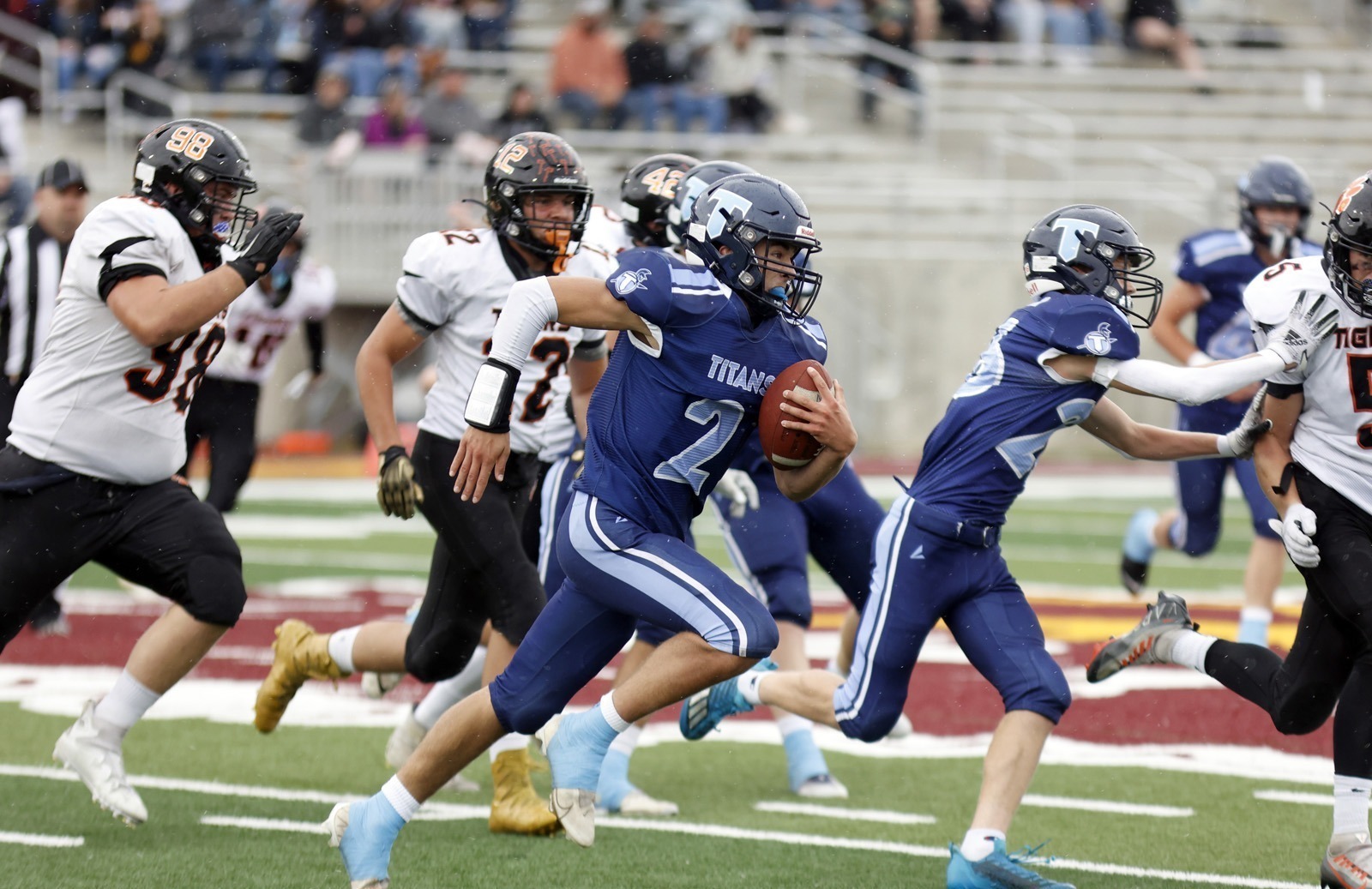 "Brayden is a very talented athlete. He is not a big or physical player, but is extremely elusive and almost impossible to bring down in the open field," Jeff Kosters said. "His athleticism and ability to make guys miss forced most teams not to kick or punt to him."
Hamlin's three all-state members include Evan Stormo at receiver, Jameson Nebel at linebacker, and Easton Neuendorf on special teams.
Stormo, a junior, found the end zone nine times. He had 27 receptions for 359 yards five touchdowns, and for 238 yards and four TDs. "Evan is a player who you can play anywhere and he will succeed. He is a very strong competitor," said Hamlin coach Jeff Sheehan. "He missed four games due to a broken thumb and played with his hand taped up, and still was successful as a receiver for us. He works super hard and will do everything he can to make his team better."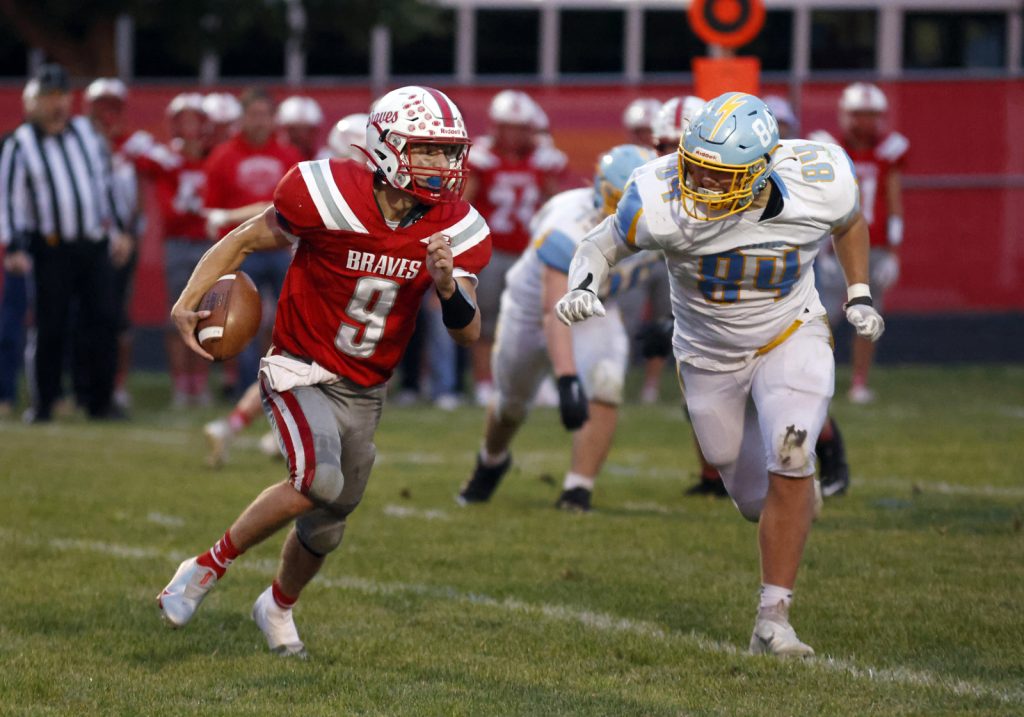 Nebel played a key role on Hamlin's offense from his lineman position. "He was a lineman that we ran behind most of the year. He was a player who worked to get position and beat the person across from him," Sheehan said. "We had 4,146 yards of offense on the season and all the yards start with the line."
The junior paved the way for the Chargers when they needed yards. "He is a player who can open holes and make it easy for the runners to run through," Sheehan said.
Neuendorf hurt opponents with his leg this past season. He had 62 kickoffs for 3,321 yards, 19 touchbacks, one on-side kick recovery, was 34 of 40 on extra points, and 2 for 2 on field goals with a long of 33 yards. "He is a weapon with his kicking game. He kicks the ball deep and allows the team to pin the opponent deep in their territory and have them drive a long way to try and score," Sheehan said. "He put in a lot of time to perfect extra points and field goal kicking."
Honorable mention selections include Tyson Stevenson and Zac VanMeeteren of Hamlin, Chet Peterson of Ipswich, and Daniel Person of Britton-Hecla.
Stevenson had a big year at quarterback leading the Chargers in both passing and rushing. He passed for 1,703 yards and 20 touchdowns, and rushed for 578 yards and 15 more TDs. "Tyson is a player who is super smart and plays the game at a high level. He competes every play and works hard to make his teammates better," Sheehan said. "He is a player who knows when to take chances down the field and when to check the ball down."
Stormo was a big target for the Chargers. The junior had 33 receptions for 567 yards and seven touchdowns, and also rushed for 33 yards. "He was a very strong blocker and knows how to use his leverage to his advantage," Sheehan said. "Zac is a dynamic player. He has great speed and plays very fast. He has great hands and can be a game changer."
Peterson was a key factor on both sides of the ball for Ipswich. He had 82 tackles on defense to with three sacks and five forced fumbles. On offense he had 26 catches for 380 yards and three touchdowns. "He was the heart and soul of our defense," Hogie said. "Chet had to help get everyone lined up. He did a great job of reading defenses and had a high motor."
Person was special on special teams for Britton-Hecla. Person had 13 kick returns for 197 yards, and two touchdowns. "Dan was a game changer in the kick return game this season. He was able to provide us with fantastic starting field position, and provide instant offense for us in the return game," said Braves coach Jacob Skogstad. "Teams started to not kick to him towards the end of the year, which caused his return opportunities to go down."
Brock Tuttle of Hanson was chosen as the Class 9AA All-American player.
Here is a look at all of the players on the Class 9AA all-state teams:
OFFENSE
Quarterbacks — Burk Blasius, Wall.
Fullback-HBack — Brock Tuttle, Hanson.
Running Backs — Jackson Remmers, Howard; Joey Foxley, Platte-Geddes; and Luke Bormann, Parkston.
Wide Receivers — Trevor Heinz, Ipswich; and Evan Stormo, Hamlin.
Tight End — Carson Griffith, Elkton-Lake Benton.
Linemen — Kade Grocutt, Howard; Will Jodozi, Parkston; Jack Ringling, Platte-Geddes; and Jameson Nebel, Hamlin.
DEFENSE
Linemen — Luke Koepsell, Howard; Blake Leiferman, Kimball-White Lake; Hayden Schroeder, Hanson; and Skyler Hanten, Platte-Geddes.
Linebackers — Brayden Jervik, Parkston; Austin Mantei, Leola-Frederick Area; Jackson Caba, Bon Homme; and Blake De Vries, Elkton-Lake Benton.
Defensive Backs — Taiden Hoyer, Howard; Iden Myers, Kimball-White Lake; and Broch Zeeb, Stanley County.
OTHERS
Athletes — Karsyn Feldhaus, Howard; and Maddux Brissette, Parkston.
Special Teams — Easton Neuendorf, Hamlin; and Brayden Sumption, Leola-Frederick Area.
HONORABLE MENTION — Tyson Stevenson and Zac VanMeeteren, Hamlin; Chet Peterson, Ipswich; Daniel Person, Britton-Hecla; Colton Brady, Stanley County; Rocky Ammann, Freeman-Marion/Freeman Academy; Weston Kayser, Hanson; Caden Oberbroekling and Kasen Konstanz, Platte-Geddes; Brodi Sundall, Wall; and Tanner Stein, Elkton-Lake Benton.
All-American — Brock Tuttle, Hanson.