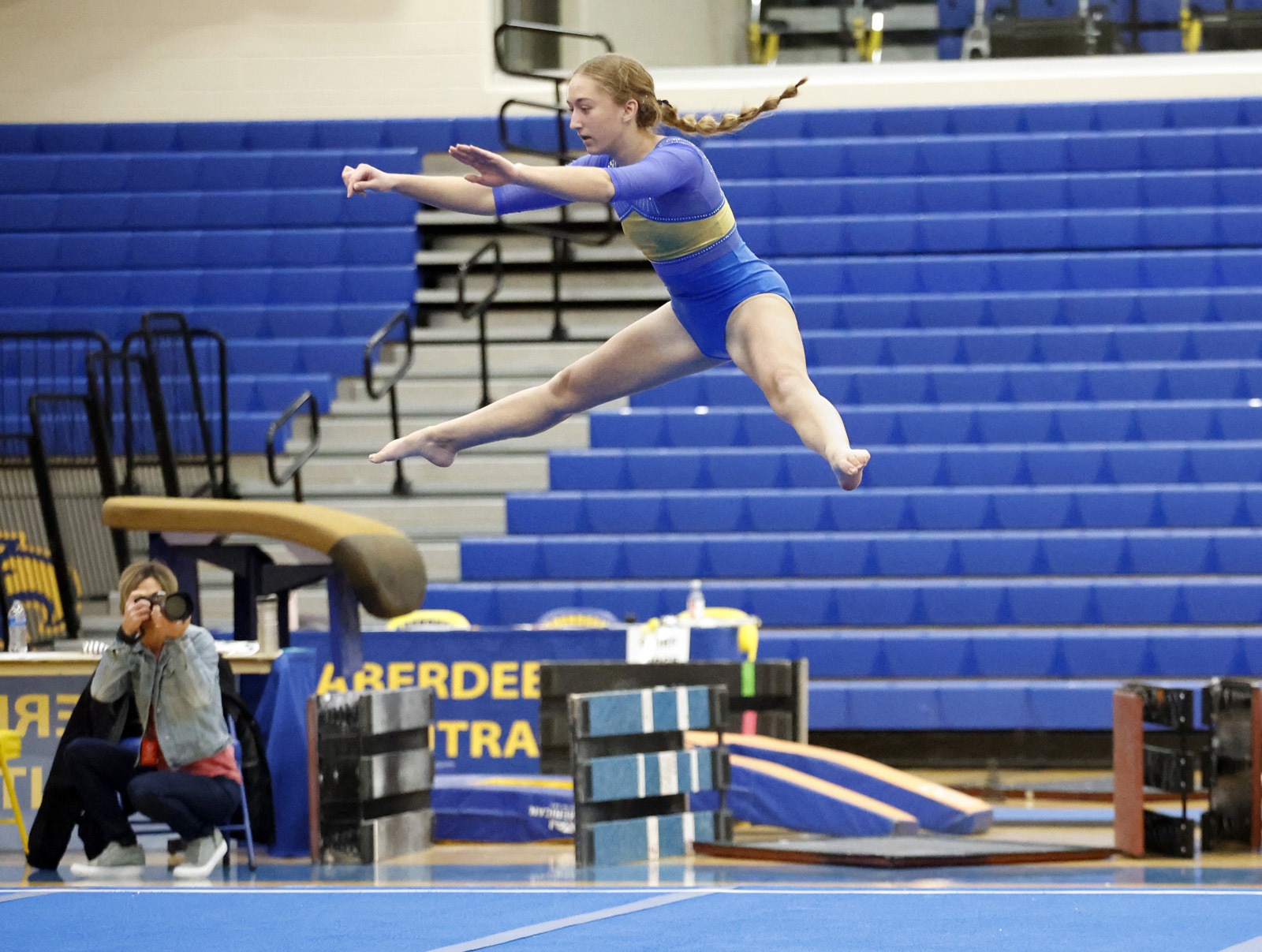 WATERTOWN – Despite not traveling with its regular rotation, the Aberdeen Central gymnastics program still considered its day at the Watertown Invitational a success on Saturday.
Central finished eighth in the team standings, competing without the services of senior and captain Masyn Schutter.
"We were excited to go and see some teams we haven't seen in a while," said Central coach Mickey Everson. "(Schutter) did not come due to a college audition, so we had a young team with us that was ready to step up."
Everson said the main goal of the day was to enjoy the day and deemed it a mission accomplished.

Addison Everson was Central's top all-around finisher with a 23rd place showing. Alexis Bomesberger was close behind in 25th.
"I'm proud of what (the girls) did, how they performed and their ability to step up into new roles with new challenges," Everson said. "Without putting pressure on them and knowing what they are capable of in a relaxed environment, I knew that things would fall into place. It was a great meet."
Team scores
1, Mitchell, 36.925; 2, Watertown, 34.550; 3, Brookings, 34.550; 4, Pierre, 34.175; 5, Britton-Hecla, 35.150; 6, Madison, 33.475; 7, Deuel, 33.975; 8, Aberdeen Central, 32.375; 9, Huron, 32.175; 10, Milbank Area, 31.275; 11, Sisseton, 24.225.
Aberdeen Central Individual Results
Vault: 29, Addison Everson, 8.25; 33, Regan Lust, 8.15; 36, Morgan Naaz, 8.075; T42, Amara Klipfel, 7.90.
Uneven Bars: 24, Izzy Loecker, 7.30; T35, Kaylee Naaz, 6.925; T35, Kalli Rawdon, 6.925; 37, Addison Everson, 6.75; 43, Alexis Bomesberger, 6.425.
Balance Beam: 25, Breckan Santjer, 7.70; T28, Regan Lust, 7.55; 35, Addison Everson, 7.15; 36, Alexis Bomesberger, 7.10; 40, Kaylee Naaz, 6.85.
Floor Exercise: T27, Alexis Bomesberger, 8.575; 31, Addison Everson, 8.50; T32, Kaylee Naaz, 8.45; T41, Regan Lust, 8.325.
All-Around: 23, Addison Everson, 30.65; 25, Alexis Bomesberger, 29.85.