The foursome of Peyton Groft, Madalyn Groft, Riley Grandpre and Sydney Schell haven't turned Madison, S.D. into Northwestern High School South. But it's close.
The four former Wildcat standouts have all been integral pieces of the Dakota State Trojan volleyball program, playing together for the past three seasons.
"It's been so much fun," said Peyton Groft, who wrapped up her career in November and her undergraduate education earlier this month. "These are people I've played with pretty much my entire life."
Peyton Groft was the trickle that started the flow of Wildcats into Madison. A 2018 graduate of Northwestern, she helped guide the Wildcats to back-to-back state titles to close out her career.
Grandpre followed, then Madalyn Groft, then Schell.
"It's been so fun," Grandpre said. "We had a kid in every single class. It was exactly how it was in high school. Obviously, we're not playing with the exact same girls, but you have this unbreakable bond, and I think it shows."
It certainly showed in the on-court chemistry. None of the four, save Grandpre and Schell, played the same position as another, so all four were able to play on the court at the same time.
As an added bonus, there wasn't a whole lot of relearning between them, either.
"Me and (Sydney) have been hitting off Madalyn for years," Grandpre said. "Except for Darby Duncan (for one year), she was the only setter I've hit off of. … We have a groove. We know what everyone does."
Peyton Groft, a defensive specialist, got to see it all play out in front of her and had so much fun, she elected to return for a fifth season, taking her Covid year of eligibility.
"Having those others there helped influence my decision to come back," she said. "We had so much fun. We made a lot of good memories. No one wants to play with a team that they don't enjoy playing with, but my teammates are amazing."
Grandpre noted that having the elder Groft sister already in Madison was a comfort factor in her decision to play with the Trojans, a sentiment Madalyn Groft shared when it was her turn to continue her career.
"It definitely helped me feel more comfortable," she said. "I had familiar faces there, people I knew on a personal level."
That, she said, is something she would like to continue passing down. Both Peyton Groft and Grandpre completed their careers last fall.
"I've played with them for so long and they've been good leaders for us, too," Madalyn Groft said. "To honor them by taking those leadership positions is special."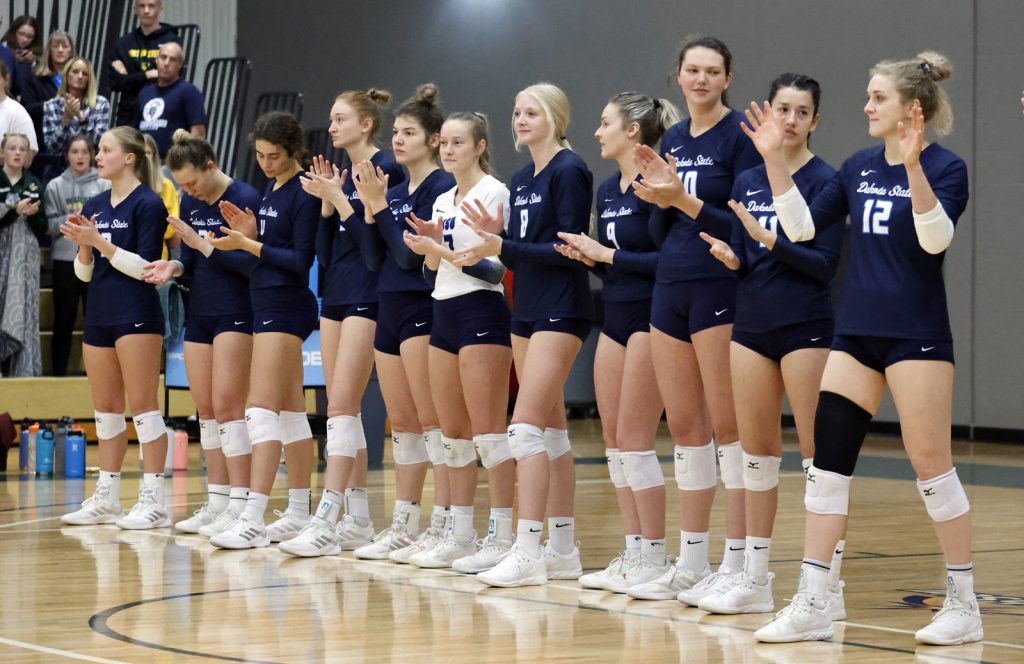 Having four players from the same team could lend itself to a bit of cliquishness, something both the Groft sisters and Grandpre acknowledged as something that could happen, but never did.
"We're all super close," Peyton Groft said. "We're friends. But we've all gone out and made our own friends, as well. We're all in different recruiting classes, so we've made connections within our own class. We had amazing team chemistry this past year."
The Trojans finished this season with a 17-17 mark, bowing out of the North Star Athletic Association tournament in the first round. In previous seasons, Dakota State has reached the first round of the NAIA national tournament on an at-large basis.
While the Trojans fell short of that goal this season, Grandpre said the memories made were no less special.
"It's always been great chemistry," she said." This past year was so fun. Just a great bond. This team has been playing together for so long. We didn't lose anyone (after last season), so we've had three solid years together."
"It's definitely going to be weird," Madalyn Groft said of not being able to play as a foursome anymore. "I've only played a couple years without Peyton and Riley."