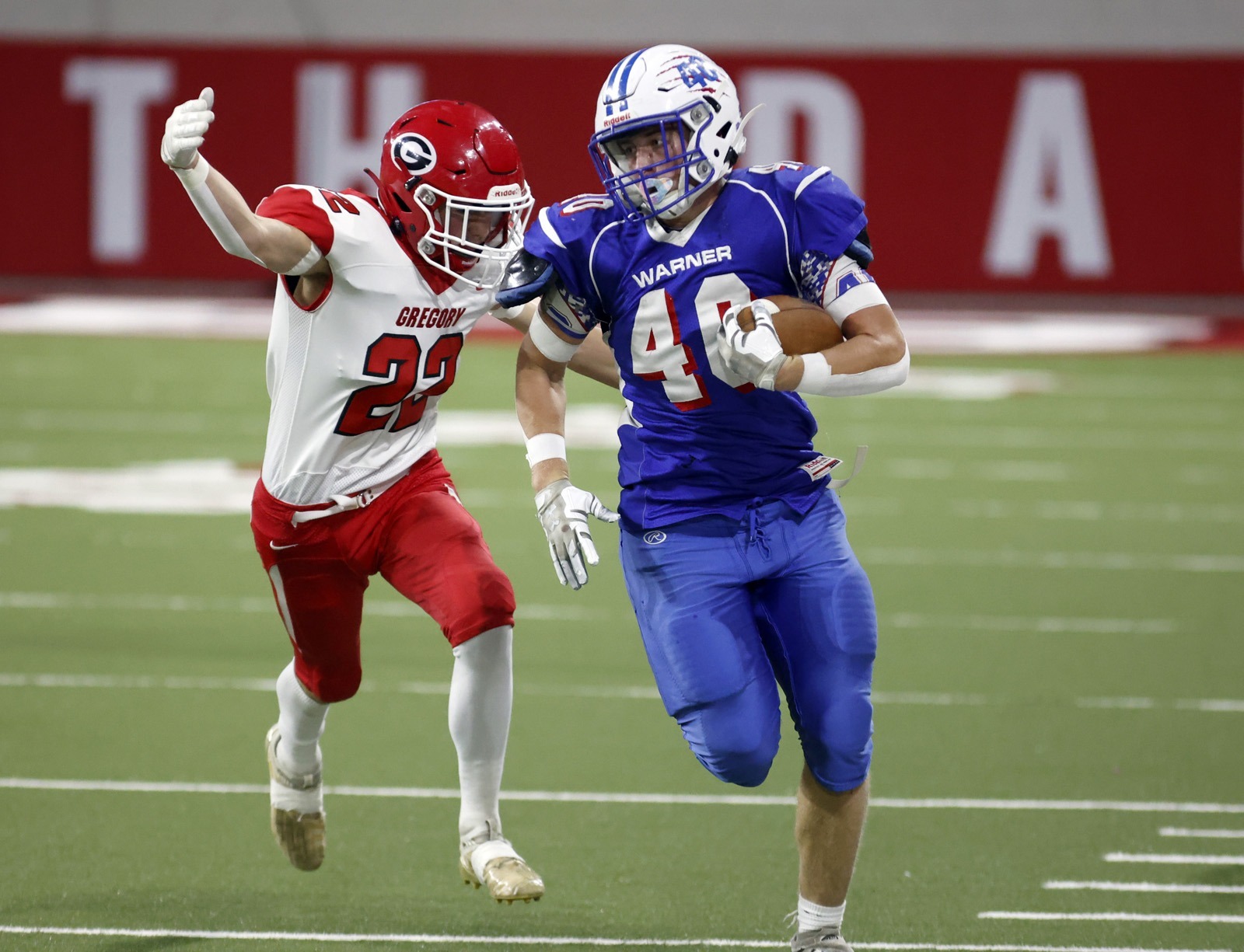 Warner's Ashton Schuchhardt headlines the Class 9A all-state football team, earning All-American designation after powering the Monarchs to a runner-up finish this past season. The senior linebacker finished with 16 tackles in the championship game.
Devin Woosley of Warner is also on the all-state defensive team. The senior made the squad as a defensive lineman.
A pair of Warner teammates are on the offensive team. Warner junior Hunter Cramer was selected as a running back while senior Isaac Hoeft was chosen as an offensive lineman.
Another area player making the all-state team is Chris Wuestewald, a senior offensive lineman.

Schuchhardt had a nose for the ball. He had 119 tackles, 7 sacks and recovered a fumble this past season. He finished his career 197 tackles and 17 sacks. "Ashton is the heart and soul of our defense. He is a big, strong kid that gets to the ball in a hurry," said Warner coach Kerwin Hoellein. "Our defense only gave up 89 yard per game average. We held five of our opponents to their lowest points of the season and our team only allowed 12.7 pts per game."
Whether running or throwing, Cramer was a threat every time he touched the ball. He rushed for 1,369 yards (8.7 average) and 30 touchdowns, passed for 503 yards and 7 more TDs, had 43 yards receiving, and also returned a kickoff for a score. He also had 71 tackles and picked off 3 passes. The Lake Region Conference Offensive MVP has 2,178 yards rushing and 52 TDs and 2,606 yards passing and 28 touchdowns will another year still remaining. "Hunter is one of the best players I have ever coached," Hoellein said. "He makes big plays time and time again. He makes other players around him better…and overall just an outstanding team player."
Hoeft played a big role in a potent Warner offense. The Monarchs rushed for 2,871 yards (7.3 yards per carry), passed for 1,339 yards and averaged 44.1 points per game. "Isaac is one of those kids you can find in the weight room all the time," Hoellein said. "As a team, we averaged 7.3 yds per carry and when we needed the tough yards, we went right behind Isaac."
Opponents soon found out where Woosley was located on defense. The senior recorded 72 tackles, had 18 sacks and blocked a punt this past season. He finished his career with 140 tackles, 29 sacks and a pair of blocked punts. "Devin is one of those kids who always has his motor going," Hoellein said. "Devin gets to quarterbacks in a hurry and is someone you have to game plan for."
Wuestewald was a factor on both sides of the ball for the Warbirds. He had a dozen solos tackles, was in on 33 tackles for loss, had 13 sacks, recovered five fumbles and blocked a punt this year. He finished his career with 32 sacks and had a hand in 98 tackles for loss. "Chris has been a four-year start for us," said Wolsey-Wessington coach Hayden Hooks. "He has been a big presence on the offensive line and who we run behind most often. Chris stepped up as a leader this year and was a big part of the success we have had over his career."
Area players who were honorable mention selections include Zach Wood of Warner, and Tate French and Keegan Haider of Wolsey-Wessington.
Wood had many key plays for the Monarchs. He rushed for 351 yards (8.3 per carry) and 7 TDs, had 378 yards receiving and 9 touchdowns and also returned two kicks for scores. "Zach is a "BIG" play guy," Hoellein said. "For his size, he gets a lot done on the football field."
French was a force on the line for the Warbirds with 52 tackles and 5 sacks this year. "When we needed a big catch/tackle he was there to make the big play for us," Hooks said.
Haider blocked for a team that had 1,350 yards rushing and 2,232 yards passing and produced 41 touchdowns. He also rushed for 390 yards and 8 TDs. "He willingly moved to guard this year and did a great job for us," Hooks said.
Here is the complete 9A list:
Offense — QB: Rylan Peck, Gregory, jr.; FB-HB: Trey Murray, Gregory, jr.; RBs: Hunter Cramer, Warner, jr.; Owen Hansen, Gregory, sr. and Rylee Veal, Harding County-Bison, so. WRs: Cooper Long, Lyman, sr.; and Jovi Wolf, Chester Area, jr. TE: Gage Gilbert, Harding County-Bison, sr.; OL: Isaac Hoeft, Warner, sr.; Chris Wuestewald, Wolsey-Wessington, sr.; Gunnar Stephens, Gregory, sr; and Austin Matthaei, Canistota, sr.
Defense — DL: Devin Woosley, Warner, sr.; Grey Gilbert, Harding County-Bison, sr.; Trace Ortman, Canistota, sr.; and Eli Fogel, Gregory, sr. LBs: Noah Kleinsasser, Canistota, sr.; Ashton Schuchhardt, Warner, sr.; Booker Schooley, Castlewood, sr.; and Ben Zwart, Colman-Egan, sr. DBs: Kade Stukel, Gregory, sr.; Carson Kirwan, Castlewood, sr.; and Layton Terkidsen, Philip, sr.
Athletes — Teagan Gourneau, Lyman, sr.; and Colin Bauman, Deubrook Area, sr.
Special Teams Players — Quincy Thu, Castlewood, jr.; and Jon Nefzger, Estelline-Hendricks, sr.
Honorable Mention — Tage Ortman and Cayden Scott, Canistota, jrs.; Lane Tvedt, Castlewood, jr.; Tance Wagner, Lyman, sr.; Jake Jorenby, Deubrook Area, jr.; Tate French, Wolsey-Wessington, jr.; Keegan Haider, Wolsey-Wessington, sr.; AJ Lindksov and Jayden Miller, Timber Lake, srs.; Zach Wood, Warner, sr.; and Dominic VanEgdom, Alcester-Hudson, jr.
All-American — Schuchhardt.