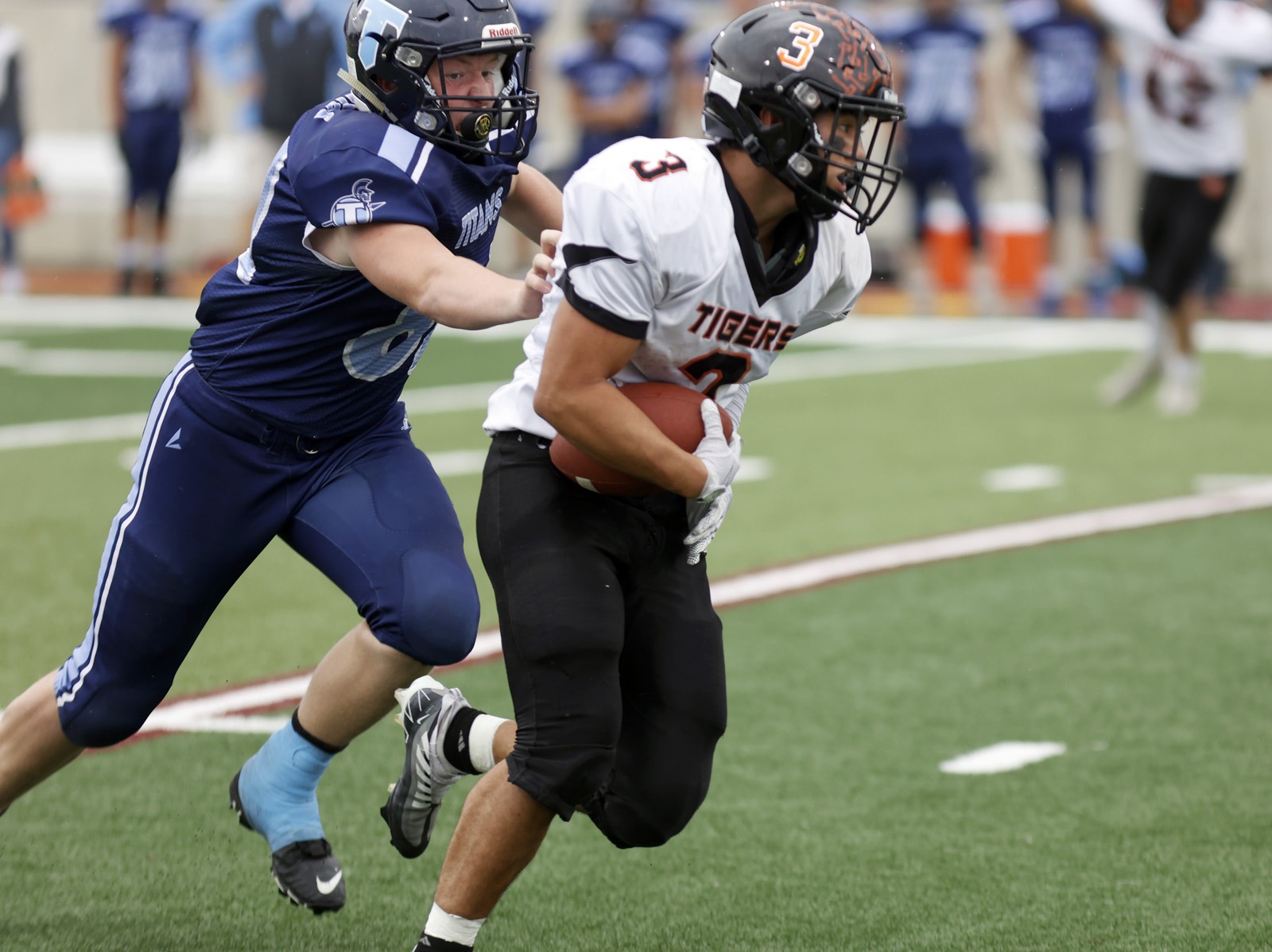 Hamlin has three members on this year's Class 9AA all-state football team. The Chargers, who lost just two games this past year, have two players on offense and another that made the honor unit as a special teams player.
Junior Luke Fraser made the all-state team as a running back, senior Simon Vander Vorst was chosen as an offensive lineman, and junior Troy Randall was selected as a special teams player.
Ipswich's Tyler Hettich was chosen at the position of athlete. The senior was recently named the Lake Region Conference defensive MVP.
Mehki Keller, a senior from Florence-Henry was also chosen under the athlete category, while senior RJ Perry of Great Plains Lutheran was also selected as a special teams player.
Hettich was a playmaker for the Tigers throughout his career. This past season he rushed for 734 yards and 13 touchowns, had 436 yards receiving and 8 TDs, and also returned a kick for a score. He also had 90.5 tackles, three sacks, three interceptions, forced five fumbles and recovered three. He finished his career with 2,639 total yards with 36 touchdowns. "He has great instinct on the football field. Great vision when running," said Ipswich coach Brian Hogie. "He did a lot of different things for us this season on the offensive side of the ball. He was a big threat for us whenever he had the ball."
Just a junior, Fraser was a force for the Chargers, rushing for 1,634 yards and 18 touchdowns, and have 368 yards receiving for six more TDs. He has already racked up 2,713 yards on the ground with 29 touchdowns, and 944 yards receiving with 13 more scores. "Luke is a great football player with a high football IQ. He practices everyday at a high level and loves being on the field," said Hamlin coach Jeff Sheehan. "He has grown into a great leader and others will follow him. He has tremendous potential as a football player and he works hard to be the best he can be."
Vander Vorst moved people out from his spot on the offensive line. The left guard was a lead blocker for a team with more than 4,000 yards of offense that scored 435 points. "Simon was a great leader for us on the offensive side. He did what was asked and played a big role for us," Sheehan said. "He was a guy who never took time off in practice to rest. He would help on our scout team when he was not on the team that was practicing. He was a great leader on this team and did a good job keeping the team spirits high."
Randall was a special player on special teams for the Chargers. He made 38 extra points and had eight touchbacks this year, running his career total to 54 PATs, one field goal and 10 touchbacks. "Troy did a very good job of kicking for us. He was consistent and was very reliable," Sheehan said. "It is nice to have an option to add a point after touchdowns. Troy was a good kicker and did what we asked. His ability to kick the ball deep helped make the other team have to drive the ball with where they started on offense. He was a good option for our team."
Keller did a little bit of everything for the Falcons. He passed for 51 yards and a TD, rushed for 389 yards and six touchdowns, had 538 yards receiving and seven TDs, and returned a kick for a score, and had 39 solo tackles, 26 assists, seven interceptions including a touchdown, and recovered a fumble for a TD. The ECC Defensive MVP finished his career with more than 2,000 yards on offense with 15 TDs, three touchdowns on returns, 12 interceptions and three touchdowns on defense. "Mehki is a very explosive player and he is fun to watch on a football field. If you played us he was the guy that defenses had to key," said Florence-Henry coach Travis Schmidt. "When other teams were on offense they had to know where Mehki was lined up because he could make a play at any time."
RJ Perry: This lineman also found a way to make his presence felt with his foot. He kicked eight extra points this past season and also blocked a punt. He finished with career with 18 PATs, and also a blocked punt and blocked kick. The 250-pound lineman was also a forced on both sides of the ball for the Panthers. "He does it all," said GPL coach Aaron Schleusener. "He would have played QB if I let him."
Area honorable mention selections include Ian Beyers of Ipswich, BoDell Davidson of Britton-Hecla, and Evan Stormo and Jameson Nebel of Hamin.
Beyers finished his career with 2,192 yards passing and 27 touchdowns, and also ran for 308 yards and 5 TDS. "Hard working athlete who played his best games in big games," said Ipswich coach Brian Hogie.
Davidson rushed for 1,066 yards (7.2 yards per carry), and 15 touchdowns for the Braves. "Bo has a sense for finding where the hole will be and is very explosive through the hole," said Britton-Hecla coach Jacob Skogstad.
Only a sophomore, Stormo rushed for 93 yards and 4 touchdowns, and had 602 yards receiving and 7 more TDs. "He runs great routes and catches everything that is in the area," said Hamlin coach Jeff Sheehan.
Nebel had 33 tackles, 16 for loss, 5 sacks, forced 3 fumbles and recovered 2 this season. "Jameson is a player who has good feet and good hands," said Hamlin coach Jeff Sheehan.
Class 9AA state champion Wall is represented by six players on the all-state team, including All-American selection senior running back Cedar Amiotte.
Here is the complete 9AA list:
Offense — QB: Burk Blasius, Wall; FB-HB: Isaac Crownover, Bon Homme, sr.; RBs: Cedar Amiotte, Wall, sr.; Luke Fraser, Hamlin, jr.; and Jackson Jarding, Hanson, sr. WRs: Maddox Kihne, Freeman-Marion/Freeman Academy, sr.; and Rylan McDonnell, Wall, sr.; TE: Carson Griffith, Elkton-Lake Benton, jr. OL: Kaden Hofer, Howard, sr.; Charlie Prien, Hanson, sr.; Simon Vander Vorst, Hamlin, sr.; and Lee Reiser, Platte-Geddes, sr.
Defense — Atticus Darnell, Howard, sr.; Norman Livermont, Wall, sr.; Riley Haynes, Hanson, sr.; and Will Jodozi, Parkston, jr. LBs: Brock Tuttle, Hanson, jr.; Brayden Jervik, Parkston, jr.; Blair Blasius, Wall, sr.; and Griffin Clubb, Howard, sr. DBs: Brodi Sundall, Wall, jr.; Riley Rothschadl, Bon Homme sr.; and Ryan Krog, Elkton-Lake Benton, sr.
Athletes — Tyler Hettich, Ipswich, sr.; and Mehki Keller, Florence-Henry, sr.
Special Teams Players — RJ Perry, Great Plains Lutheran, sr.; and Troy Randall Jr., Hamlin, sr.
Honorable Mention — Ian Beyers, Ipswich, sr.; Mason Heath, Wall, sr.; Bodell Davidson, Britton-Hecla, sr.; Joey Foxley, Platte-Geddes, jr.; Tanner Stein, Elkton-Lake Benton, so.; Evan Stormo, Hamlin, so.; Jameson Nebel, Hamlin, jr.; Porter Neugebauer, Parkston, sr.; and Taiden Hoyer, Howard, jr.
All-American — Amiotte.