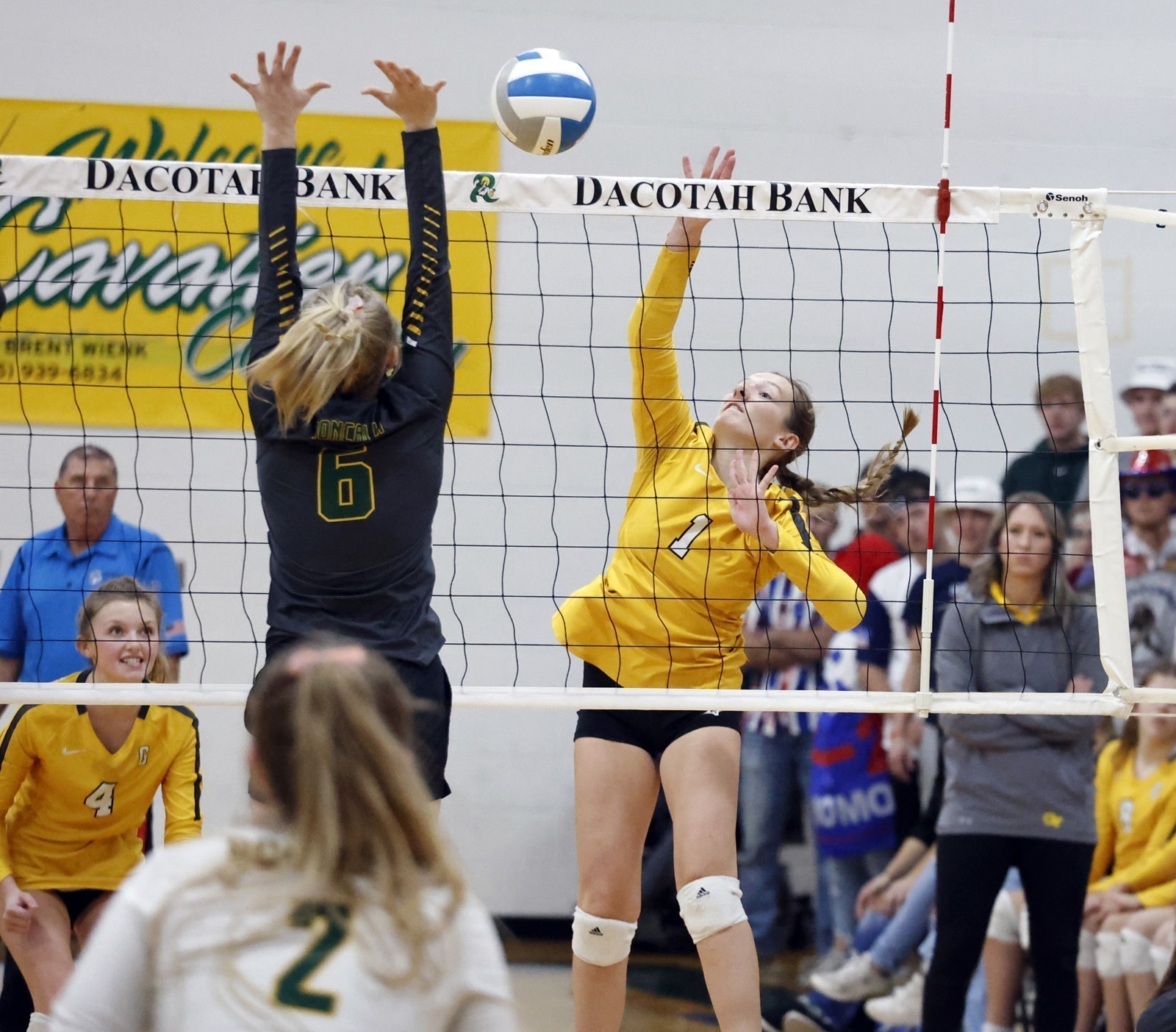 It was everything you could ask for in a playoff volleyball match, and then some.
Groton rallied to win a pair of sets, then staved off an Aberdeen Roncalli rally in the fifth to record a dramatic 18-25, 25-23, 27-25, 16-25, 15-10 Region 1A victory in front of a large and energetic crowd at Roncalli Gym.
"It was our depth that saved us. We had girls going down. We had girls crying. We had girls hitting heads. It was hot. It was loud. It was extremely overwhelming," said Groton coach Chelsea Hanson. "These girls have never played in a game like this before."
The match featured a little bit of everything, including Groton rallying from a 20-16 deficit to win the second set and then fighting off four set points to grab the third.
The Tigers then bolted out to a 9-5 lead in the final set, before Roncalli rallied to tie the score at 9-9. Groton eventually scored the last five points to finish off the win.
"We prepared for this moment this whole entire season," said Groton junior Anna Fjeldheim. "Our record didn't show that we were capable of doing it, but from everything we learned from the beginning of the season to this point, it all paid off in the end."
Hanson said it all came down to trust. The gym was so loud that she couldn't even communicate with her players.
"It's so hard as a coach to just relinquish the trust and let them go out and play the game. You want do things for them and make the plays for them and you just can't," Hanson said. "I told them in our last time out trust your training, trust your teammates and if we lose, we lose, but if you do those two things you stand the best chance."
The Cavaliers, who led for the majority of the match, were able to regroup after losing the second and third sets and push Groton to the limit in the fifth.
"I thought that overall the girls did an excellent job of playing together and staying up, even when we were down for those moments and not just losing it all together," said Roncalli coach Mandy Smid.
As one might expect, the final stats reflected a very even match on the night.
"It was such an emotional game for everybody," Hanson said. "I think both sides played so hard."
In the end, it was the Tigers who came up with the plays that they had to in order to pull out the victory.
"Credit to them, they were digging up everything," Smid said, "a lot of things we were sending to them and being able to play it back out of system and still send it over aggressively."
By the time the match was over, most of those involved were emotionally spent after the intense battle between the two rivals.
"I have never been in a game with that much pressure on myself and in an environment like that," Fjeldheim said. "It was so fun to play in."
Sydney Leicht had 13 kills, Fjeldheim 12 and Aspen Johnson 10 for Groton. Fjeldheim also finished with 29 digs.
Ella Hanson topped Roncalli with 15 kills and also had 24 digs. Jaidyn Feickert added eight kills. McKenna O'Keefe contributed four aces, and Camryn Bain had a match-leading 42 digs.
The Cavaliers ended the year with a 15-10 record.
"Lots of growth that happened as a team and as girls, as leaders," Smid said. "We had some new people that stepped up throughout the season."
Groton, 14-14, advances to the SoDak 16 on Tuesday where the Tigers will face second-seeded Miller.
Despite being heading into that match as a big underdog, the Tigers are still playing and that's all that matters to them.
"That's THE best feeling in the world," Fjeldheim said. "This is what we worked for and we finally got it."
Serving: Groton 91-101 6 aces (Jerica Locke 13-15 3 aces, Sydney Leicht 7-7 1 ace, Carly Guthmiller 13-15 1 ace); Aberdeen Roncalli 100-108 11 aces (McKenna O'Keefe 20-21 4 aces, Maddie Huber 20-23 3 aces).
Hitting: Groton 175-205 49 kills (Leicht 50-59 13 kills, Anna Fjeldheim 33-37 12 kills, Aspen Johnson 27-32 10 kills); Aberdeen Roncalli 163-187 38 kills (Ella Hanson 40-48 15 kills, Jaidyn Feickert 29-30 8 kills).
Setting: Groton 44 assists (Liz Fliehs 41 assists, Locke 2 assists); Aberdeen Roncalli 151-151 29 assists (Faith Danielson 79-79 15 assists, Huber 72-72 14 assists).
Digs: Groton 116 (Fjeldheim 29, Guthmiller 23, Fliehs 18); Aberdeen Roncalli 110 (Camryn Bain 42, Hanson 24).
Blocks: Groton 4 (Johnson 1 solo 3 assists, Lydia Meier 3 assists); Aberdeen Roncalli 1 solo (Rylee Voeller 1).
Records: Groton 14-14; Aberdeen Roncalli 15-10.