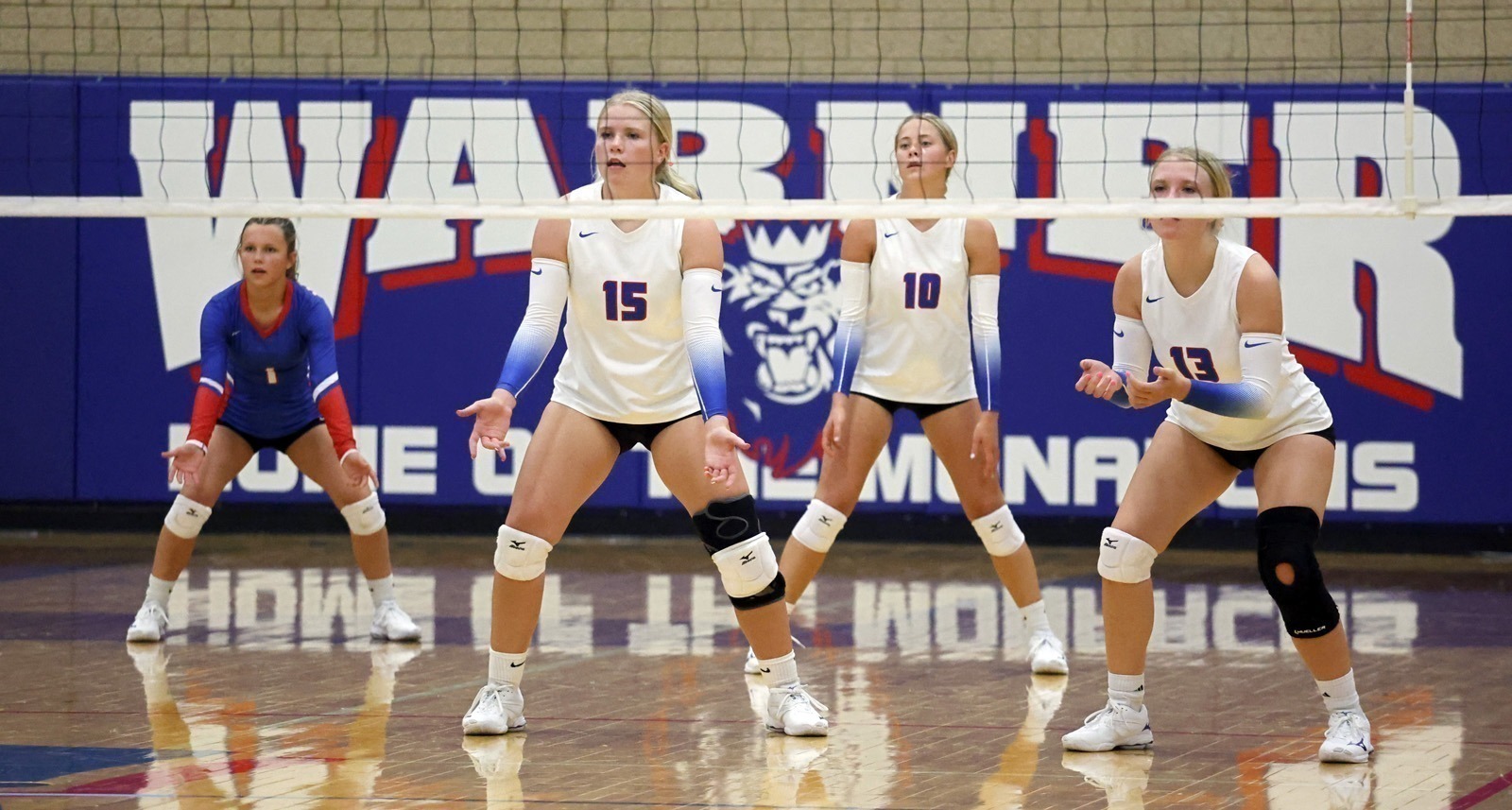 WARNER – They have been top-rated all season, they enter the State B Volleyball Tournament as the top-seed, and now the Warner Monarchs want to end the season the same way they did last year, as state champions.
Warner (34-2) heads into the tournament on a 16-match winning streak.
"I'm hoping we peak at the right time, here," said Warner coach Kari Jung, "because it's going to be a tough road."
The Monarchs feature many of the same players from last year's state title squad.

"We're similar in a lot of ways," Jung said. "I think we've sped up a our offense a little bit."
Warner features a balanced attack which has produced a variety of leading hitters throughout the season. At the center of it all is junior setter Ava Nilsson.
"We really don't have one go-to player. Ava really tries to read who's on," Jung said. "If it's crunch time in a match and we need to score, she knows who's been hitting well so that is very helpful. Hopefully, they're all playing well on the same days here, Thursday, Friday and Saturday."
Jung is trying to get Nilsson to look for her own shot in addition to setting up teammates. The coach feels that will just give the Monarchs another offensive weapon.
"She really doesn't dump a ball unless we need her to. And I said, you need to make sure you are practicing to dump, because we're going to need you. She just is very smart about it," Jung said. "She doesn't want to take the glory away from the hitters. I said to her if they have to defend you and the other hitters, it's going to be six instead of five. You're only going to help the hitters get shots down, because they're watching for you as well."
The Monarchs feature plenty of people who can score including Kamryn Anderson, Kendyl Anderson, Kyra Marcuson, Lauren Marcuson and Kyleigh Schopp. Courtney Bjorgaard helps to anchor the back row.
Warner will take on Freeman in the opening around at 11:30 a.m. Thursday at the Premier Center in Sioux Falls.
Jung said the Flyers present a unique set of challenges.
"They don't necessarily hit hard all the time, but they do a good job of placing balls, when they're out of system balls," Jung said. "They're going to come in knowing that they're the underdog, so I think they'll be relaxed. They just pulled off one upset, so hopefully, we don't let them get the next one."
Jung said her players understand the pressure of being the favorite every time they step on the floor. That's where the team's balance and depth come into play.
"Anything can happen on any given night, so we just say we have to be ready to play and if you're having an off night, someone else will pick you up. You have teammates to rely on," Jung said. "That's the good thing about our team, we can rely on our experience. We don't have to have one girl that has to be on. We can have others that step up."
Jung said the key for her team in the tournament will start at the beginning of each and every point.
"Like most volleyball, it is going to boil down to serve and serve receive. If we can put up a good ball for Ava, I think we're in business," Jung said.
Jung said the field is as balanced as she's ever seen it.
Sitting atop that field is the one team that will be searching for its second straight state championship.
"I know the kids will be disappointed if we don't at least compete in every single match. If we end up losing and they gave it all they got, and know they played well, it's not so bad," Jung said. "I just hope for them that we finish on a strong note, play our best, and then I think things can fall into place."