WARNER – A pair of senior twin sisters is making the most of an opportunity to play volleyball together this season.
As one might expect, Warner's Kamryn Anderson and Kendyl Anderson have a lot in common, so much so that each suffered a torn ACL on the same left knee one year apart, robbing the duo of being on the same court for the past two seasons. The twins are now making up for lost time and are an important part of the Monarchs, who have been the top-rated Class B squad all season.
"Both players read the opponent's defense well and can finish plays under pressure," said Warner coach Kari Jung."
Kamryn suffered her knee injury as a sophomore and was not able to play when the Monarchs finished runner-up at the state tournament. Last year, Kendyl was the one who had to stand on the sidelines and watch as Warner captured the state championship.

"I remember last year one of the things that made me the most sad was stepping out on the court at the state championship game," Kendyl said. "Seeing everyone there and just the atmosphere and knowing that I wouldn't be able to play. It was just super emotional for me."
It was a feeling that Kamryn knew all too well, because she was in the same position the year before.
"It definitely hurts your heart seeing your other half sitting on the bench when they should be out there playing with you," Kamryn said. "Obviously, she knows that feeling, too, because I was in her same position the year before. It definitely sucked, but this year's a lot better both being out there together."
The two are similar in more ways than one. While the two play different positions, they share a common bond that only twin siblings can.
"I feel like we have a connection that we don't have with everyone else on the team," Kendyl said. "I know where to set my block, because she's going to be right there, and things like that."
In fact, the sisters are so much the same when it comes to their thought processes it can actually lead to problems on the court.
"One bad thing about having the same mindset is sometimes we like to go after the same ball, which is a bad thing sometimes," Kamryn said, "because we'll let it drop or it will go into the net because we both try and hit at it and run into each other."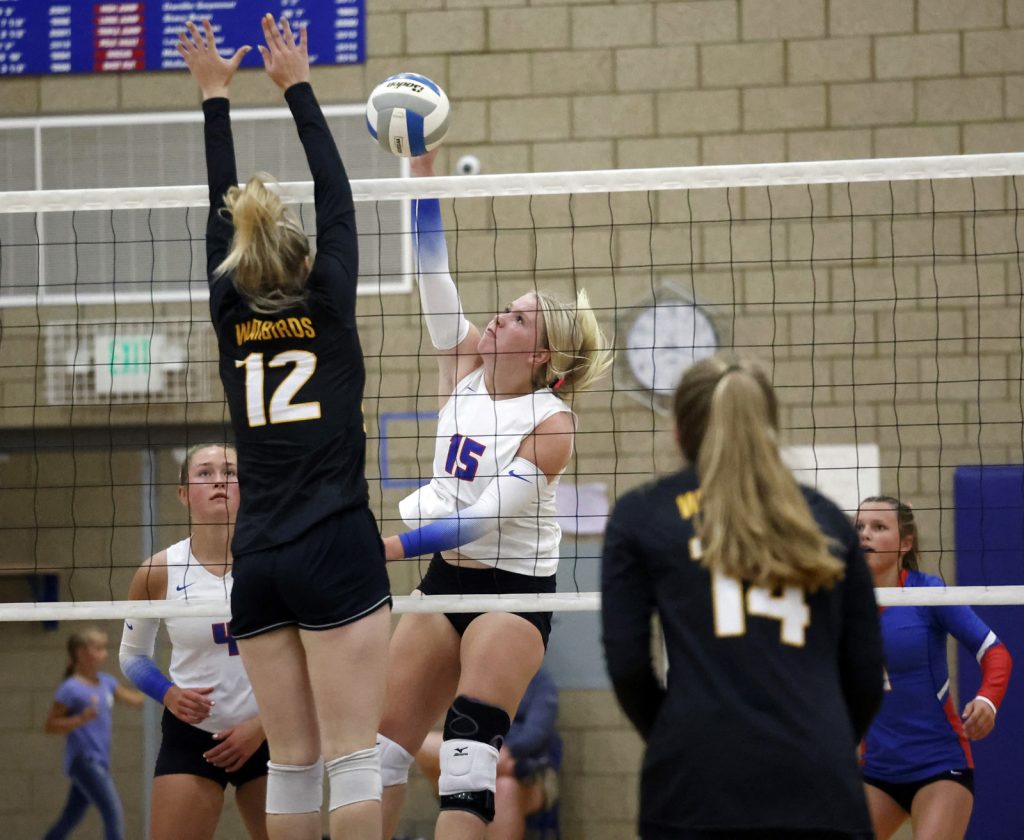 It only stands to reason, that while each supports the other, there is also some tough love that takes place at home following a match.
"Sometimes we can get real competitive with each other," Kendyl said with a laugh. "We can be really aggressive."
There are a few noticeable differences between the two.
Kamryn is an outside hitter and also leads the Monarchs with 63 ace serves on the season. She is the only player on the team that doesn't use a jump serve and uses a float serve.
"You have to kind of have to hit it on a certain spot on your hand for it to not spin at all," Kamryn said of a float serve. "It does take some fine tuning and a lot of a practice to kind of get it perfect, and I never do it perfectly."
Kendyl is a rightside sitter. She has gone from outside to middle to right during her years on the squad.
"It's pretty cool to get all that experience," Kendyl said, noting it has been challenging to learn the correct angles in her new role this season.
Put the duo together, and they help to bring out the best in each other.
"Kami has been a very solid leader for us this season and that has been great for Kendyl, because this is her first season playing since she tore her ACL," Jung said. "They love playing next to each other, so that is motivation for both of them. Kendyl has had to battle to be the right side hitter this season, but she has learned to hit different shots from that position."
The last time the Andersons were on the same court for any length of time came when they were freshmen. That proved to be a memorable season as the Monarchs lost a bunch of seniors from the year before, got off to a slow start and eventually qualified for the state tournament where they finished third.
"I'll never forget that year," Kendyl said. "Out of all my years, that was probably my favorite."
The twin sisters play basketball and also compete in track and field. As for their future, well you might have guessed it. They are headed to the same school and going into the same field, planning on attending South Dakota State and majoring in nursing.
Before then, however, the duo has a goal of helping the Monarchs defend their State B volleyball championship during the state tournament Thursday through Saturday in Sioux Falls. Naturally, both girls have a similar philosophy of what it will take to do that.
"I just think that we all need to go out there and play our hardest," Kamryn said, "because when we play our hardest and we play together, we're really good then."
Kendyl echoed similar sentiments.
"We just need to play our game. We can't let anyone get down. We have to bring everyone up," Kendyl said. "Everyone just needs to keep a positive attitude, have lots of energy, and hopefully we get what we want this year."