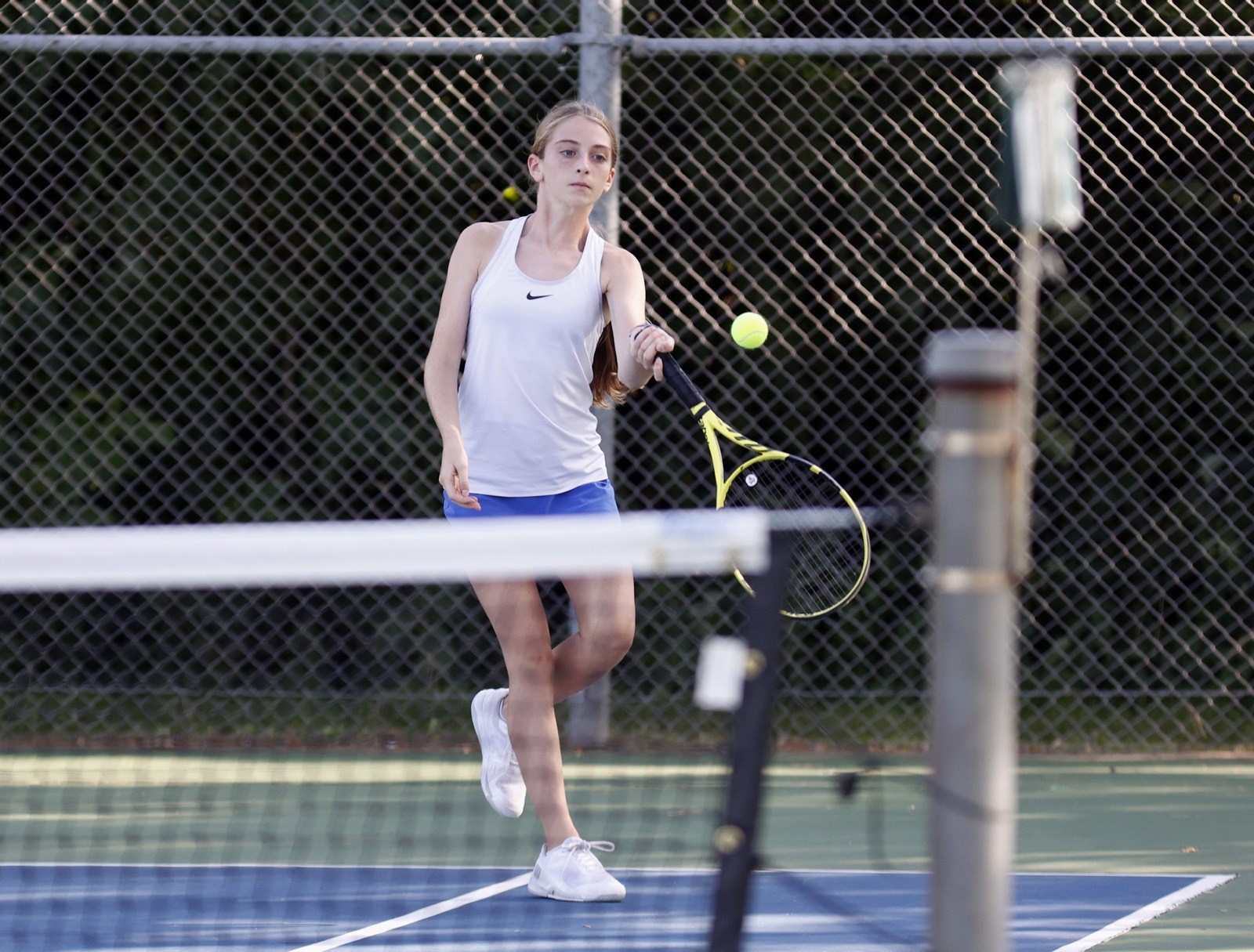 MITCHELL – Aberdeen Central overcame a slow start in singles with a strong finish in doubles to capture second place as a team at the Eastern South Dakota Conference tennis tournament in Mitchell on Tuesday.
The Golden Eagles finished with 255 points. Watertown won the tourney with 282, and Pierre was third with 214.
Avery Tennant won the championship at sixth flight singles, dropping just four games on the day.
"That's impressive," said Central coach John Vogel, noting that the freshman just does things in a matter of fact fashion. "She just had a great day."
Still, the Eagles struggled in other flights and found themselves in sixth place in team points after singles action.
"We were kind of in that scrum of teams," Vogel said, "and I didn't want to be in that scrum of teams."
The Eagles played much better in doubles winning two championships and finishing runner-up in the other flight.
"Nothing really needed to be said," Vogel said. "Once we got going it kind of all started rolling. It was fun."
Emily Ringgenberg and Alice Vogel won the title at first flight doubles, and Laney Gonsor and Reece Comstock took the championship at third flight doubles.
The team of Carly Comstock and Livia Douglas came up just short at flight two doubles and finished second. The duo had a match point at 9-8 before eventually falling in a tiebreaker.
What made things so interesting at the finish is that Central could have caught Watertown and likely been caught by Pierre. The Eagles needed to win all three doubles and came within a point of doing that.
However, because flight two was determined before one of the other matches even got started, Vogel said it's difficult to say it came down to that match.
"We can say it now, but really you can't say it because it was such a different order," Vogel said. "We'll never say, 'Oh if we won that we would have won,' because you never know, would have ones won, would have threes won? I am telling people yeah we were one point away, but at the same time I'm not going to stress over it, because it's well, not really, because twos lost and then an hour and half later threes won. It wasn't like boom-boom. It wasn't like we were all coming down to twos."
While the Eagles won the close matches in doubles, they also lost multiple tight matches in singles.
"There again, if we win close matches in singles, we're champs too," Vogel said, "but that's just how it is."
In the end, the fact of the matter is Central recorded its highest team finish since winning ESD in 2013. The team can celebrate that while preparing for next week's Class AA state tournament in Sioux Falls Oct. 6-7.
While the Golden Eagles wanted to win the conference tourney, they definitely finished on a positive note.
"We're happy right now as a team," Vogel said. "We're tickled pink. I know it's extra good because we were down so far after singles."
Team Points: Watertown 282, Aberdeen Central 255, Pierre 214, Mitchell 164.5, Yankton 164, Brandon Valley 135.5, Huron 55.5, Harrisburg 18.5, Brookings 0.
SINGLES
First Flight
EMILY RINGGENBERG: def. Amber Moller, Mitchell, 10-7; lost to Jaida Young, Watertown, 10-5; def. Marie Pellieter, Brandon Valley, 8-7 (7-2). THIRD PLACE.
Second Flight
ALICE VOGEL: lost to Sabrina Krajewski, Yankton, 10-4; lost to Erika Starr, Harrisburg, 8-5.
Third Flight
CARLY COMSTOCK: lost to Addison Meyers, Brandon Valley, 10-7; def. Nicole Lin, Harrisburg, 8-4; def. Bianca Medina, Huron, 8-5. FIFTH PLACE.
Fourth Flight
LIVIA DOUGLAS: def. Claire Siverhus, Brandon Valley, 10-3; lost to Jocelyn Corrales, Pierre, 10-4; lost to Frannie Kouri, Yankton, 8-7 (7-2). FOURTH PLACE.
Fifth Flight
LANEY GONSOR: lost to Kourtney Walti, Pierre, 10-8; def. Elle Schulte-Coplan, Brookings, 8-1; def. Ireland Blindauer, Mitchell, 8-6. FIFTH PLACE.
Sixth Flight
AVERY TENNANT: def. Evelyne Lima-Zapon, Yankton, 10-1; def. Caitlin Ott, Pierre, 10-2; def. Sophia Nichols, Watertown, 10-1. FIRST PLACE.
DOUBLES
First Flight
EMILY RINGGENBERG-ALICE VOGEL: def. AnneClaire Rubish-Lizzy Heinen, Huron, 10-6; def. Ellie Zink-Josie Heyn, 10-7; def. Sydney Tedrow-Kara Weiss, Pierre, 10-7. FIRST PLACE.
Second Flight
CARLY COMSTOCK-LIVIA DOUGLAS: def. Marlee Shorter-Kourtney Walti, Pierre, 10-2; def. Carsyn Weich-Megan Mastel, Mitchell, 10-7; lost to Jaida Young-Leyla Meester, Watertown, 10-9 (7-0). SECOND PLACE.
Third Flight
LANEY GONSOR-REECE COMSTOCK: def. Gabby Wabwire-Keira Ptak, Harrisburg, 10-7; def. Reagan Morrell-Keera Kriech, Brandon Valley, 10-7; def. Jocelyn Corrales-Caitlin Ott, Pierre, 10-9 (7-0). FIRST PLACE.