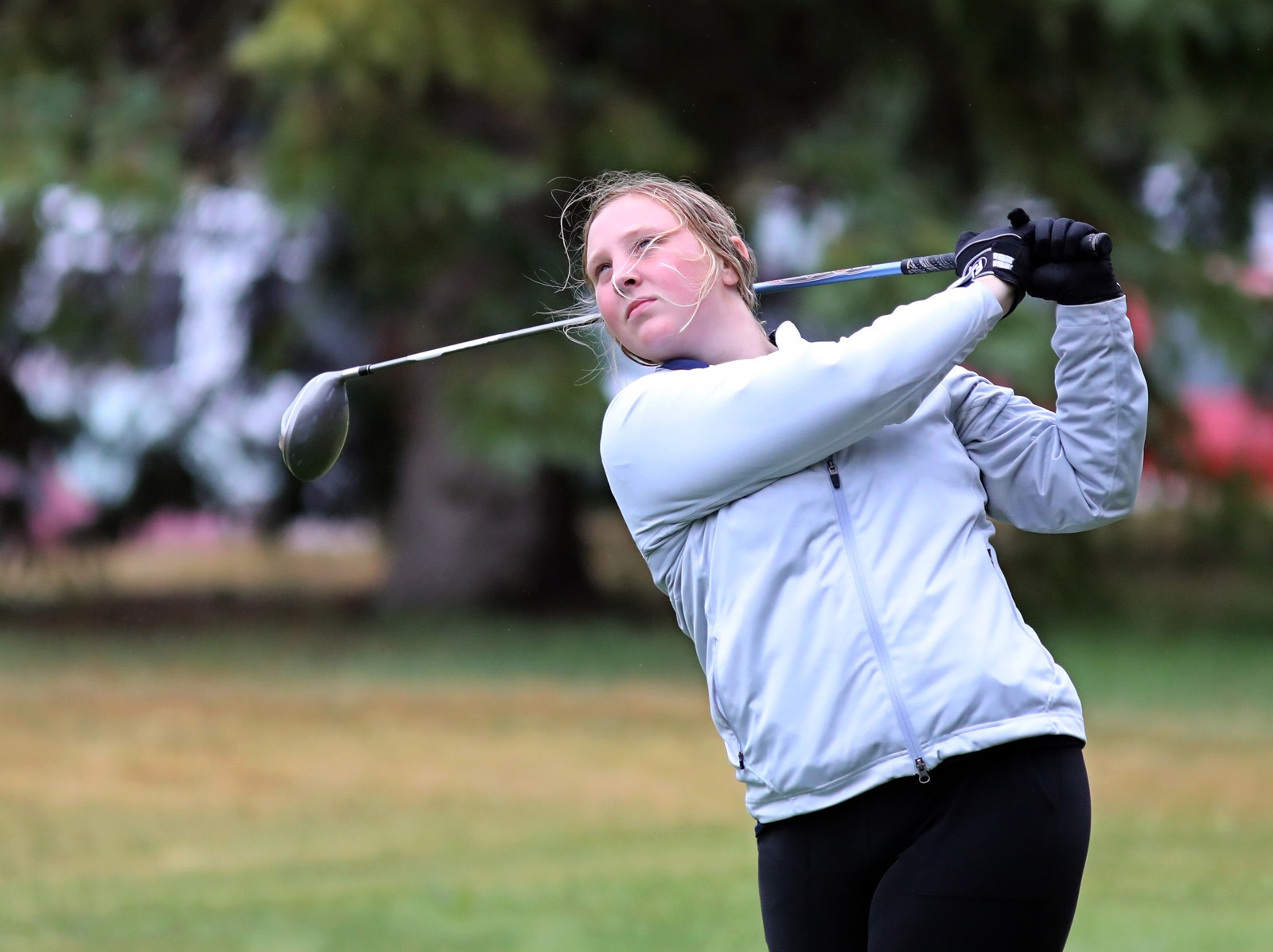 BROOKINGS – Coming off its best effort of the season on Tuesday, the Aberdeen Central girls' golf team topped that performance on Thursday on the way to winning the Bill Scholten Invitational.
The Golden Eagles fired a season-low 322 to win yet another tournament team championship.
"It was a very gratifying day for the girls. It was a total team effort today from top to bottom," said Central coach Kim Zimmerman. "You look at their scores, this today was even more impressive – I know it's only one stroke better than on Tuesday – but more impressive today than even on Tuesday, simply because of the state tournament field, state tournament golf course."
Central once again had four girls shoot under 90, led by Olivia Braun who finished runner-up with a 77. Kyley Wirebaugh was eighth with a 79, Leah Gough was 14th with an 82, Emma Dohrer was 17th with an 84, and Hayley Wirebaugh was 20th also with an 84. Morgan Jones was very close to the 80s, finishing with a 91.
"Every girl played well today. I really didn't' know what to expect coming off of Tuesday. I was hoping that we could kind of keep it going," Zimmerman said. "For the most part we kind of picked up where we left off Tuesday. The one thing we can't have happen is we can't become complacent and rest on our laurels, because we had two good rounds this week. We have to keep working hard."
The Golden Eagles are fast wrapping up the season. They will compete in the Eastern South Dakota Conference tournament on Tuesday in Pierre.
Zimmerman is proud of what his players have accomplished so far, and wants to keep building on that the rest of the way.
"We had some nice accomplishments throughout the course of the regular season, both individually and team," he said, "but we have to get back after it again on Tuesday."
Team Points: Aberdeen Central 322, O'Gorman 333, Mitchell 333, Harrisburg 334, Rapid City Stevens 339, Sioux Falls Lincoln 348, Yankton 350, Brookings 352, Watertown 352, Huron 359, Pierre 367, Sioux Falls Roosevelt 371, Sioux Falls Washington 392, Sioux Falls Jefferson 409, Brandon Valley 414.
Top 15 Individual Results
1, Lauren Sutcliffe, O'Gorman, 72; 2, Olivia Braun, Aberdeen Central, 77; 3, Reese Jansa, Harrisburg, 77; 4, Allison Meyerink, Mitchell, 77; 5, Tanna Phares, Rapid City Stevens, 78; 6, Taylor Wit, Rapid City Stevens, 78; 7, Emily Kolb, O'Gorman, 79; 8, Kyley Wirebaugh, Aberdeen Central, 79; 9, Mattie Weidenbach, Harrisburg, 79; 10, Bryn Huber, Huron, 80;
11, Riley Zebroski, Watertown, 80; 12, Quinn Dannenbring, Mitchell, 81; 13, Sara Sudenga, Yankton, 82; 14, Leah Gough, Aberdeen Central, 82; 15, Claire Yunag, Mitchell, 82.
Other Aberdeen Central golfers: 17, Emma Dohrer, 84; 20, Hayley Wirebaugh, 84; 39, Morgan Jones, 91.