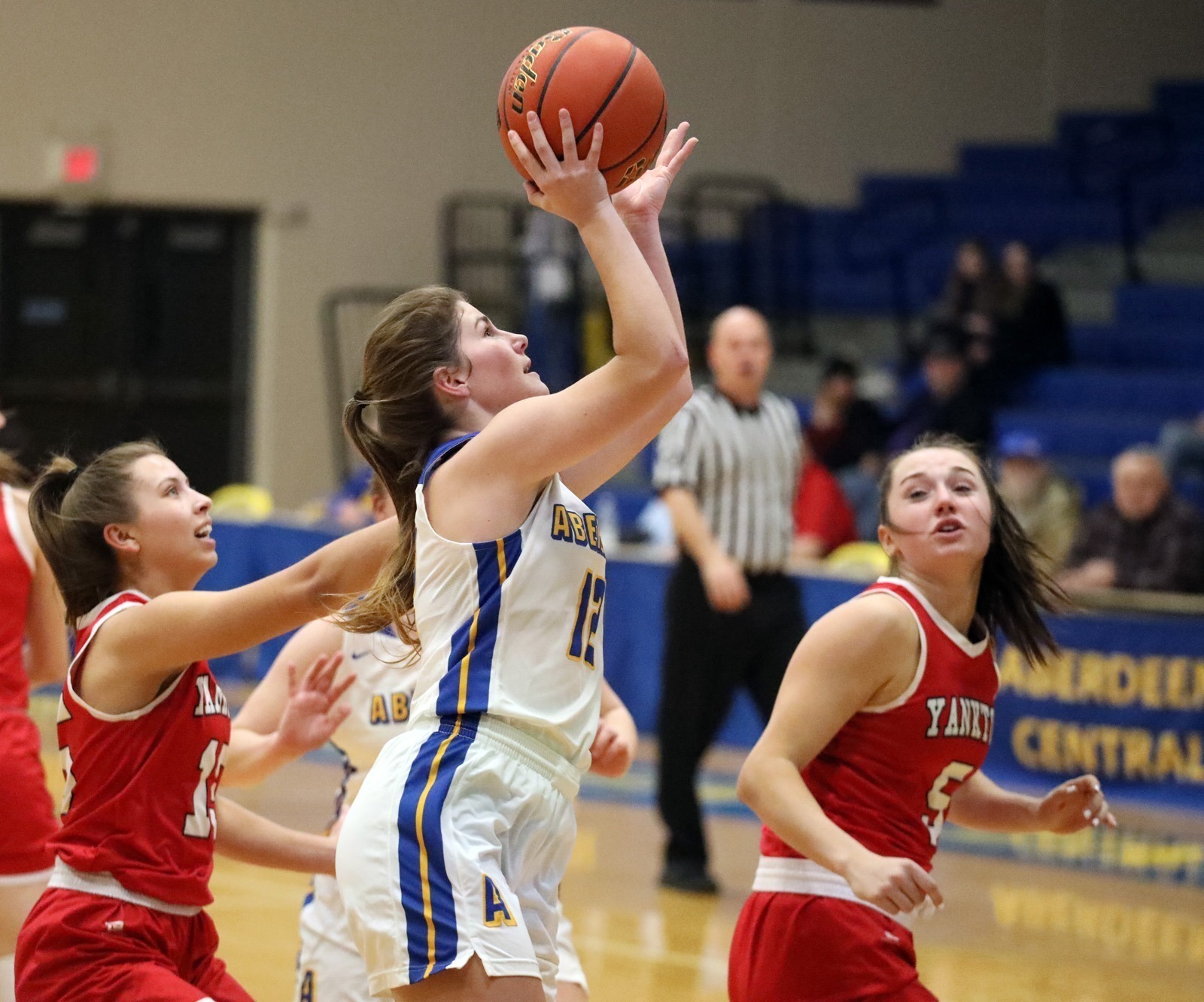 A short-handed Aberdeen Central girls' basketball squad took a late run at the visiting Yankton Gazelles Tuesday night but came up just short, falling 40-37 at home in an Eastern South Dakota Conference contest at Golden Eagles Arena.
As illness ravaged the Golden Eagle ranks – Central began the game down no fewer than six players, including front court mainstays Kiana Mounga and Taryn Hermansen – first year head coach Mikayla Arechigo pieced together a starting lineup that featured three juniors and a pair of seniors and no one over 5-foot-9.
So, out-sized and out-manned, the Golden Eagles scrapped, but the early returns were not promising. Central misfired on some easy looks at the basket and struggled to keep its turnover numbers at bay, committing seven in the first eight minutes alone.
"I challenged the kids (on Monday) and told them, this is an opportunity for some of them who haven't seen a lot of minutes to show me what they can do and to be prepared," Arechigo said. "A lot of them answered that call, whether it was playing significant minutes or just the enthusiasm and energy they brought on the bench."

Despite a 15-4 deficit at the end of the first quarter, the Golden Eagles appeared to turn a corner of sorts in the second quarter. Central converted on 5 of 8 attempts from the floor after going just 1-for-7 in the first stanza. Taryn Hettich capped the half with a steal and a coast-to-coast lay-in that made it a 19-14 game at the break.
The third quarter, however, brought the return of some of Central's opening-stanza miscues, and Yankton's lead ballooned to as many as 16.
"Missed opportunities," Arechigo said. "I think of some of the times we missed point-blank shots in the first half. Part of that is just kids being excited at the opportunity and playing at that faster varsity level. The game is faster and there's taller kids out there. … I think coming out of halftime, we just have to do a better job of being ready to go out of the half."
Yankton's offensive effort was spurred by the efforts of senior Ellie Karolevitz, who was 3-for-4 from long range and finished with a game-best 16 points. Jordynn Salvatori added another 15 points and three steals for the Gazelles.
"I'm very happy with Taryn Hettich," Arechigo said. "She's 5-foot-6 out there guarding 5-foot-10, and then she goes and runs off the court and almost throws up with one minute left in the game. Give Ellie all the credit, she had a great game, but you'd be remiss not to recognize Taryn's defensive efforts."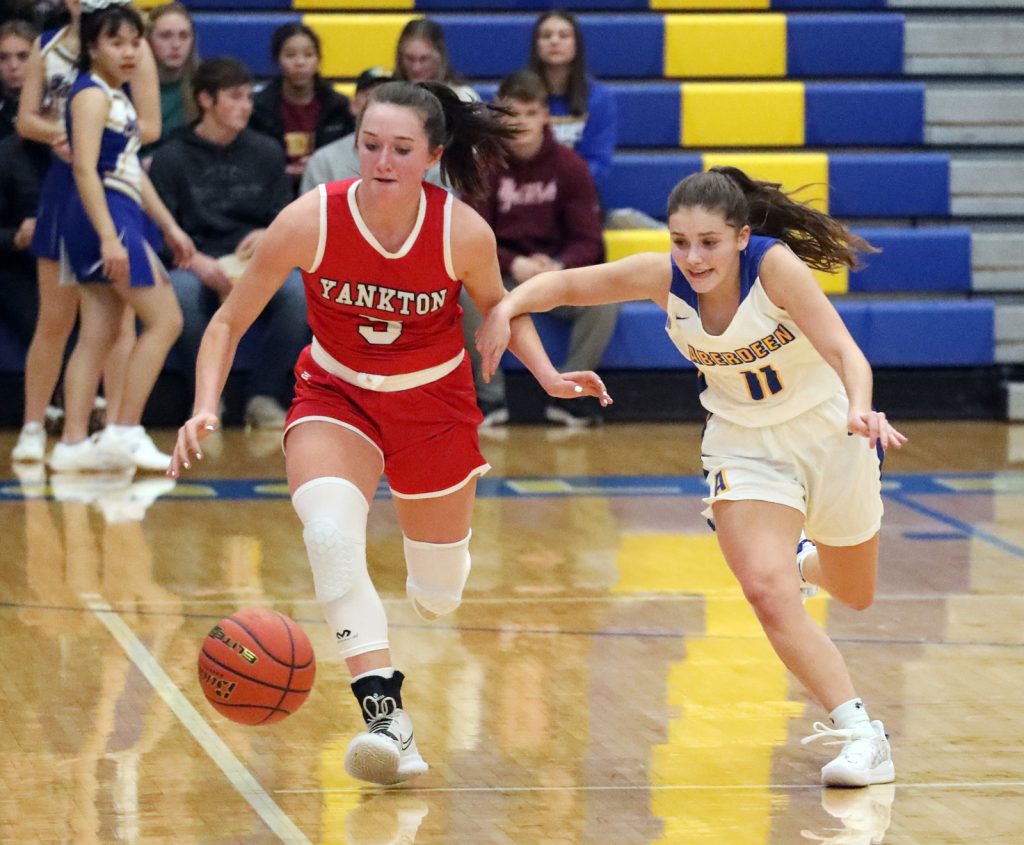 Still, the game wasn't as out of reach as the scoreboard may have indicated. Down 16, the Golden Eagles slowly, but steadily, chipped away in the fourth quarter until Anna Malchow banked home a 3-pointer that cut the deficit to single digits with roughly 5 minutes and change to play in the game.
Abby Berry, Central's tallest player all night at 5-foot-9, then hit a driving, half-diving layup with under a minute to play that cut the lead to five. Not to be outdone, Karly Wellman, who matched Berry's 5-foot-9 stature, took advantage of missed Yankton free throws and hit another driving layup that made it a 3-point game.
Yankton again missed the front end of a 1-and-1 opportunity and Central found itself with the ball and a timeout at midcourt, but could not convert on its play call.
"I think our strength is just that these kids are tough and gritty," Arechigo said of her team's ability to withstand early droughts and make late runs. "When other teams get tired, we find a way to keep working. I think that's why, toward the end of halves, you see our kids respond."
Hettich and Wellman led the Golden Eagles with 10 points apiece and combined for six rebounds between them. Berry finished with six points, seven boards and a pair of steals, while Anna Malchow had seven points, two assists and a couple of rebounds for the Golden Eagles.
Central will break for the Christmas holiday before returning to action Dec. 30 at Watertown.
YANKTON: Jillian Eidsness 1 0-1 2, Jordynn Salvatori 6 3-3 15, Ellie Karolevitz 6 1-3 16, katherine Beeman 2 0-1 5, Claire Tereshinski 0 2-2 2. Totals 15-37 6-10 40.
ABERDEEN CENTRAL: Anna Malchow 3 0-0 7, Taryn Hettich 5 0-2 10, Karly Wellman 4 2-2 10, Reese Heier 0 1-2 1, Abby Bery 3 0-0 6, Madison Miller 0 1-2 1, Ayrlie Waldo 1 0-0 2. Totals 16-33 4-8 37.
Yankton 15 19 32 40
Aberdeen Central 4 14 18 37
3-pt FG: Yankton 4-15 (Karolevitz 3, Beeman); Aberdeen Central 1-5 (Malchow). Fouls: Yankton 12; Aberdeen Central 13. Rebounds: Yankton 14 (Salvatori 3); Aberdeen Central 27 (Berry 7, Miller 6). Assists: Yankton 6 (Eidsness 2, Karolevitz 2); Aberdeen Central 7 (Malchow 2, Miller 2). Turnovers: Yankton 15; Aberdeen Central 25. Steals: Yankton 13 (Salvatori 3, Karolevitz 3); Aberdeen Central 6 (Hettich 2, Berry 2).