A two-point conversion in the second quarter proved to be the difference at Swisher Field Saturday afternoon.
In a game that featured one big play after another on both sides of the ball, Bemidji State was able to outlast Northern State 36-34 in a key Northern Sun Intercollegiate Conference football game.
A last second 50-yard pass reached the Bemidji end zone where Beavers defender Jake West intercepted it to conclude the back-and-forth contest.
"That was a pretty incredible college football game. Kind of what we thought it was going to be. I think we thought we were going to win the game, but I think we thought it was going to be a really great football game and it was," said Northern coach Mike Schmidt. "It goes to the very last second, the very last bottom of the pile in a Hail Mary. We just couldn't make enough plays and couldn't get enough stops there in the fourth quarter."
The Beavers looked sharp early with the game's first touchdown, but then squandered a chance when they missed a field goal. Northern tied the game on a 48-yard screen pass from Hunter Trautman to Vance Barnes who bolted up the sideline for the touchdown.
The visitors regained the lead with a TD and then converted on what proved to be a crucial play in the game. They lined up in a spread formation like they did when they kicked their first PAT, only this time, they went for two points and the quarterback scored. It gave the Beavers the slight edge for the rest of the game.
"It was huge play in the game. It was good job by them and a bad job by me," Schmidt said. "We didn't have the best play designed up for it. They had a good shot. We probably should have called time out. We weren't ready for the play that they were running right there."
The Wolves stayed in touch thanks to Chance Olson's interception at the NSU 32. Northern pulled to within 15-14 on a Trautman to Dewaylon Ingram touchdown moments later.
It was also Olson who denied the Beavers on their next drive. After Bemidji drove to the NSU 3, Olson picked off a pass in the end zone and ran the length of the field for a momentum changing touchdown. The senior from Langford also recovered a fumble to thwart the Beavers in Northern territory in the second half.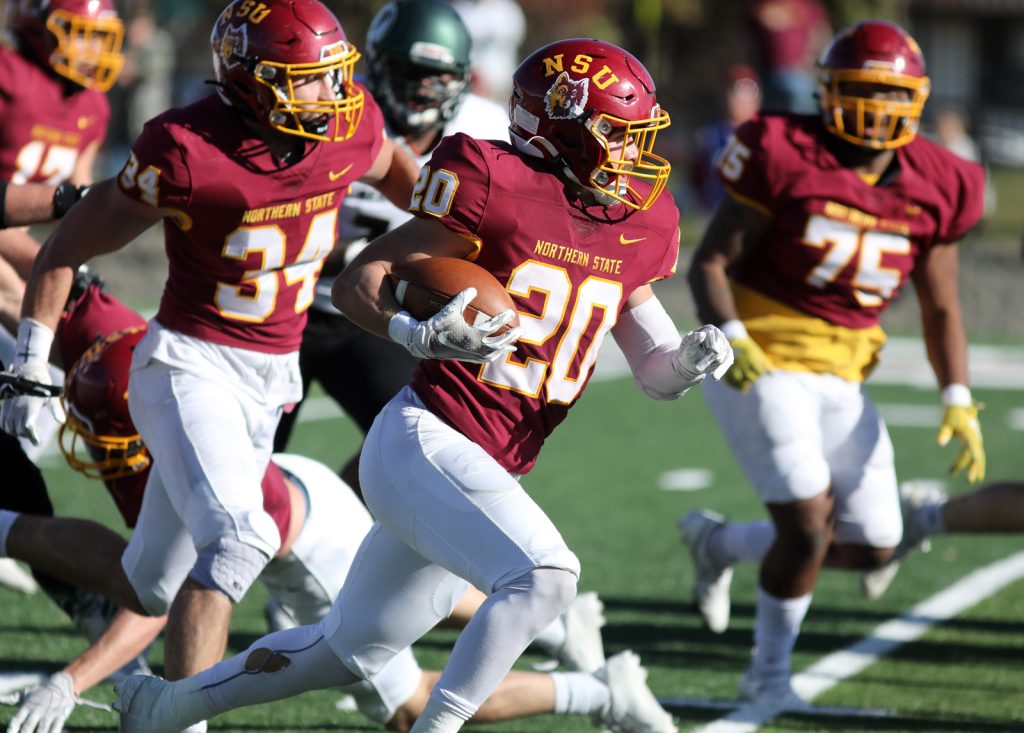 "It's something you dream about. You don't think this day will ever come, Senior Day, last home game, and it's finally here," Olson said. "You're just hoping you can go out and make plays. I was lucky enough to have some teammates around me to put me in a good position to make plays and I was just able to capitalize on them."
Bemidji grabbed the momentum right back scoring in the final minute of the first half for a 22-21 halftime lead.
The Wolves had a chance to take the lead in the third quarter, but missed a field goal before eventually grabbing a 28-22 lead on a 3-yard run by Brett Brenton.
The hosts owned that six point lead before a turnover proved costly for them as Bemidji picked off a pass at the Northern 18 and scored four plays later. Bemidji then recorded another interception on the Wolves' next possession which led to a touchdown and a 36-28 lead with 3:14 left.
Northern edged to within two points on a 47-yard scoring strike to Ben Noland. However, a two-point conversion was unsuccessful. The Beavers then used up precious time before punting to the Northern 2-yard line. The Wolves picked up 48-yards on a pass to get to midfield before the final last-second throw to the end zone where Bemidji came up with the final turnover of the game.
"That's all these big games are going to be. We're going to get turnovers, they're going to get turnovers," Trautman said. "It's really about who just capitalizes off those. I know offensively, I didn't do a good enough job to capitalize on some of those. The defense set us up in really great position. Chance constantly is in the right spot like he was today. Scored on one. It's unbelievable the amount of turnovers those guys make."
Trautman finished with 416 yards passing in the contest and Ingram had 122 yards receiving (including his 12th touchdown this season to set a new school record), but in the end, the Wolves weren't able to produce enough points off turnovers.
"I think the difference was they were able to score off of all of theirs and we weren't," Schmidt said. "That's such a difference. When you get it back you just have to a find a way to put it in."
The setback was a tough one for the Wolves who are fighting for a potential playoff berth. The loss leaves Northern at 7-3 with a final-regular season game at Duluth next week.
"This was a great opportunity. What you find every year in football, because she's so fickle, is you just don't get these chances a lot. That's what makes it hurt when you don't capitalize on it," Schmidt said. "It's so much work to get to this game and just so much time to get into that. They just don't happen all the time. I know we really wanted to get these seniors out on a good note. We're going to play our best game next week at Duluth and go up there and play really hard."
To see complete stats click on the following link:
https://nsuwolves.com/sports/football/stats/2021/bemidji-state-senior-day-/boxscore/9220