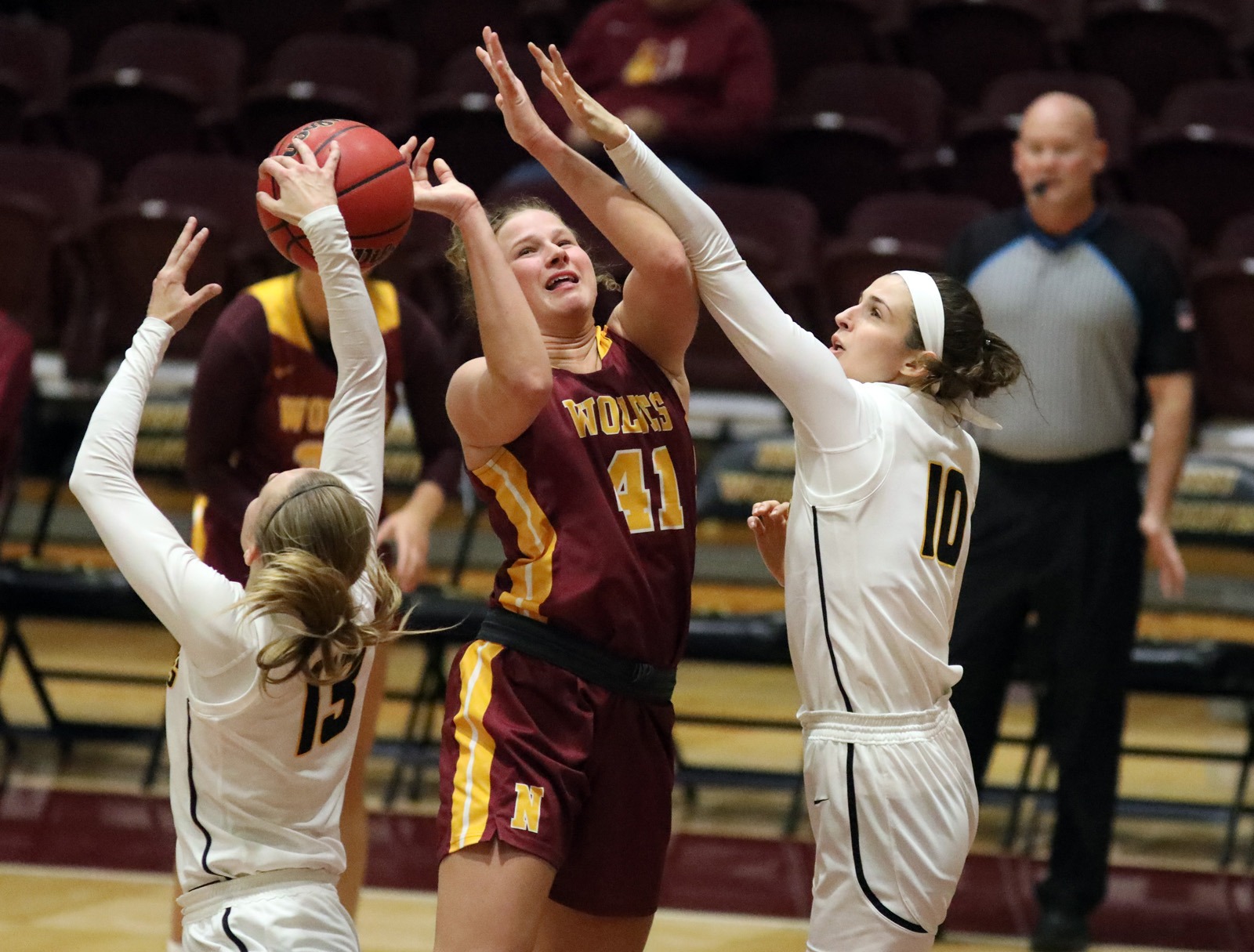 The Northern State University women's basketball team dropped its final non-conference game of the regular season to the Huskies of Michigan Tech 81-69 Saturday night during the Dacotah Bank Classic at Wachs Arena.
The Wolves started strong, jumping out to an 8-0 run aided by three offensive rebounds. Northern also held the Huskies scoreless for the first five minutes of the first quarter.
Michigan Tech gained control of the game in the second quarter, shooting 66.67% from the field. The Wolves struggled to keep up, going 5-of-13 and with no 3-pointers compared to three makes from beyond the arc by the Huskies. The Wolves trailed 34-23 at halftime.
"[Michigan Tech] shot it really well, and defensively, we made some errors," said NSU coach Paula Krueger. "Right now, we're not shooting it well enough to give up 3's and shoot ourselves back into a game"

Despite shooting 8-of-15 and scoring a game-high 25 points in the third quarter, the Wolves could not string together defensive stops to keep the game within striking distance. The Huskies put up 30 points in the third and led by as many as 22.
Northern prefers to play fast to try and create scoring opportunities in transition, and Michigan Tech limited those chances. The Wolves scored eight fast-break points compared to the 17 fast-break points they scored in Friday evening's win over Montana-State Billings.
"We are really good when we can get out and run and do some transition stuff, and we've got to do a better job of figuring out how to score in a half-court set," said Krueger.
Kailee Oliverson led the Wolves in scoring with 14 points on 5-of-8 shooting. Haley Johnson and Rianna Fillipi also scored in double figures on the evening with 13 and 11 points, respectively.
Despite the loss, the Northern State women are off to their best start since the 2017-2018 season with their 4-2 record. Before the loss, NSU had a four-game winning streak where it averaged 75 points per game.
The Wolves' next game will be Thursday at Minot State. Northern holds an all-time record of 32-7 against the Beavers and has claimed 10 of the last 11 meetings.
To see a complete box score, click on the following link:
https://nsuwolves.com/sports/womens-basketball/stats/2021-22/michigan-tech/boxscore/9362