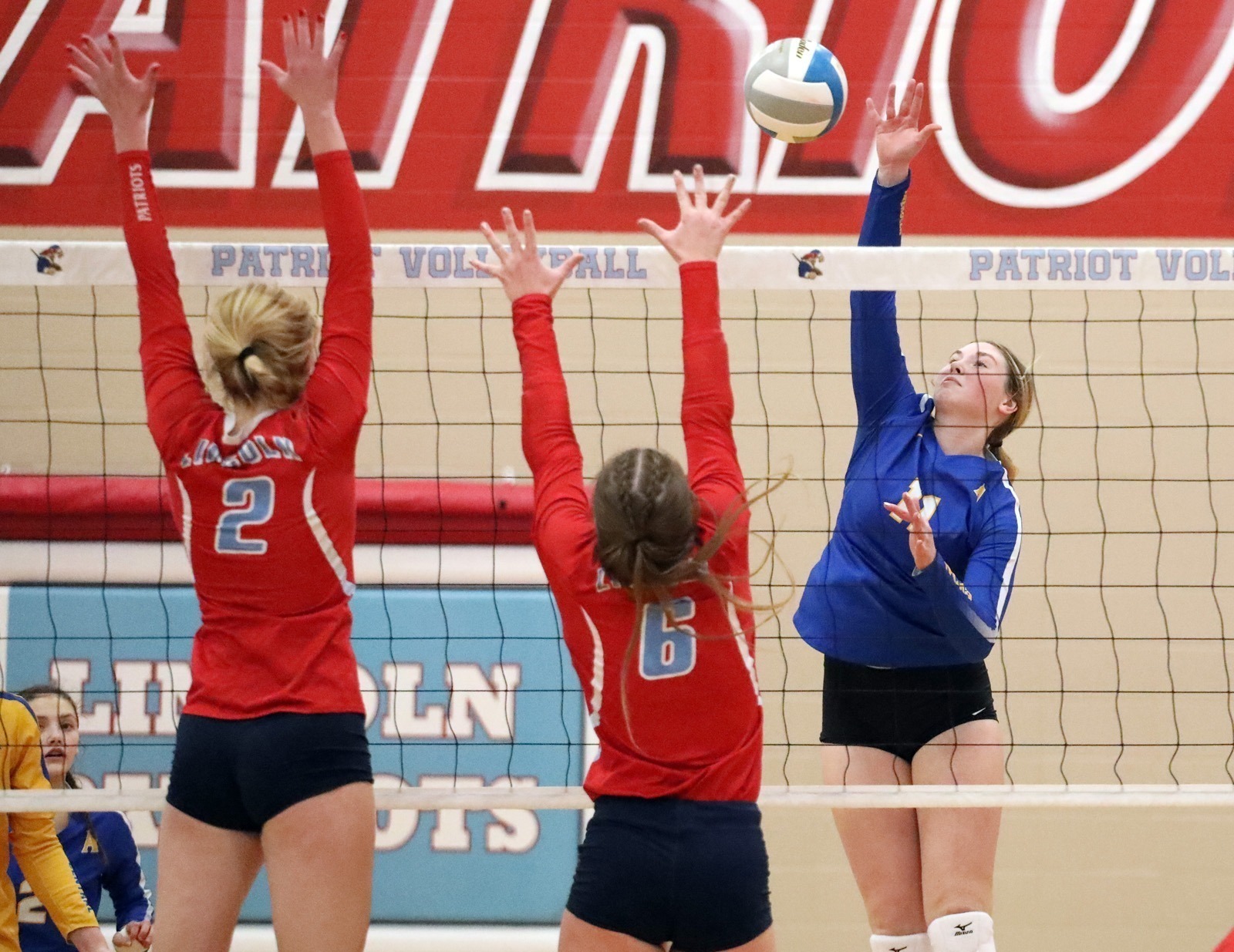 SIOUX FALLS – Aberdeen Central went down swinging, but could not overcome Sioux Falls Lincoln Thursday night.
The Golden Eagles saw their season come to a close in a 25-12, 25-14, 14-25, 25-15 setback in Class AA SoDak 16 volleyball action.
After dropping the first two sets, Central was in danger of being swept by the Patriots but erased an early deficit in the third set and stormed back to force a fourth.
"They've got some great players. I thought our kids did a great job of coming back in set three," said Central coach Jackie Bindenagel. "We were down 5-10 and just rattled off a ton of points, and we earned those points. It wasn't like they just handed them to us. We did a nice job in that set."

The hosts then took control of the final set and eventually the match to earn a berth in next week's state volleyball tournament in Rapid City.
While Eagles lost the match, they showed a marked improvement from being swept the first time they played Lincoln.
"I think compared to last time, everyone came together as a team," said Central senior Kiana Mounga, "and we finally started to work for each other instead of for ourselves."
Like they did in the first meeting, the Patriots served aggressively and racked up double-digit aces.
Bindenagel said Lincoln had some deceiving top-spin serves.
"I'm standing there on that end line and I called 'out' on a couple of them and like the bottom just falls out," Bindenagel said. "They're a very good serving team."
The Patriots are also a powerful hitting team. Baily Plourde, a 6-foot-2 senior, led the team with 17 kills in the SoDak 16 victory.
Even when the Eagles got blocks up, sometimes the balls would carom out of play.
"Sometimes it can be very difficult, especially if you get tricked by the setter and then you have to go to other side," Mounga said of the task of getting up solid blocks against the Patriots. "As long as you get there and you're able to angle your hands just right, then you should be good."
Grace Kuch had eight kills, Leah Gough six, and Mounga five to pace the Central offense. Abby Berry dished out 23 set assists, while Sydney Evans contributed 22 digs.
The match was the final one for seniors Karly Wellman, Meaghan Mork, Berry and Mounga.
"It's pretty hard to say goodbye to this group of kids," Bindenagel said. "They are a very special bunch."
Mounga said that while the season had its share of lows, it was a memorable experience.
"I'm very proud of everyone," Mounga said. "Everyone has improved and I can't wait to see the juniors play next year."
Serving: Aberdeen Central 2 aces (Ayrlie Waldo 1, Abby Berry 1).
Hitting: Aberdeen Central 24 kills (Grace Kuch 8, Leah Gough 6, Kiana Mounga 5).
Setting: Aberdeen Central 26 assists (Berry 23 assists).
Digs: Aberdeen Central 51 (Sydney Evans 22, Anna Malchow 11, Waldo 5, Meghan Mork 4, Kuch 4).
Blocks: Aberdeen Central 2 solos 4 assists (Malchow 1 solo 1 assist, Mounga 1 solo 1 assist, Berry 2 assists).