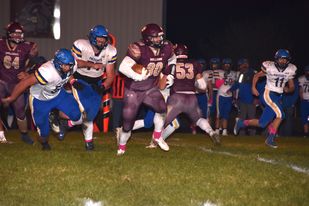 MILBANK – The Milbank Area Bulldogs are enjoying their new role as underdogs so far in the Class 11A football playoffs.
Last week Milbank Area knocked off second-seeded Canton 6-0 and this week will look to take down third-seeded Vermillion.
"It was kind of a pretty neat deal. It was just great to see the kids believing in what they can do, going down there and getting that done," said Milbank Area coach Brian Allmendinger. "It was a battle. It was a struggle. It wasn't easy by any means, but we came out on the right side of it. Hopefully, it was a good building block for our program. It was a very big win, just not for this year, but to continue on."
The Bulldogs feature a variety of athletes on their squad including state champion track and field athlete Bennett Schwenn, along with Karson Weber and Kaden Krause among others.

"We've got athletes like that and we've got a lot of supporting cast members," Allmendinger said, noting that the Bulldogs have 19 seniors on their roster.
Milbank Area takes on Vermillion in the semifinals on Friday night at the DakotaDome. While Vermillion has a lopsided loss to Canton on its record, Allmendinger maintains that his team is still the underdog.
"We'll take the underdog status," he said. "That's just fine with us."
Allmendinger said the Tanagers are loaded at nearly every position and present multiple challenges.
"They're loaded for bear. They have athletes all over the field," he said. "Up front they're big and physical. Their quarterback is exceptionally good. They've got a couple good wideouts. They're going to be a huge challenge for us."
Interestingly enough, the Bulldogs get to play in a facilty that all teams are hoping to get to for the state finals next week. Allmendinger said while that will be exciting, there is also a learning curve involved in playing in the Dome.
"It's kind of tricky because you're used to practicing and playing outdoors and now you have a semifinal game inside," Allmendinger said. "That's going to pose a whole new set challenges for the kids that they probably don't even know."
When asked about keys to the game, Allmendinger said it all comes down to fundamentals.
"You have to take care of the ball, you have to tackle well, you have to take care of your responsibility and your job, all 11 guys that are on the field," he said. "You have to execute in all three phases of the game. It's going to take another really good game."