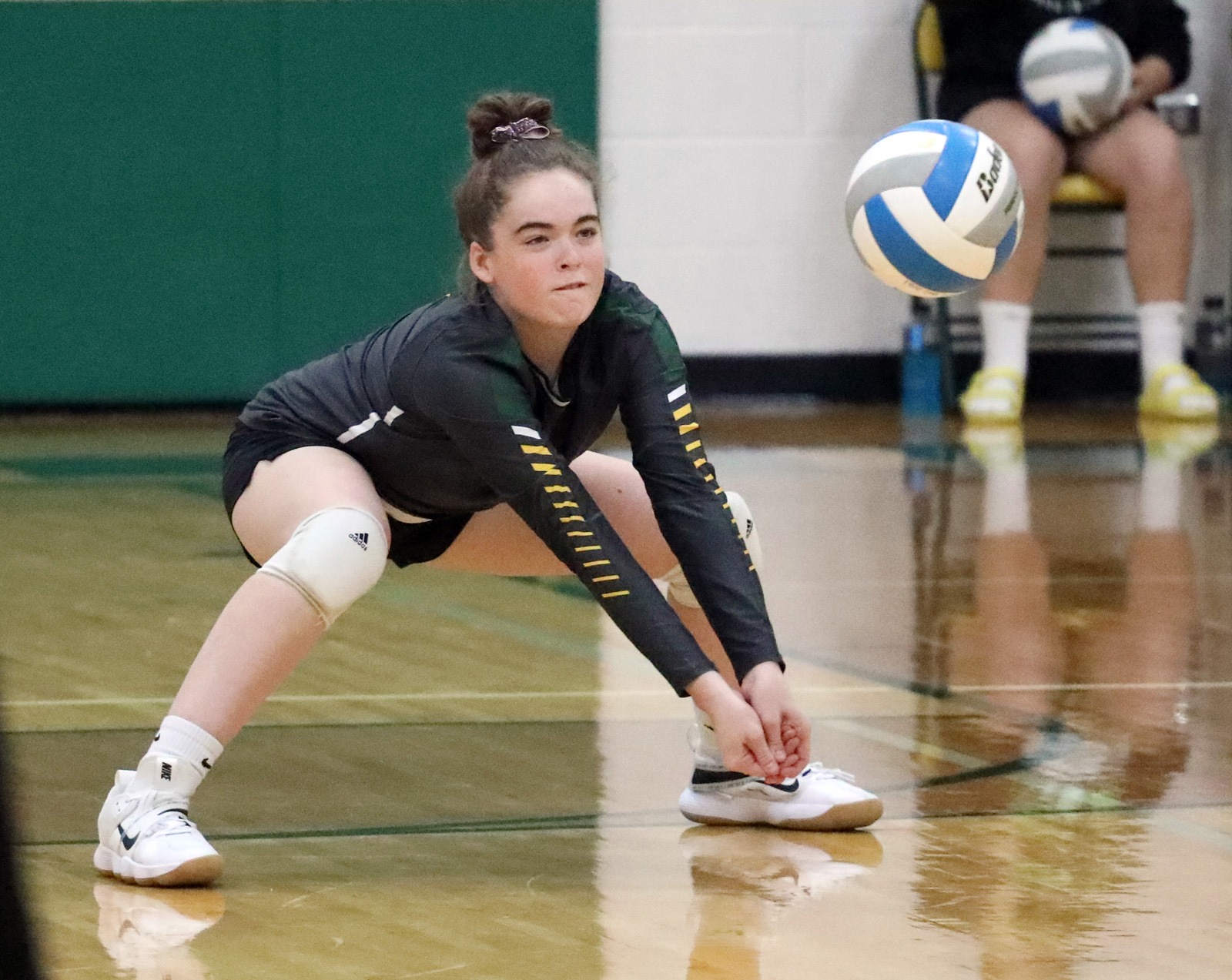 Aberdeen Roncalli set the tone with serves, made a lineup adjustment on the fly, and swept past Sisseton at Roncalli Gym Thursday night.
The Cavaliers recorded a 25-17, 25-17, 25-19 Northeast Conference volleyball victory thanks in part to their aggressiveness from the service line.
"It starts with the serve and the girls know it starts with the serve," said Roncalli coach Mandy Smid. "So much can be controlled on the other side of the court with that serve. Definitely always a point that we like to make, how much a difference it can make in a match."
The Cavaliers finished with six aces and got Sisseton out of system on many other serves.

Senior Hayley Schmidt closed out the match by serving five straight points after the visitors had trimmed a 19-9 deficit down to 20-19.
"Starting off the season we had some struggles from the service line," Schmidt said, "so lately in practice that's been a big focus, trying to get our serves over and in, and still having them be aggressive."
Roncalli was up a set and leading 10-7 in the second when leading hitter Madelyn Bragg left the match with an apparent shoulder injury and did not return. That forced the Cavaliers to use a different rotation and they were up to the challenge.
"There was lot of growing tonight that could happen with some of those younger girls getting some more experience," Smid said. "All in all it's always good to get the perspective of a different position that you don't always get to play."
It was not the first time that Roncalli has used different looks this season.
"We've been running different rotations quite a bit this season, but I'll give kudos to our youngers girls," Schmidt said. "They really stepped up in the moment. They looked like they've been thrown in that position all season."
Jeci Ewart led a balanced Roncalli attack with eight kills and Ella Hanson added six to go along with 25 digs.
Jaidyn Feickert had a strong service night and finished with a pair of aces.
It has already been a busy week for Schmidt who is the drum major for the Roncalli Marching Band. She played in a volleyball match on Tuesday, led the band in a parade on Wednesday, played volleyball again on Thursday and will lead the band again during the Gypsy Day parade on Saturday.
"I look forward to volleyball practice every day, but marching band is a great way to start the day, too," Schmidt said. "Next week is our last week (of band) so just trying to make the most of that since it's my last marching band season, but then looking forward to playing volleyball with my teammates at the end of the day, too."
When asked if she was going to play a volleyball match following the parade on Saturday, Schmidt responded, "Not this year. That has happened in the past, though. When I was eighth-grader we played in the Gypsy Day Parade and then a couple of hours later got on the bus and headed to Miller to play on a Saturday night. That was a long day."
The Cavaliers, 9-5 on the season, head to Langford on Tuesday to face a Region 1B foe. The Lions have won 15 matches already this year.
"It will be nice to gauge where we are and where we're sitting in the region," Smid said.
Serving: Aberdeen Roncalli 68-76 6 aces (Jaidyn Feickert 7-8 2 aces, Maddie Huber 6-6 1 ace).
Hitting: Aberdeen Roncalli 86-101 31 kills (Jeci Ewart 17-22 8 kills, Ella Hanson 24-27 6 kills).
Setting: Aberdeen Roncalli 95-95 27 assists (Olivia Hanson 76-76 19 assists).
Digs: Aberdeen Roncalli 70 (E. Hanson 25, Huber 13).
Blocks: Aberdeen Roncalli 1 solo 4 assists (Ava Hanson 2 assists).