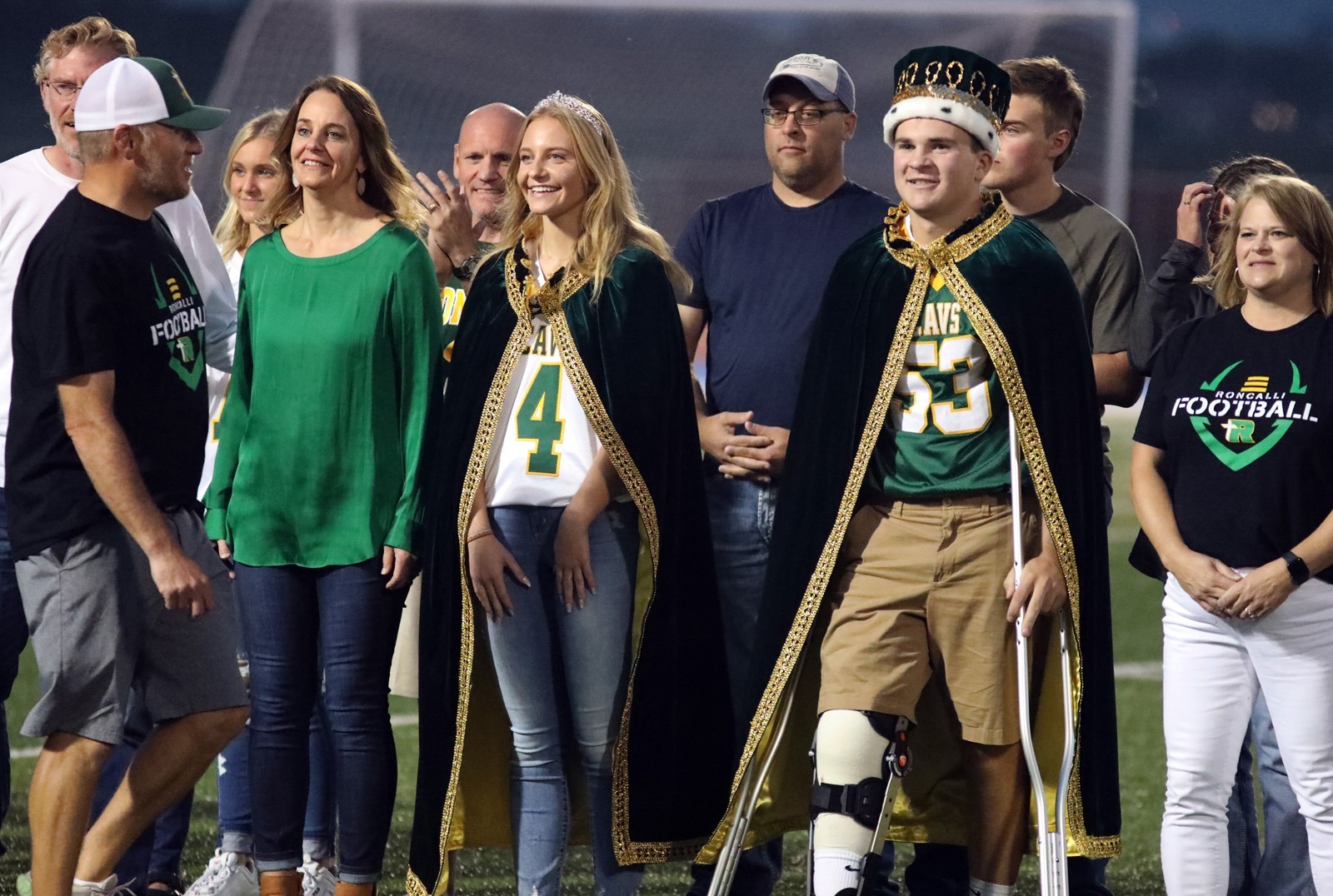 This wasn't the way Carson Helms had envisioned his senior football season would go.
At the start of Roncalli's season opener, the returning starter ran onto the field, however, less than 10 minutes into the game, he was unable to walk off it.
"I was on a delayed blitz and I got chopped," said Helms of the play that changed everything. "When I was in the air I kind of felt something pop, but I didn't feel a lot of pain right away. Then once I hit the ground the pain really set in and I knew I did something."
Helms ended up shattering the tibia near his right knee. The broken leg required surgery resulting in two plates and 11 screws.

The injury occurred in August and Helms is planning to put weight on it in a couple of weeks for the first time since it happened. He is hoping to return to normal daily activities, but knows his football days are over.
"I've given it a lot thought," Helms said of not being able to compete again. "There were some colleges reaching out. I've kind of accepted the fact that that's probably not going to happen anymore."
That's not to say that Helms is no longer an important part of the Roncalli football team, however.
He said he had two options to take once the injury occurred.
"It's been challenging just because I've worked hard for so long for this year. It sucks the way that it happened and it ended as early as it did," Helms said. "After a few weeks I kind of just said you can either just lay down and give up and not help these guys anymore who have helped you so much, or you can start giving back a little bit to what the program has given me over the years."
Like a true leader, the senior captain chose the latter.
"I just try and lead these guys and motivate them as much as I can from my position on the sideline at practice and in games," Helms said. "I just try and keep their heads up when they have a bad play or just reassure them that they'll be OK if something goes wrong."
Roncalli coach Billy Young said that Helms is a staple at practice, in the weight room and on the sideline.
In short, Helms is still a team leader even without being on the field.
"He's at every practice, in the weight room pushing his teammates, and on the sidelines during the game," Young said. "He's still a leader on this team and while not having him on the field has left a huge hole, his presence around the program is valuable."
Helms, a strongside linebacker, center and long snapper, is not just a cheerleader on the sideline. He uses his knowledge of the game to critique the action and share his insights with the rest of the team.
"When we're on defense, I kind of stand back behind the opposing team's line of scrimmage on the sidelines," Helms said. "I can kind of tell what they're going to run by how they line up. I just yell out what I think is coming."
While Helms said he is not 100 percent accurate at predicting upcoming plays, the coaching staff has found a way to use their leader during practices to help prep for upcoming opponents.
"I do what I can. Obviously, the coaches, they're not going to trust an 18-year-old kid in high school to do a full-on scouting report or run a practice, but sometimes I run scout team when they need me to," Helms said. "I'll give them a play and line them up right, just to get those guys ready a little bit more."
It's obvious the rest of the Cavaliers appreciate Helms and miss having him on the field.
After teammate Jackson Isakson kicked a game-winning extra point for a win on senior night, he immediately ran off the field to find Helms on the sideline.
"That moment with Jackson was really special. He came over and gave me a big hug. He out of everyone has really reached out and made sure I was OK," Helms said. "I've just been doing whatever I can to help these guys. I know that they have my back no matter what I'm going through. They know I'd give anything to get back out there with them, but it's just not going to happen."
Helms, who was recently selected as Roncalli's Lord during homecoming week, said in addition to the physical pain he has endured, not being able to play has taken a toll on him mentally, as well.
"Honestly beyond the physical side, just knowing that I couldn't play anymore, that was really hard for me. When I heard that news, that was really rough," Helms said. "I just worked really hard to get to my senior year. I was really looking forward to it. Just knowing that I wasn't going to be able play again and it happened in that way, that was really difficult."
On the flip side, Helms has been overwhelmed by the outpouring of support from his family and friends.
"Just seeing how much people really do care means a lot," he said. "Just little things like giving me a ride or carrying something to class for me, just calling in to make sure I'm OK, that's really been a huge blessing."
The Cavaliers are currently 5-2 on the season with one regular-season game remaining. Helms is excited to be a part of that journey.
"It's been a really good year. Starting out 4-0, that's the best start I've ever had," Helms said. "It's really exciting knowing that we a have a shot at having a home playoff game. Being part of that is really special."
While Helms will never be back in the middle of the action, he has gained valuable insight that will serve him well the remainder of his life.
"Probably the biggest lesson I learned was never take anything for granted. Something can slip away from you just like that," Helms said. "I learned that the hard way. Always just give everything you have, because you never know when it's going to be gone."