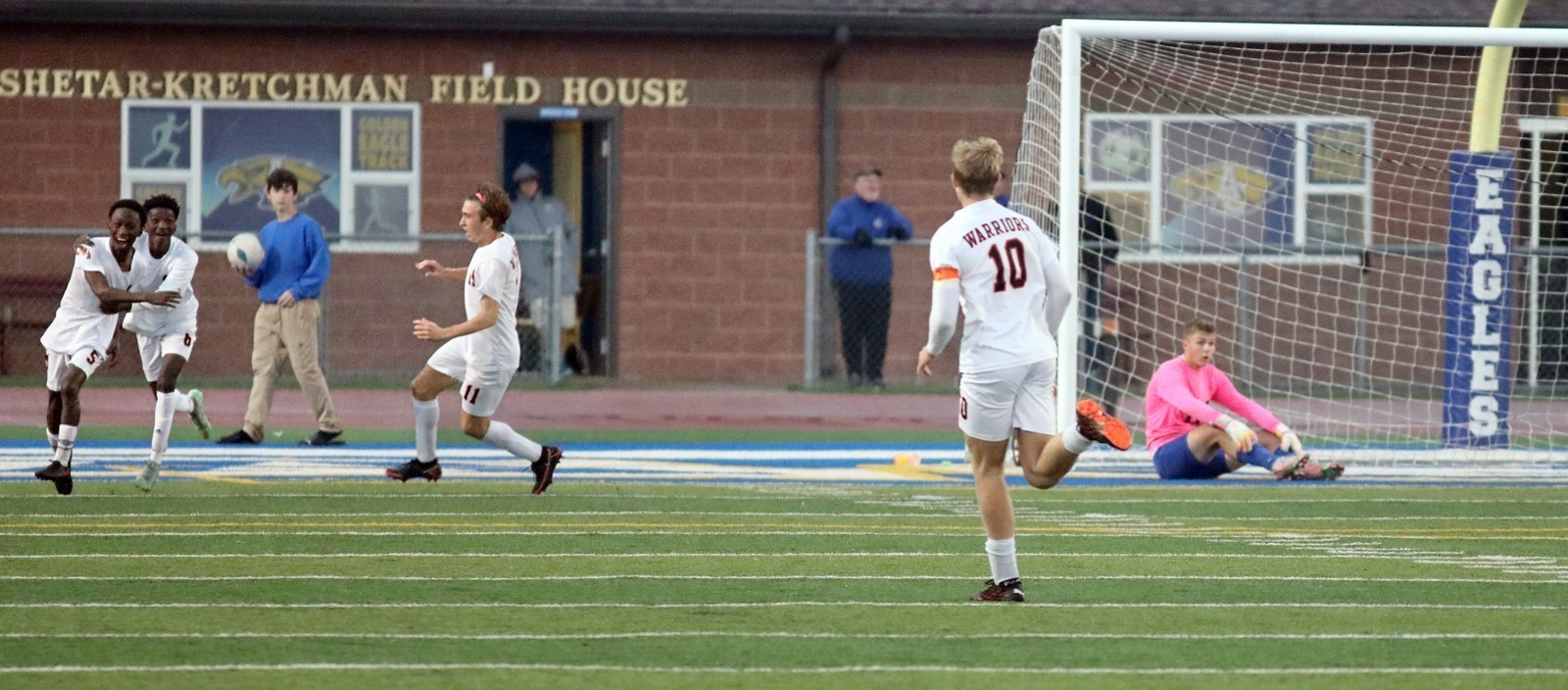 The Aberdeen Central boys' soccer team failed to advance to the State AA semifinals losing to Sioux Falls Washington 2-1 on a last-second overtime goal on a stormy afternoon at Swisher Field.
Whenever the fourth and fifth seeds meet in a bracket, one should expect a close game. Not only were the Eagles and Warriors neck-and-neck for nearly the entire game, it could not have ended more evenly matched, with the exception of a penalty shootout.
Both teams started strong and energetic despite a scoreless first half. Central's best opportunity came on a Jelani Peters shot courtesy of a long pass from Marcos Ramos Garcia that forced an elevated save from Washington goalkeeper Ishaq Hayyawi.
Central and Washington went to halftime tied at 0-0 with a storm imminent in Aberdeen. After playing three minutes of the second half, lightning strikes forced a stoppage of play and an eventual 40-minute weather delay.

The Eagles opened the scoring four minutes after the resumption of play on a goal from Denon Deuter, assisted by Ramos Garcia. Ramos Garcia picked out Deuter unmarked in the penalty box and delivered a long-range throw-in for the breakthrough.
The Warriors forced overtime with 11 minutes remaining in regulation on a corner kick goal scored by Crispin Meyer, who found himself at the right place at the right time as the corner kick service made it over all the heads to the far post for an uncontested tap-in goal.
Central and Washington then played two 10-minute periods with a penalty shootout to follow if the game remained tied. Central's best scoring opportunity in overtime came from Ramos Garcia on a backward header that forced a diving save from Hayyawi.
With less than five seconds remaining in the second overtime period, Washington pushed forward on a last-ditch counterattack. The Warriors' Hagos Suleyman found himself in space closing in on goal and scored with .3 seconds left on the clock.
"I'm super proud of the fact that we played an entire 100 minutes and they were grinding all the way to last second," said Central coach Lance Mohr. "Whatever I tell them now, it's not going to sink in the right way because they are extremely emotional. But as time goes on, they will understand that this is just part of sports and part of the game.
The Eagles ended the season with a combined regular season and playoff record of 11-3 and will graduate five seniors, including Peters and Ramos Garcia.
Washington 0 1 1 – 2
Aberdeen Central 0 1 0 – 1
First Half: None.
Second Half: Aberdeen Central, Denon Deuter (Ramos Garcia) 47th minute; Sioux Falls Washington, Crispin Meyer, 69th minute.
Overtime: Washington, Hagos Suleyman, 100th minute.
Shots on Goal: Washington 13 (10 on goal), Aberdeen Central 22 (12 on goal).
Goalies: Washington, Ishaq Hayyawi (9 saves); Aberdeen Central, Camden Fauth (8 saves).