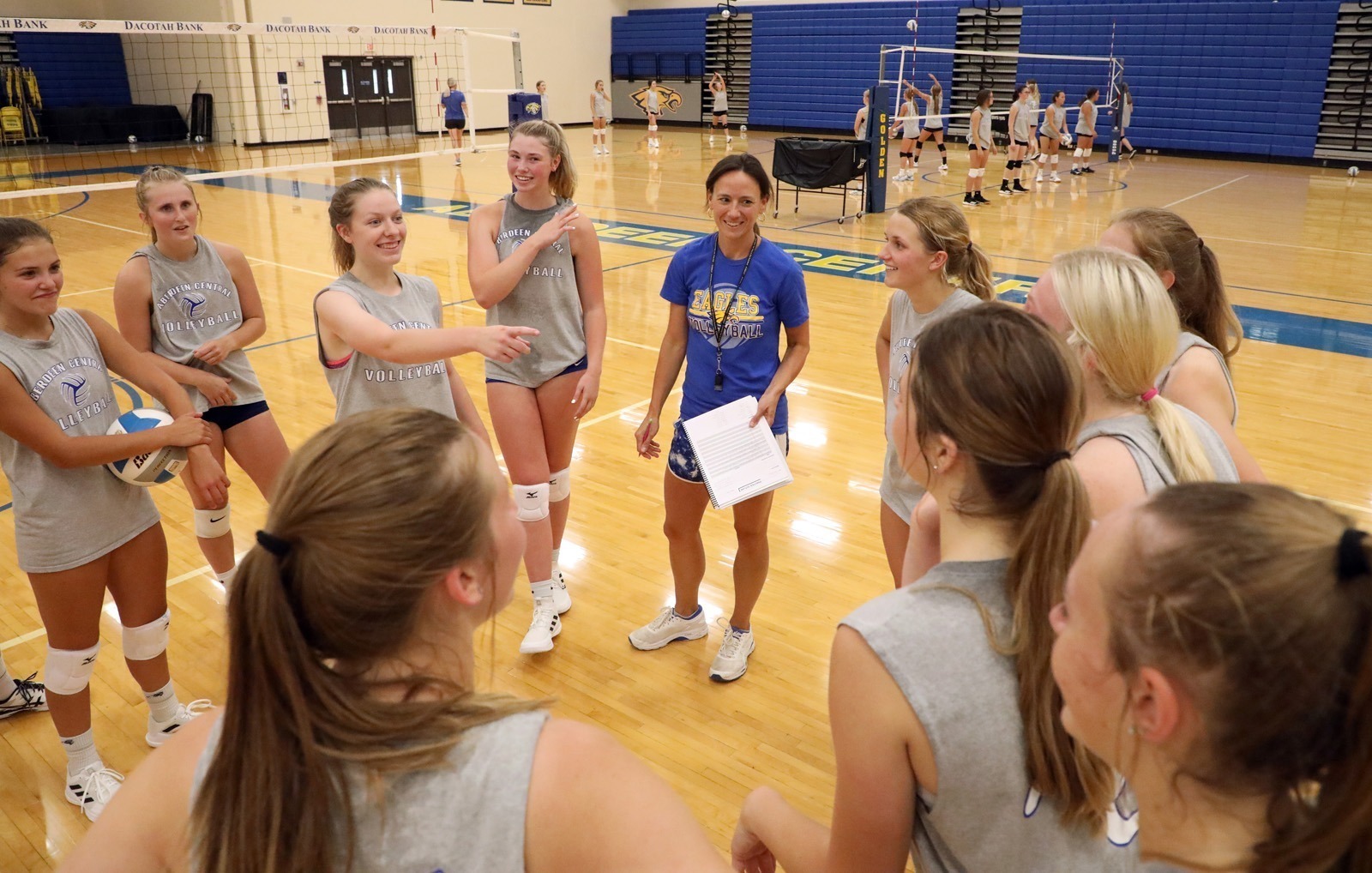 There will be a new player at nearly every position on the floor this year for the Aberdeen Central volleyball team.
Not only were the Golden Eagles hit hard by graduation, but two of the key returning members will be at different spots this fall.
While there will be plenty of transition, the one constant has been a solid work ethic to help carry on a rich volleyball history with the program.
"The energy is great and they've been working so hard," said third-year Central coach Jackie Bindenagel. "It's been really fun."
The squad will be led by a pair of returning starters, albeit they will have new roles.
"Grace Kuch played last year in the middle as a freshman. We've moved her outside. We're going to see what that looks like for a while," Bindenagel said. "Sydney Evans will fill our Libero spot. She was a DS (defensive specialist) for the past two years."
After that, there are plenty of positions open because of a variety of circumstances.
"We really lost nine. We had seven seniors and then Madi Aldridge went down to an ACL this summer, and then we had another young lady move," Bindenagel said. "It's wide open and they have really just embraced that, to fight for those spots."
Players fighting for varsity positions include setters Abby Berry and Ayrlie Waldo, outside hitter Karly Wellman, middle Kiana Mounga, and backrow players Meghan Mork and Anna Malchow."
Needless to say with so much newness, chemistry and unity are big focal points to start the season.
"It's been trying to find that balance with fundamentals and then team chemistry," Bindenagel said, "because they have to spend a lot of time together on court to get that going, too."
Bindenagel said this group of players has a strong work ethic and is looking forward to the challenges that lie ahead.
"They're kind of a gritty group. They just like to get after it. For example we had two a days last week. We had morning practice, and they came in an hour and half before the second practice and played for over an hour before our second practice," Bindenagel said. "They just work. They're workers. They're competitive. They're a fun group."
The Eagles open their season at Brookings on Tuesday.
Bindenagel said they haven't talked much about goals, yet. The one annual goal is to always save their best for last.
"We really just have our sights set on November," Bindenagel said. "We might have some bumps in the road until then, but we just have them forward focused."
Despite having so many new faces in so many new places, Bindenagel said the expectation level is high for the Eagles just like any other season.
"It is high. So many people have said, 'Oh, it's just going to be a rebuilding year.' We don't feel that way as a coaching staff. We don't want the kids to think that, and I really don't think they do. They just want to hit the ground running."