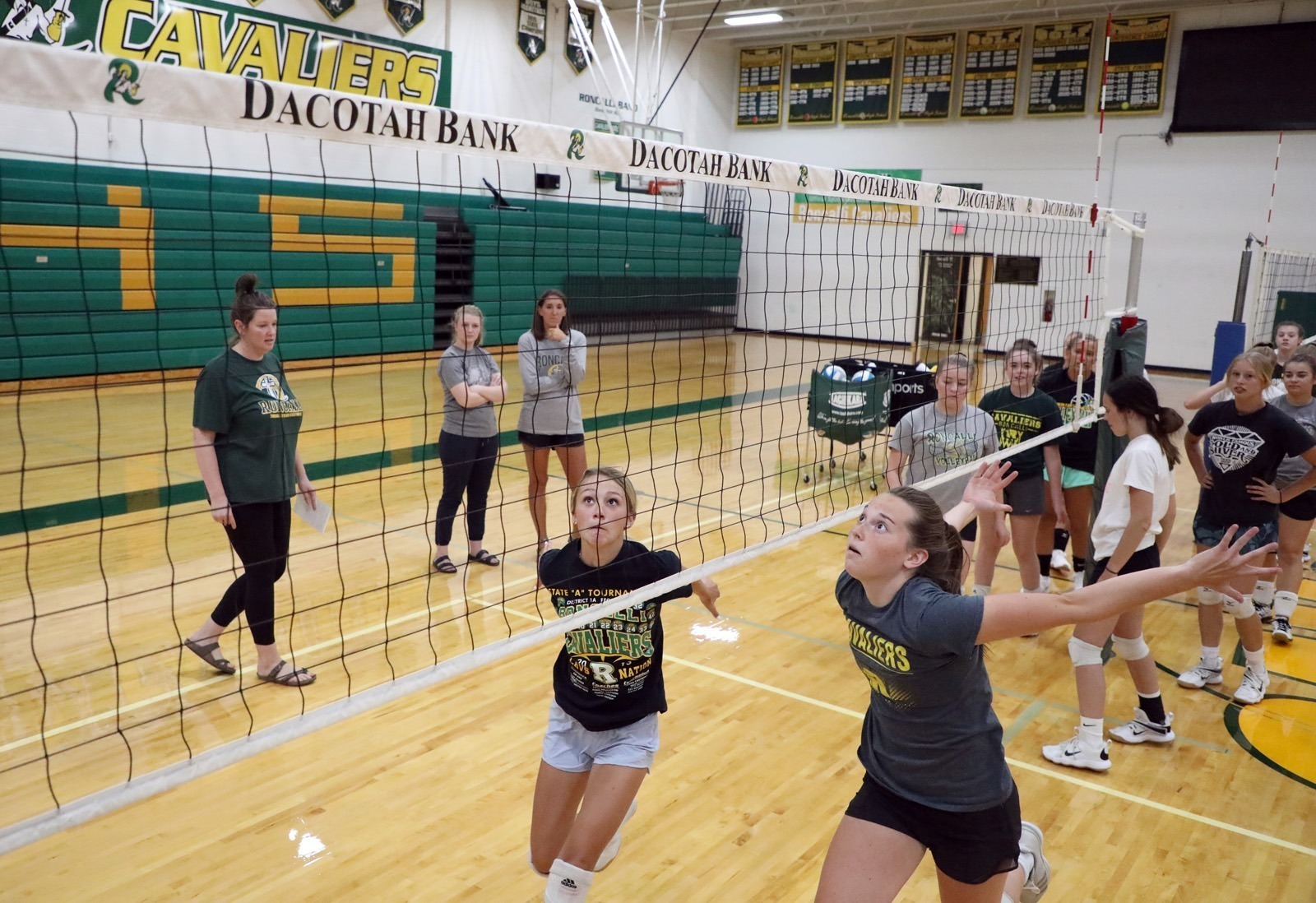 It's primarily the same group of players, but they are now in a totally different class.
When the Aberdeen Roncalli vollyeball team takes to the floor this fall, there will be a lot of familiarity. What's new is that the Cavaliers are now a member of the Class B ranks for the first time in school history.
Roncalli joins Region 1 which is loaded with volleyball talent and tradition. It's the same region that features perennial powerhouses Northwestern and Warner, which have combined to win 15 of the 18 Class B state titles.
"I think about last year, we were still competitive with Warner last year going five sets two times," said Roncalli coach Mandy Smid. "I'm interested to see how the schedule all plays out. Now that we're B and are going to be playing so many Class A teams … where that will leave us in the region."

The Cavaliers will feature most of the same athletes from last year's volleyball team, some of which helped lead Roncalli to the Class A state championship in girls' basketball last season.
Returning starters include seniors Madelyn Bragg, Jeci Ewert, Olivia Hanson and Hayley Schmidt, along with junior Ella Hanson. Other juniors expected to play key roles include Jazmine Hart-Crissman, Rachel Fahrni, and transfer Taylor Bennett.
One of the traits of the athletes is their competitive desire.
"I feel like we've got good energy and some competitively-natured girls that don't like to lose," Smid said. "Whether all the pieces are there or not, fundamentally and volleyball-wise they're still going to compete hard and want to win matches."
A key factor will be team chemistry as the squad attempts to blend veteran players along with a group of athletes who don't have much varsity experience.
"It's going to be a combination effort of a lot of different grades that are playing together," Smid said. "For the leaders, being patient with the youngers that are going to make those mistakes, because they're young and inexperienced, but then also being encouraging to promote them and to gain that confidence as well to make the whole group effort work."
The Cavaliers will open their season on the road against defending Class B state champion Northwestern. It will give the squad a taste of what things will be like in the post-season this fall. Smid said it is important to play well for a couple of reasons.
"It's really important for us to come out and have a strong match against Northwestern to kind of set that tone for the season," she said, "and hopefully boost that confidence and help the girls recognize that this is where we can compete and we can be competitive along with them."
Smid said the team goals remain the same this year, new class or not.
"Every year is kind of those same things. They want to be conference champs. We want to get to the state tournament and we talk about setting those goals a little bit more in steps so that we're not focused on the end point, but also on those steps that come in between," she said.
While the post-season road promises to be challenging this fall, it's not like it has been easy in the past.
Roncalli ended up facing a pair of powers in SoDak 16 matches the last two seasons, one against eventual Class A state champion Sioux Falls Christian. Another win or two during the regular season may have changed the seed points and given the Cavaliers a more favorable matchup.
Smid understands that each match is crucial regardless of opponent or time of the season.
"As we look at past years, the last two years finishing in the SoDak 16 with the matchups that we had and we look back at the rest of it and play the what-if game, or what-if we would have played and not lost this match then we wouldn't have had that matchup or what not," Smid said. "I think it's just important for the girls to realize that with the way things are set up now with the SoDak 16, with such a strong region that we're going into, that every match really matters and we can't afford to just let a night slip by. We have to show up and be competitive every night."