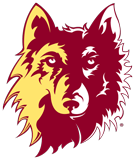 PRESS RELEASE
The Northern State University cross country, track and field, and swim teams will host their annual Wolves Triathlon on Sunday August, 29th. The tri consists of a 400m pool swim, 12 mile bike race, and 3 mile run; and is sanctioned through the South Dakota Triathlon Association.
Cost of the triathlon in $40 per person ($15 for NSU students) or $60 per team ($20 for NSU student teams). To register for the race click the link above or visit nsuwolves.com/wolvestri. The first wave begins at 12 p.m. from the Northern State Barnett Center.
Full triathlon information is below. Direct questions to Northern State head track and field coach Lynne Dingman at lynne.dingman@northern.edu.
Details:
Starting position/time will be determined after 11:45 a.m. when registration is complete and posted in the pool. Race day registration is allowed, but we encourage you to register early.
Novice/recreational athletes will begin in the first wave as indicated on the registration form, followed by intermediate, then advanced. Wave one, which begins at 12 p.m., will include 12 participants, after which each of the following participants will file in when a lane becomes open.
T-shirts will be distributed on a first come first serve basis. Medals will be awarded to the top 3 in each age group, (19 and under, 20-29, 30-39, 40-49, 50 and up) and top three teams. Overall Male and Female winners will receive a free entry into next year's Wolves Tri.
Food and beverage will be provided at the conclusion of the race. No drafting will be allowed, helmets are required!
Course Information:
The swim will not be a snake swim. Each swimmer will have a lap counter. 2 swimmers per lane, stay in your half of the lane.
The bike course will be marked with arrows, cones, and each corner will have a volunteer and is 12.5 miles in length. The bike course is out and back on paved county roads.
The run course is 3 miles in length on sidewalks, bike paths and roads and will be marked with arrows and have volunteers on each corner.
Water stations will be provided at the turn-around point on the bike, 2 mile mark during the run, and in the transition area.