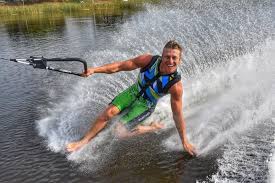 The Aberdeen Aqua Addicts are gearing up for their biggest shows of the season.
The water ski group is hosting a performance by Ben Groen this evening at 7 at Dahme Lake. Next week, the location will be the site of the Midwest Regional Show Ski Tournament July 22-25.
Groen is among the top barefoot skiers in the world, according to Todd Thorson of the Aqua Addicts.
"He is really something special to watch," Thorson said.

Barefoot skiing is a different level of water skiing.
"It's just another discipline. It probably would be considered the higher-energy, more difficult stuff to do," Thorson said. "It's kind of like football, you can either handle taking a hit or you can't. A fall at 40 miles per hour, you're probably going to get more nervous about it than getting hurt."
The Aqua Addicts are no strangers to barefoot skiing. Thorson said there are about two dozen members who have the ability to do it.
"We're nationally known for having really good barefoot water skiing on our team," he said.
Many have worked with Groen at the World Barefoot Center down in the Florida.
"This is our best good group of young barefooters that I've ever taught," Thorson said. "This young group is just incredibly talented. He's helped them tremendously."
This will be Groen's third appearance in the Hub City.
The Aqua Addicts will host the regional tourney for the first time since 2017. It features teams from Minnesota, Iowa and South Dakota as well as individuals from those states in addition to North Dakota, Nebraska, Kansas and Colorado.
Thorson said it will include between 400 and 500 of the top skiers from the Midwest. The Aqua Addicts are scheduled to perform as a team around 1:30 on Saturday, July 24. He said the team competition will be wide open.
"If we're skiing well, we're as a good as anybody in the region. We've been considered one of the top teams in the region for the past five years," Thorson said. "It all kind depends on how your show goes. The top four teams are basically a coin toss."
The Aqua Addicts are currently comprised of 112 members, ranging in age from 4 to 50.
"We have a ton of skiers so our numbers are really good," Thorson said. "We're one of the few teams that have a bunch of kids that are skiing. I think that helps up with energy, but it might hurt us a little bit on the experience side."
Teams are placed in two divisions based on size of their communities. The Aqua Addicts have petitioned to compete in the higher division.
"We won Division II so many years that we asked to move up to the Division I," Thorson said. "And we have not won Division I, yet. I think it's a good challenge for us."
There will be a variety of acts during the regional, including a first-ever attempt by the Aqua Addicts.
"We'll have 52 skiers on the water at the same time behind five different boats," Thorson said.
The act will require 5,200-square feet of rope, uncoiled in a 30-second window with all five boats going at the same speed trying not to make too many waves for the skiers.
"We call it the Big Act," Thorson said. "It's a pretty incredible act."