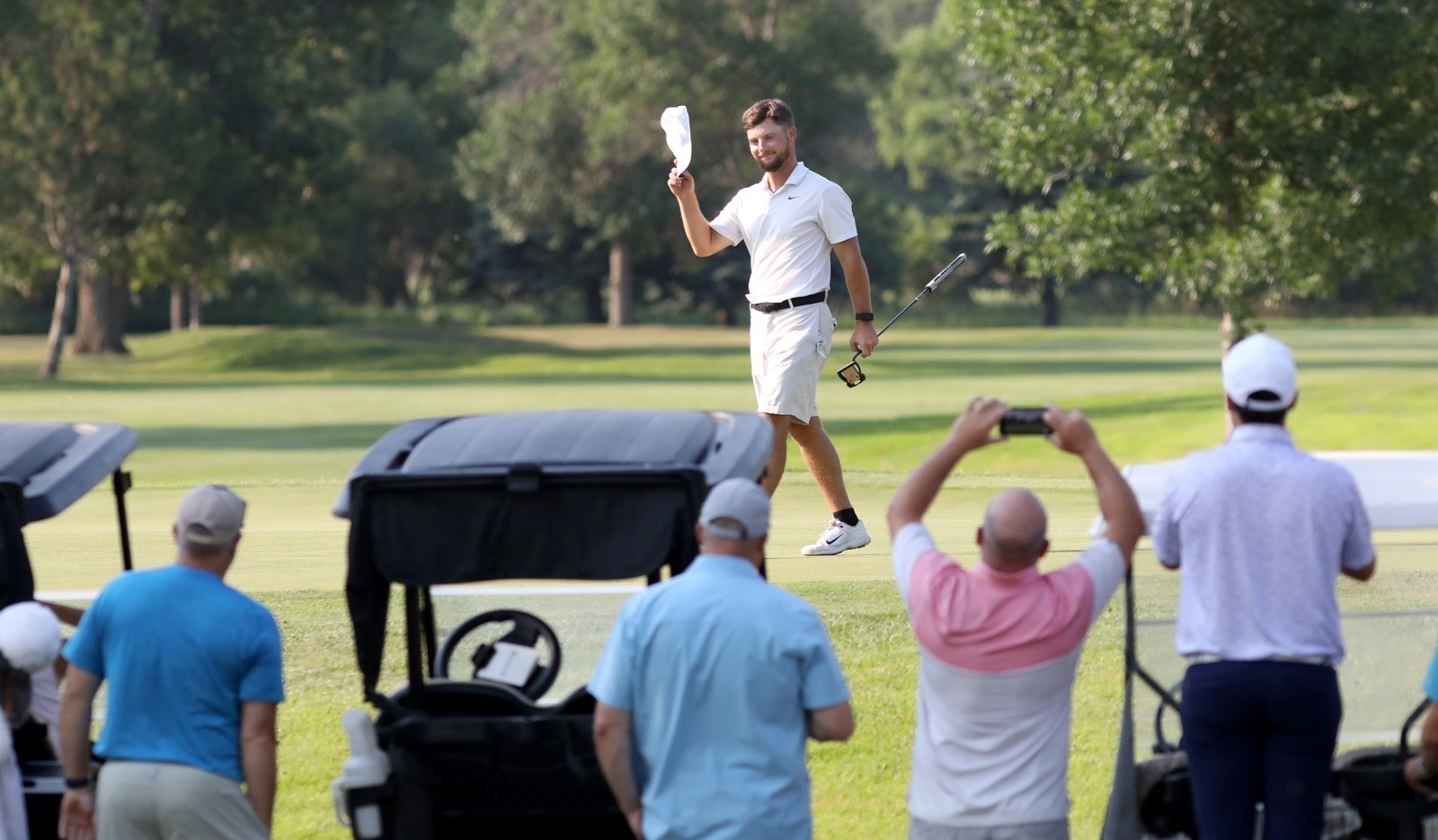 Zander Winston started off his day with two bogeys in the first seven holes, but recovered well on the back nine and held on for a two-shot win over Michael Mattiace at the Western Printing Pro-Am golf tournament, which wrapped up Sunday at Moccasin Creek Country Club.
The win was Winston's first-ever at Moccasin Creek in his third appearance at the annual tournament.
"Any time you win in a tough field like this on a tough course, it's always nice," Winston said.
Winston began the tournament in a 3-way tie for first after the opening round, then shot a 64 on Saturday to take the lead.

But that lead wasn't ironclad by any stretch, as the Scottsdale, Ariz. golfer ran into a bit of trouble early on.
"It was a bit shaky," Winston said. "I missed a 3-foot putt on the second hole for par, but I bounced back nice and chipped in for birdie on four. That kind of settled the nerves. I just tried to hit fairways and greens."
The win netted Winston a $20,000 purse in his first event of the Dakotas Tour.
Michael Mattiace, meanwhile, used a dramatic 18th hole to finish in the runner-up spot. In just his sixth tournament since turning pro earlier this summer, Mattiace birdied the final hole of the tournament to break out of a tie and finish alone in second place.
Mattiace put a bunker shot just two feet from the hole, then sank the birdie putt to edge out Tony Albano Jr. That sequence earned the 22-year-old and University of North Florida graduate an $8,465 purse, which is about $2,000 more than finishing in a tie.
"I think I had two bogeys the whole week," Mattiace said. "It was a good week. I had a lot of good drives right down the middle. Hit a lot of fairways. And I putted nice this week. Obviously would like to have had a couple more putts to drop, especially today. I had a lot of opportunities."
Mattiace carded rounds of 67, 68 and 69 and was the only golfer to go under 70 in all three rounds, but was undone by Winston's Friday round of 64.
"Zander played really well," Mattiace said. "Hats off to him."
While Mattiace knew that pressure on Winston would be a difficult reach, he also had to contend with pressure from behind, as Albano birdied the 17th hole to force the tie going into the final hole.
Then Mattiace found the bunker and knew he had to have a good shot out of that to end his weekend on a good note.
"I would have had to had an eagle to put the pressure on Zander," he said, "but after I hit my second shot in the green-side bunker, it wasn't really feasible to make eagle. But I knew where I stood. It was nice to hit the bunker shot first. … And I hit a great shot."
Mattiace blasted out of the bunker and got the ball to spin back to within just a couple feet of the hole to put the pressure back on Albano.
"That's a 45-yard bunker shot," Mattiace said. "People say that's the hardest shot in golf. And to hit it to within two feet, I can't ask for more."
Aberdeen native Jonah Dohrer won the amateur portion of the tournament.
To see complete results, click on the following link: