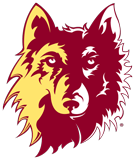 PRESS RELEASE
Online Registration: https://northern.formstack.com/forms/wolves_buddies
Aberdeen, S.D. – The 2021-22 Northern State Wolves Buddies program is now live and open to boys and girls through the 12th grade. The program, sponsored by Culver's Restaurant, features a variety of incentives and benefits listed below.
For $50 per year, Wolves Buddies receive a general admission pass to all regular season home Northern State events (excludes NCAA and NSIC post-season games), as well as the membership benefits listed below. Northern State offers family pricing with two memberships set at $80 and three or more memberships set at $100.

To register visit nsuwolves.com/WolvesBuddies. Please direct all questions to Coordinator of Athletic Marketing and Events, Steven McKee at steven.a.mckee@northern.edu. . Game Passes and materials will be mailed to your provided address. Hats will be ordered August 27th and will be available for pick-up from the Barnett Center Athletic Office (Room 42). Members who sign up after August 27th may experience a slight delay in receiving their hat. Note Wolves Buddies hats are available for pick-up only; no hats will be mailed.
MEMBERSHIP BENEFITS:
· NEW-Bring a friend for free Wolves Buddies game promotion (12 and under):
o One NSU football game in Dacotah Bank Stadium on Nov. 6
o One NSU basketball double header in Wachs Arena – date TBA
o Tickets will be included in your packet upon pickup
· NEW-Special Wolves Buddies seating offer in Dacotah Bank Stadium
· Special Wolves Buddies seating offer in Wachs Arena
· Student-athlete signed birthday card!
· Official Wolves Buddies hat
· One (1) coupon for a Culver's ice cream sundae
· 25% discount at the official NSU Nike Team Store
· Culver's 1.99 kids meals punch card
· Chance to be the Wolves Buddy of the game at one NSU home game
· Special invites to NSU camps, clinics, and events
· And more!