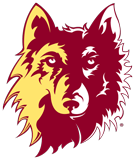 PRESS RELEASE
Northern State University head men's basketball coach Saul Phillips announced the addition of Gavin Block to his staff today. A former student-athlete of Phillips, Block joins the Wolves after two seasons at Duquesne University.
"Gavin is one of the brightest basketball players I have ever coached," noted Phillips. "He was the type of leader during his playing days that you knew would translate to college coaching. I know our players will enjoy his personality and coaching style; and I look forward to all the positive things he'll bring to our program here at Northern State."
"I am very excited to join the Northern State men's basketball program," explained Block. "I am looking forward to being reunited with Coach Phillips, and I can't thank him enough for giving me the opportunity to be part of something special. I am eager to start building relationships with all our players and everyone in the community. Go Wolves!"
From 2019-21, Block was the assistant director of basketball operations for the Dukes. He handled the day-to-day operations of the program include practice and game day organization, travel planning, recruiting, game film management, and social media promotion. The Dukes went 30-18 in his two seasons on staff.
Block played collegiately at Ohio University, earning a bachelor's of business in specialized studies in 2019 and masters in leadership management in 2021. He appeared in 121 contests, racking up nearly 850 points and 300 assists. Block was a 4-time All-MAC Academic team honoree and Ohio SAAC member.