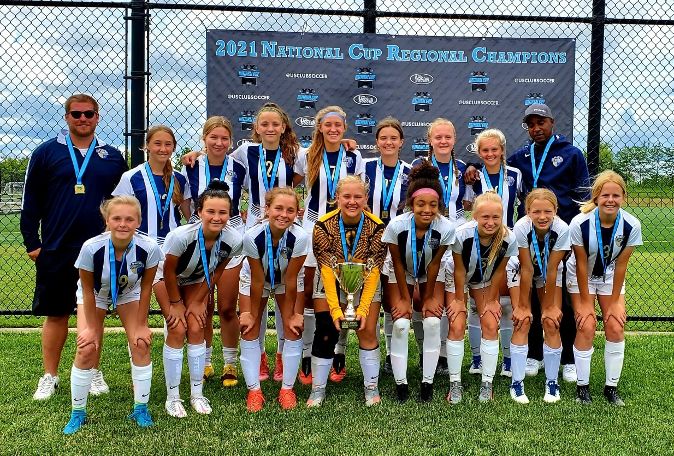 From their training to their tenacity, the girls on the SD United Dynamo soccer squad are different from most U15 teams.
The group, which unites girls from North Dakota, South Dakota and Wyoming are headed back to the US Club Soccer National Tournament in Denver, July 16-20. The last time they were there, they finished runner-up in the U13 Division.
"We have a group of girls that really like soccer and wanted to take it to the next level," said Dynamo co-coach Zamani Peters.
The team includes six members from Aberdeen (Deshani Peters, Hadlee Nilson, Baela East, Ciara Franks, Kayla Poppen and Bailey DeGroot) as well as girls from Pierre, Spearfish, Rapid City, North Dakota and Wyoming.

Peters said they are all there because of a desire to play competitive soccer.
"There's no stragglers. There's nobody there just because my mom says I have to play soccer," Peters said. "They're all there because they want to play soccer and they want to play at a higher level."
Not only that, they are willing to do whatever it takes to be successful at that level.
"These girls are all die-hard. They like soccer, they like training, they like playing. They're very competitive," Peters said. "They absolutely do not like to lose. They have a fight that's unbelievable."
The interesting fact is that the players only practice together once a month. They meet in Pierre for one weekend where they train and prepare for upcoming events.
Peters, and his assistant coach former Aberdeen resident Matt DeBoer, use the weekends for bonding as well as practicing. They stay in private homes, eat meals together and do fun activities.
"They really interact with each other outside of playing the game," Peters said. "That's a big thing. That's huge."
So is being on the same page when on the pitch.
"What forces those girls to work together, is when they see by working together we get really, really good results," Peters said. "Teams that don't work together don't win. We work together, we win."
As a result, the Dynamo has become a force to be reckoned with. The team allowed only two goals in five games in winning the Midwest Regional Tournament in Chicago. Now, they return to the national tourney where they came up just short in their quest for a national championship two years ago.
Peters said the team played short-handed because of injuries in that tourney. He said teams down south have an advantage over teams from the Midwest because they can play year around.
"The odds are always against us. We don't practice every day. We practice one weekend a month," Peters said. "We're underdogs any tournament we go to. We have girls that have hearts that are just so strong and tenacious. That's what gives us the edge."
Time will tell how long the squad will remain intact, but Peters believes the players could remain a competitive unit until they age out of club soccer.
"We plan on staying together. That's one thing as coaches, our jobs don't end on the soccer field. We're managers," Peters said. "We manage the game, the event, manage the weekend, we manage the players, and one of the things that's really important is how to keep the team together. That's our job as coaches. To me, there's a lot more to it than just coaching a kid how to play the game."