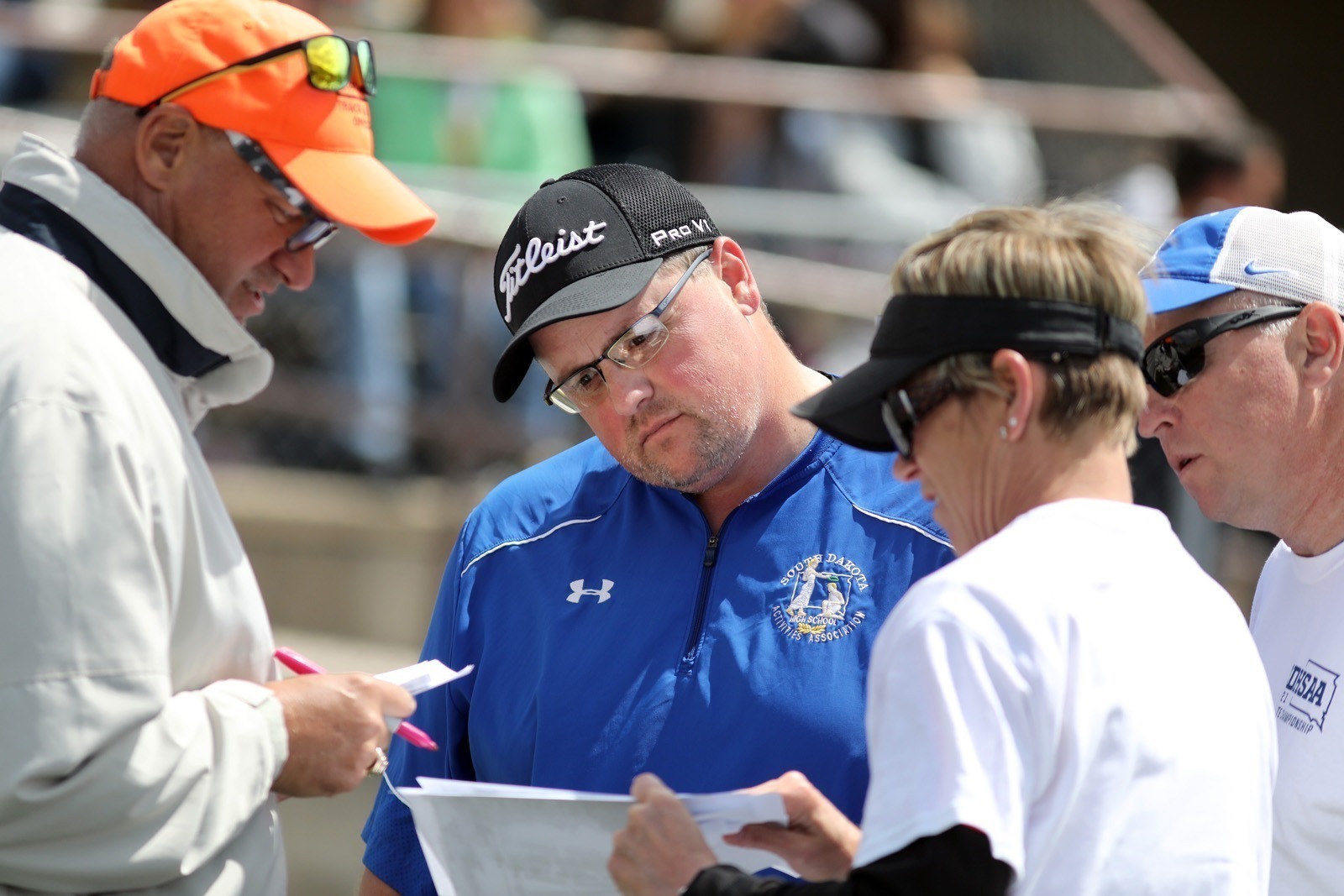 PIERRE – John Krogstrand is heading back to Nebraska.
The former Aberdeen man is leaving his position as Assistant Executive Director for the South Dakota High School Activities Association after nine years on the job. He will become the District Director of Athletics for Omaha Public Schools.
"My wife's entire family is within an hour of Omaha. A good portion of my extended family is there, too," Krogstrand said. "While it's not physically home where I grew up and graduated from, in the same breath it is like home in a lot of ways."
Krogstrand worked in Nebraska for three years before joining the SDHSAA.
He said he has enjoyed his time with the association and especially the relationships he has built for the better part of the last decade.
"It's been awesome being able to do what I was given a chance to do for the last near decade. To build all those relationships and to forge those relationships and partnerships and to grow the association to where we are," Krogstrand said. "I think of all the activities that I've been a part of, you can find some pretty demonstrated changes and improvements that was made to make it better for our kids and better for our coaches."
Regardless of the sport or activity, there have been noticeable changes and improvements across the board, Krogstrand noted.
Golf – "We were using excel spread sheets after a round to figure things out and now we've got live hole by hole scoring."
Soccer – "I came in and it was the first year we ever had soccer (as a sanctioned sport). We had nine teams playing in it and a two-day single-site state tournament. And now we've grown it out and it's kind of a road to the state championship. You've got 30 plus teams in boys and girls in each division playing."
Cross Country and Track and Field – "We've been able to highlight those kids with the results and the expansion into athletic.net, having results actually available throughout the season online for individuals to track, and then for the state meet, instant results, and coordinating and bringing that all together."
Football – "We've gone with the All-Nations Conference and being able to develop that championship for our schools. The changes that we've seen classification-wise and playoff-wise, revolutionized where we're at with South Dakota football, not to mention navigating the height of concussion awareness; working through all of that making sure football is as safe as it is."
Wrestling – "I think of my first state tournament in Aberdeen and we're posting teams scores after the rounds on laminated paper copies on the the bleachers folded in on the west end of the Barnett Center. Having a 16-hour day at the arena to now having everything being done on Trackwrestling, every match on-line, televised. The enhancement for wrestling has been phenomenal what we've able to do to enhance and grow things for kids there." There is also the growth of girls' wrestling.
Basketball – Bringing in instant replay.
"There's all those kinds of things that I'm truly so excited to be a part of making those accomplishments and making those gains for our kids. Again, highlighting the student-athlete experience and to make it better for them," Krogstrand said. "Not only to be aligned with other states, but to be honest with you, in a lot of cases be the leaders and have other states copy and borrow, and take what we've done here in South Dakota. That's pretty special to me and something that I'll always be proud of. Literally, every single sport I've worked with we've done some pretty major things to make things better."
That does not even include sports like softball and e-sports on the verge of becoming sanctioned events.
"We're finding ways for kids to participate," Krogstrand said, "because we know the value of athletics."
Not taking credit for it, Krogstrand also pointed out the rise up the ladder for a pair of South Dakota officials, Kelly Pfeifer in basketball and Brandon Cruse in football.
"Nine years ago, Kelly Pfeifer is still working high school games. Brandon Cruse in football is still officiating high school games. This year to have Kelly working in the Sweet 16 and to have Brandon working the national championship college football game, I mean how awesome is that?" Krogstrand said. "We've always had quality officials in our state and I think some of that recognition come through here in the last decade and seeing those guys get those opportunities from South Dakota has been really cool to see, too."
The one thing Krogstrand said he will always cherish is the relationships he has built, particularly those with the Native American schools in the state.
"Being able to attend events at Pine Ridge that I had never done before or Little Wound or any of those schools; being an invited guest and being part of that Lakota Nation Invitational and the Dakota Oyate Challenge in Huron; being invited to come to those things as an honored guest and even putting the stripes on and officiating games at both of those. Being asked to do that is truly uncommon to create those bonds in a short amount of time," he said. "To come back and be part of that again, I'm really excited to try to continue those relationships."
While Krogstrand's journey has taken him to multiple states in a variety of positions, his roots will always be in the Hub City. He guided the Aberdeen Smittys to the American Legion Baseball State A Championship in 2008, a team that recently went into the South Dakota High School Baseball Hall of Fame.
He coached the late Bryce Anglin who lost a battle to cancer at the age of 21. A scholarship is handed out each year in Anglin's honor.
"I still say one of the coolest things is no matter how many games we won or how many of those kids went on to play at the next level or the level after that, to see so many of them come back when we do honor Bryce and we honor Bryce's family and we honor a kid from the Smittys keeping that memory alive," Krogstrand said, "that's something that's absolutely on my calendar every year to make sure to make that trip back to Aberdeen to be part of that awesome celebration and recognition."
Time will tell where Krogstrand will finish his career, but there is no changing where it all started.
"Aberdeen is always home and it always will be home," he said. "It is a truly special place."