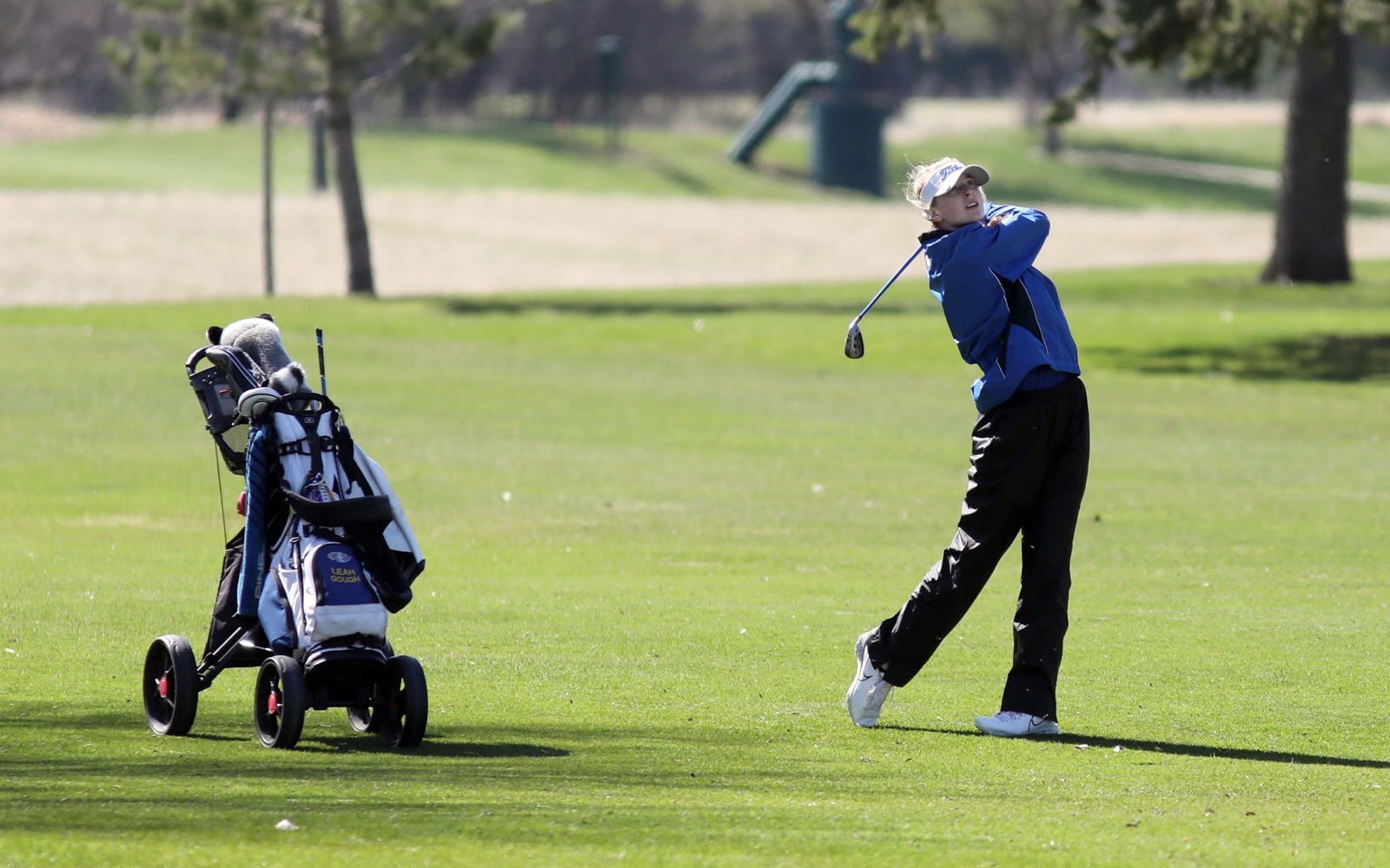 MITCHELL – Aberdeen Central finished third at the Eastern South Dakota Conference Girls' Golf Tournament on Wednesday. The Golden Eagles, led by third place showing of Danielle Podoll with an 81, finished with a team score of 351 at Lakeview Golf Course in Mitchell.
"All things considered it was a very good day for us. Anytime you play a post season event like the conference or a state tournament and you finish where we did today, we'll definitely take it," said Central coach Kim Zimmmerman. "One of our goals going into the year was top three in conference and we achieved that. I was very pleased with our outcome today. The last two times we've been down here we've been shooting in the 360s. We needed to get better today and we did."
Mitchell won the team championship with Harrisburg runner-up. Harrisburg's Reese Jansa was the medalist with a 71.
Central had three all-conference golfers. In addition to Podoll, Leah Gough tied for 12th with an 88, and Olivia Braun tied for 14th with a 90.

Hayley Wirebaugh and Morgan Jones each shot a 92. So Central had four golfers all within four shots of each other.
"Ideally, if you could have a team where you could send six players out there and not knowing which four you're going to score, I think that would be a coach's dream to be honest with you," Zimmerman said. "Because you just don't put that responsibility on those four golfers. That showed today. Morgan Jones stepped up big for us. She was one of our four scores, her and Hayley. We're working towards that and I think today was another indication that we're moving in the right direction. I told them before they went out, you have to play today as if we're going to use your score. That's the mentality that we had to have."
The Golden Eagles will now prepare for the Class AA State Tournament Monday and Tuesday at Bakker Crossing Golf Course in Sioux Falls.
Team Points: Mitchell 337, Harrisburg 349, Aberdeen Central 351, Huron 356, Yankton 359, Pierre 365, Watertown 374, Brookings 385, Brandon Valley 419.
Top 15 Individual Results
1, Reese Jansa, Harrisburg, 71; 3, Masy Mock, Mitchell, 75; 3, Danielle Podoll, Aberdeen Central, 81; 4, Karlie Bigelow, Huron, 82; 5, (tie) Quinn Dannenbring, Mitchell, 83, Halle Stephenson, Yankton, 83, Haley Nadeau, Pierre, 83, and Riley Zebroski, Watertown, 83; 9, Allison Meyerink, Mitchell, 85; 10, Bryn Huber, Huron, 86;
11, Mattie Weidenbach, Harrisburg, 87; 12, (tie) Leah Gough, Aberdeen Central, 88, and Delilah Fuls, Brookings, 88; 14, Jillian Eidsness, Yankton, 89; 15, (tie) Olivia Braun, Aberdeen Central, 90, and Kenya Bigelow, Huron, 90.
Other Aberdeen Central golfers: (tie) 19, Hayley Wirebaugh, 92, and Morgan Jones, 92; (35), Emma Dohrer, 99.