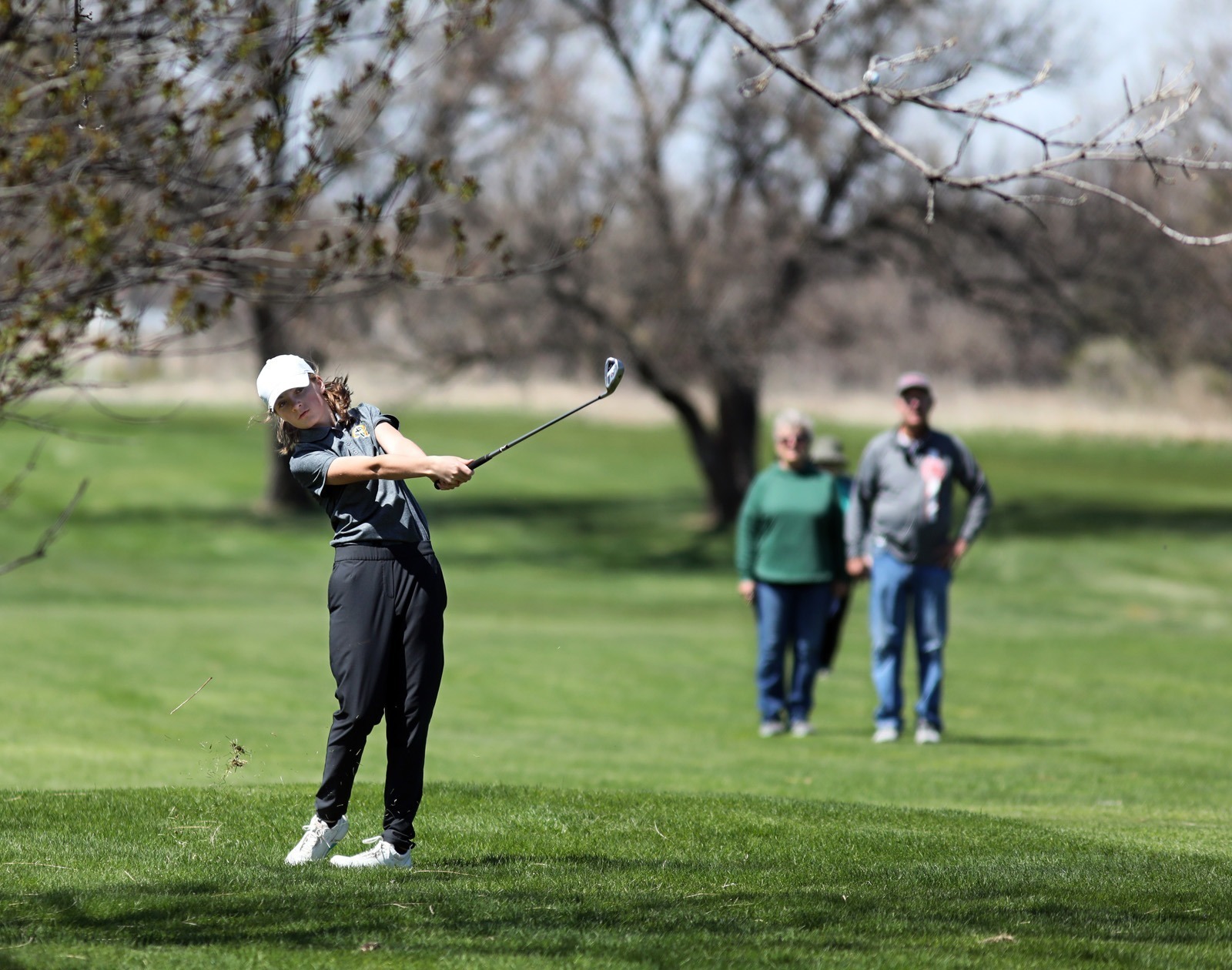 SISSETON – At age less-than-15, Aberdeen Roncalli's Claire Crawford has already set herself a pretty high bar.
The Roncalli seventh-grader finished 10th at the Region 1A girls golf tournament Friday in Sisseton, securing a spot in the Class A state tournament, set for June 7-8 in Spearfish.
Friday's tournament was a rescheduled affair from Thursday due to inclement weather conditions.
Crawford carded a 106 on Friday to claim that top-10 showing and pace the Cavaliers to a team score of 497 and a seventh-place finish.

"Only four girls shot under 100," said Roncalli coach Kerry Brandenburger. "(Sisseton) is one of the toughest 9-hole courses around. So for (Crawford) as a seventh-grader, first time playing in a region tournament — she played very, very well."
Sisseton claimed the overall team title with a 397, lead by individual medalist Kelsey Heath and three top-10 finishes individually.
Roncalli's Margaret Anderson finished with a 117 in 23rd place, just one spot out of state qualifying position.
With four seventh-graders and an eighth-grader on the roster, Brandenburger said the future is bright for Cavalier golf.
"There were some tears after it was done and over with (Friday)," Brandenburger said. "I don't think they try to put pressure on themselves, but they feel it. They want to go to state. They know that's the ultimate goal. It's just going to take a little bit more time, and that's OK. We knew that going in. They saw their first region tournament today and found out what it's like, and that's really important. … These girls are so resilient. If I could say anything, they bounce back so quick."
Team Points: Sisseton 397, Madison 432, Dell Rapids 435, Flandreau 437, Sioux Valley 458, Milbank Area 487, Aberdeen Roncalli 497. Incomplete: Groton.
Individual Results
1, Kelsey Heath, Sisseton, 82; 2, Keva Bursheim, Flandreau, 90; 3, Julia Steffensen, Sioux Valley, 96; 4, Kierra Silk, Sisseton, 99; 5, Ali Vacanti, Madison, 100; 6, Carly Guthmiller, Groton, 101; 7, Sami Schmidt, Dell Rapids, 102; 8, Abby Greenhoff, Dell Rapids, 102; 9, Emma Dahl, Sisseton, 104; 10, Claire Crawford, Aberdeen Roncalli, 106;
11, Eleni Sims, Madison, 106; 12, Marion Mischel, Milbank Area, 110; 13, Tori Peterson, Flandreau, 110; 14, Abby Palmquist, Madison, 110; 15, Rachel Heinemann, Flandreau, 111; 16, Elliot Hortness, Sisseton, 112; 17, Shaylee Schuchad, Milbank Area, 114; 18, Laryn Stevens, Sioux Valley, 114; 19, Emma Taubert, Dell Rapids, 115; 20, Olivia Flemming, Madison, 116;
21, Jayme Schmidt, Dell Rapids, 116; 22, Caitlyn Cradduck, Sioux Valley, 116; 23, Margaret Anderson, Aberdeen Roncalli, 117; 24, Camila Monroy, Milbank Area, 121; 25, Ashlynn LaFromboise, Sisseton, 124; 26, Rebecca Heinemann, Flandreau, 126; 27, Julia Dossett, Madison, 126; 28, Haylee Bohnet, Sioux Valley, 132; 29, Natalie Berg, Dell Rapids, 132; 30, Kasey Pistulka, Sioux Valley, 135;
31, Morgan Helms, Aberdeen Roncalli, 137; 32, Ava Danielson, Aberdeen Roncalli, 137; 33, Reese Henrich, Aberdeen Roncalli, 138; 34, Shaylee Peterson, Groton, 142; 35, Ella Kasuske, Milbank Area, 142; 36, Clara Kelm, Flandreau, 154; 37, Jaclyn Wik, Milbank Area, 157.