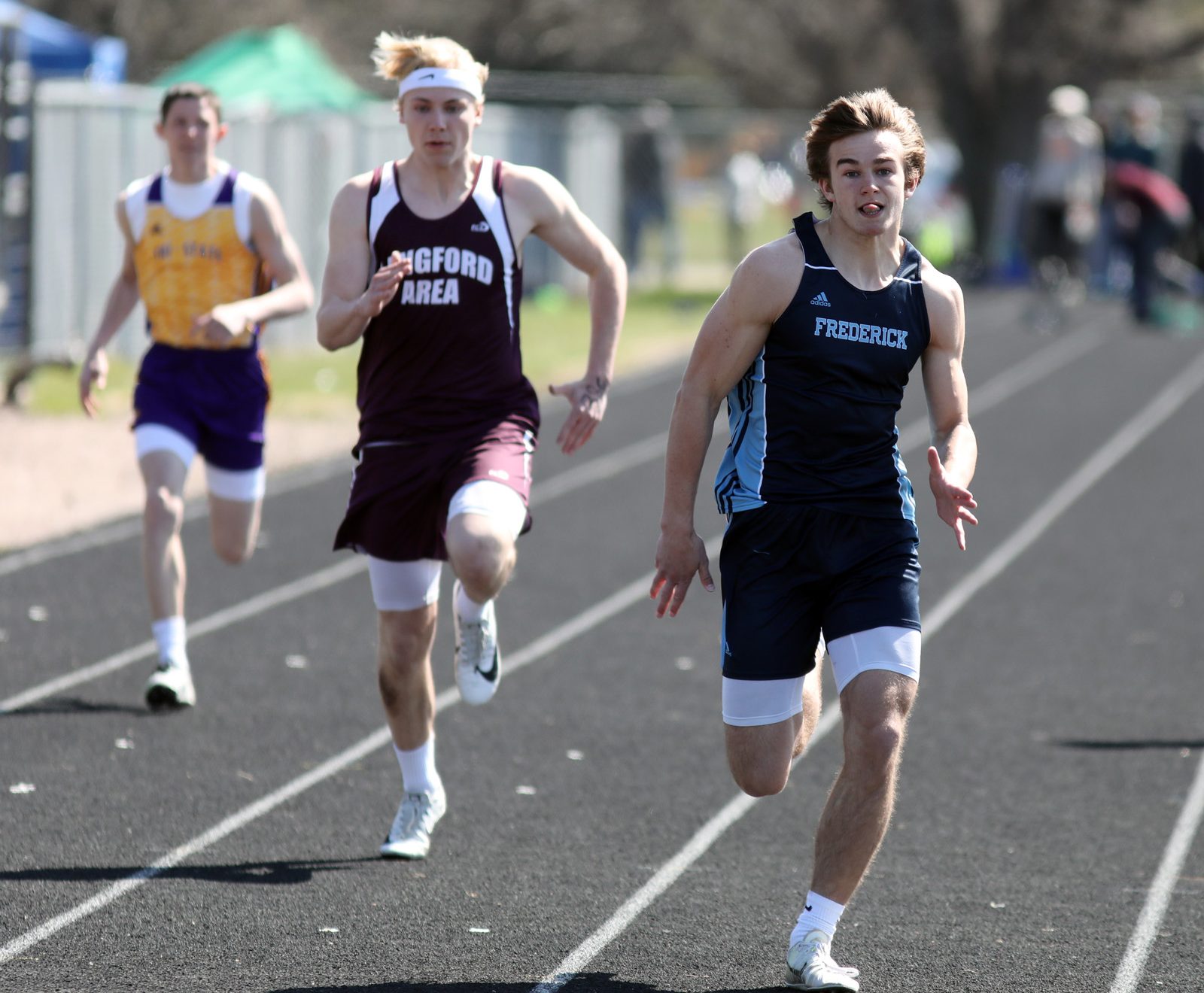 FREDERICK – It's been said that the true measure of great athletes is their ability to make those around them better.
Isaac Sumption has taken that definition to heart.
The Frederick senior is one of the state's premier multi-sport athletes, but he is more concerned about elevating those around him than his individual accomplishments.
"I have a good relationship with a lot of the youngers kids coming up. So for them to look up to me and see the work that I've put in, being an influencer for them is probably the biggest thing," Sumption said. "It's been cool to experience all the accolades, scoring a 1,000 (points in basketball), just stuff like that. But there's a bigger message behind things like that, like the work you put in, who you can influence as a role model."
Sumption's efforts have not gone unnoticed. Whether on the football field, the basketball court or the track, his ability to lead has been evident.
"Talking with Isaac earlier at the beginning of the season he was fully intent on wanting more kids getting to that state track meet, trying to figure out how he could get the kids in there, which is a testament to what kind of kid he has grown into," said Frederick track and field coach Marty Morlock. "You could see it on the football field when I was coaching him there as well as in track. He's turned into a nice little team player and does a lot of things to try to benefit the team and make them better."
Make no mistake, Sumption is a gifted athlete, blessed with breakaway speed. However, he is also possesses unwavering mental toughness that comes from putting in the work in order to trust his abilities.
"It kind of depends how you handle it and the way you look at things," Sumption said of dealing with pressure. "Basketball and football are team sports. Sometimes the pressure does fall on me, but it's all in how you handle it. I've kind of gotten used to that role and I enjoy having a lot of the power in my hands, because I know I can handle it. I've put the work in enough to be able to handle it."
After a standout football season and a stellar basketball season, Sumption is capping off his prep career with a memorable track and field campaign. He is among the top Class B sprinters in the state.
He said attention to detail, like the starting blocks, is crucial when it comes to cutting time.
"I'm kind of a perfectionist. You have to perfect your blocks," he said. "There's technique to how you come out and how fast you stand up and stuff like that, trying to get to full speed. It's kind of like an art in a way. As little of an action as it is, it takes so much work to really perfect it."
And when you do, big things can happen. Earlier this spring, Sumption broke a school record dating back to 1955.
"You always want to chase your records, you always want to reach your goals," Sumption said. "That record really was my goal. I had my eye on it and put the work in."
A talented athlete, fueled by motivation, is a force to be reckoned with. Sumption puts his killer instinct to use no matter which sport he competes in.
"Not letting anyone else try to beat you is the goal. When someone is neck and neck with you or catching up, you have to put it away and give it your all," Sumption said of his race demeanor. "Just like in basketball when teams are trying to come back, you just put the hammer down and step on their throat and put the game away. It's the same thing in a track race."
Sumption will take his skill set to Presentation College where he will play basketball next season. Before then, he wants to erase some memories from his state track meet two years ago where he failed to place in the sprints.
"I just had a super bad start at state. That's what I kind of remember," he said. "That's why the 100 is so crucial coming out of the blocks. It's just the main reason to be a perfectionist in those sprint races."
Sumption has learned through the years what it takes to be a leader and one of those traits is being able to handle the spotlight.
"I kind of like it. I expect myself to excel in those pressure situations," he said. "When it comes down to it, that's what all the work is for, being able to handle that pressure."
And being able to show those younger teammates what it takes to be successful.
"It's not really something you think about being a junior or sophomore, being a leader. Once you hit that 12th grade, it's your turn," Sumption said. "It's all about how you handle the pressure, excelling at being a leader just as much as you are an athlete. I wanted to set that example for those below me."