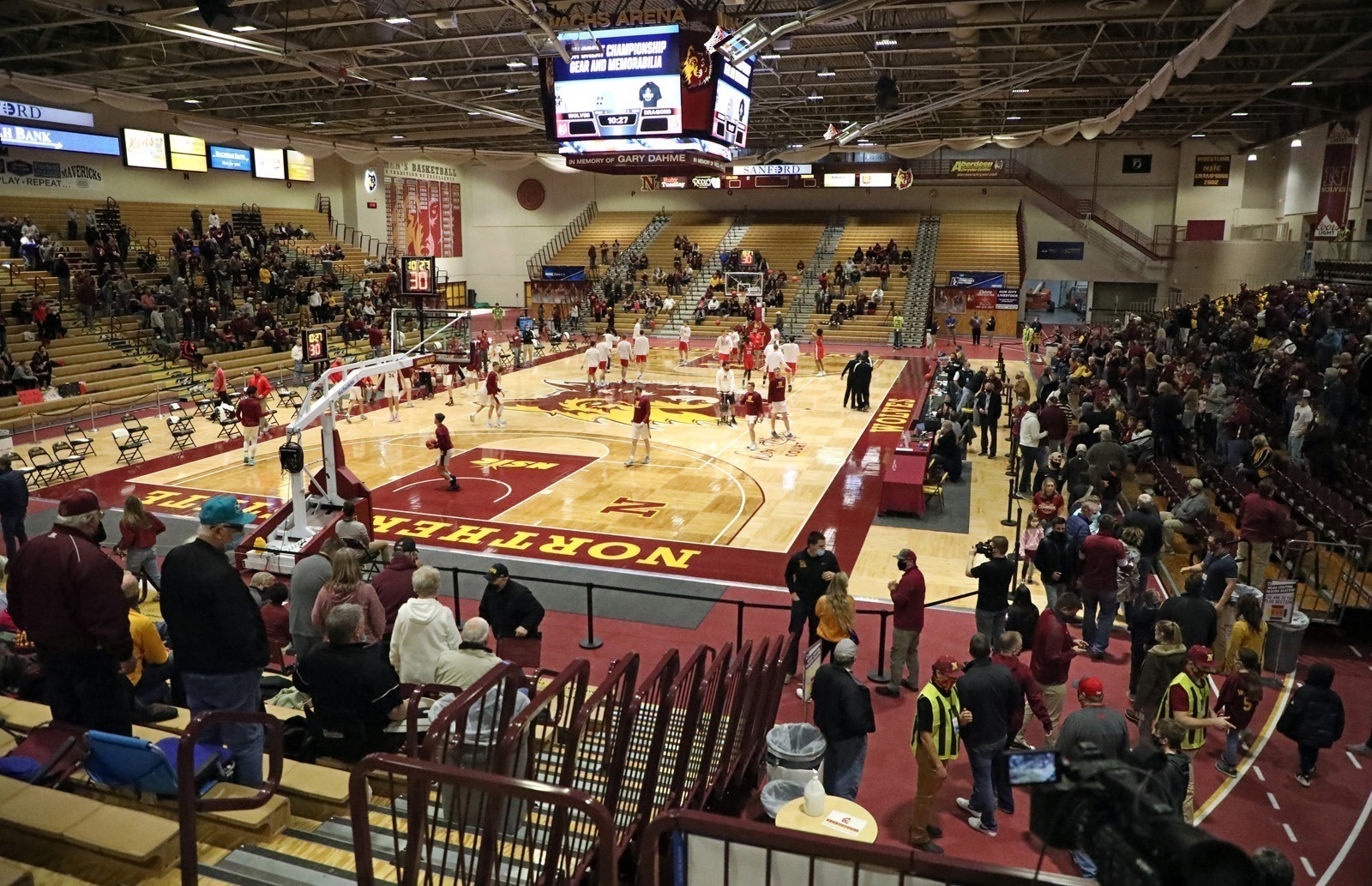 We will be tracking the most special, the rarest and most interesting sports moments across South Dakota each month. Included are such events for April and a couple we missed earlier. Email us at dave@sdsportscene.com if you think we missed something or if you have an event you would like us to consider for this feature:

March 24: Augustana-bound sprinter Ella Heinitz of Dell Rapids St. Mary ran the 60 meters in 7.85 seconds to set a Class B girls' state record at the Lancer Indoor Open in Yankton. It broke the old record of 7.99 seconds ran by Carly Carper of Oldham-Ramona/Rutland in 2010.
March 27: Former Northern State assistant Craig Smith is the new head men's coach at Utah. Smith, a former University of South Dakota head coach, was the head coach at Utah State. Smith is 225-108 in 10 seasons as a head coach.
March 27: Augustana junior Tanner Brown of Harrisburg threw a perfect game as the Vikings defeated Minot 4-0. Brown retired all 21 hitters he faced, 11 by strikeout. It was only the second perfect game in Augie history. Ross Hawley pitched the last one on March 12, 2000, in a 1-0 win over Minnesota-Crookston.
March 31: A memorial was held in a Sioux Falls church for Platte basketball legend Jim Iverson, who died on Oct. 26, 2020, in Fort Wayne, IN. He was a four-time all-state player, leading Platte to four straight state tournaments where he scored 251 points in 12 State B games. Iverson became a starting guard for Kansas State where he led the Wildcats to the 1951 national championship game (68-58 loss to Adolph Rupp's Kentucky team). He was a second-round pick of the Boston Celtics in 1952, but he fulfilled his military obligation. After getting out of the service, he was still good enough for the Celtics to give the 5-foot-11 Iverson a tryout. Iverson coached SDSU to the 1963 NCAA DII national title, also winning the national coach of the year title, and his 1961 Jacks finished third. He coached SDSU for nine seasons (142-65 with five conference titles) before going into the banking industry.
April 1: Two SDSU sophomores earned National Collegiate Equestrian Association honorable mention All-America honors: Cassandra Townsend (Andover/Groton High School) and Isabelle Riggs (Alexandria/Hanson High School).
April 1: Rapid City native and San Antonia Spurs assistant coach Becky Hammon was honored by the NCAA with a 2021 Legacy Award. Hammon was named one of the WNBA's top 15 players of all time and is the first woman to be a full-time NBA assistant.
April 1: For the second off-season in a row, Northern State sophomore Tommy Chatman has entered the NCAA transfer portal. He is the fourth starter from the 2020-21 Wolves to do so. In two seasons with NSU, Chatman has started all 53 games leading the Wolves to a 45-8 record with 508 points, 141 rebounds, 135 assists, 38 steals and 14 blocked shots. He has three seasons of eligibility remaining.
April 1: To help with social distancing due to the COVID-19 pandemic, the South Dakota high school state track and field meet will be held at three separate locations in the Black Hills May 28-29. The Class AA meet will be held in Sturgis, the A in Spearfish and the B in Rapid City. Traditionally, the first day of competition is held at three stadiums, one for each class. The second day normally brings all classes together at the largest venue of those three.
April 2: In their first home games since May 4, 2019, the Northern State baseball team swept Winona State scoring a combined 18 runs on 26 hits. Spencer Sarringar led the way for NSU with four hits on the day with four RBIs, a triple, two doubles and two stolen bases while teammate Reece Ragatz also had four hits including two doubles and scoring four runs. The two wins also were the 299th and 300th of coach Dean Berry's career.
April 2: Augustana's Sam Baier hit seven homers in a doubleheader against Bemidji State (Augie wins of 21-0 and 24-0). Baier was 8 of 10 with 14 RBIs and 9 runs scored on the day. He hit four homers in the first game, becoming only the 25 th player in NCAA history to do so. April 2-3: The University of South Dakota volleyball team won the Summit League Tournament with a pair of five-game matches to advance to its second NCAA DI national tournament in three years. In the Summit championship against top-seeded Denver, USD rallied from a 2-0 game deficit and then fought off match point three times to win., Sami Slaughter and Brooklyn Bollweg of Harrisburg and Laura Petterson of Sioux Falls Washington are key members of the Coyotes.
April 3: Northern State starting guard Mason Stark of Chandler, AZ, is transferring to Division I Northern Arizona of the Big Sky Conference.
April 5: Eureka native Scott Svendsen has been hired as the head football coach at Aberdeen Central, where he began his career as an assistant coach. The 58-year-old NSU graduate comes to the Golden Eagles from Alvarado, TX, where he has been the assistant head football coach and offensive coordinator for almost 10 years. Svendsen's twin brother, Steve, used to coach the Central and Watertown football teams and recently resigned as head coach at Rapid City Stevens.
April 5: Six teams that qualified for the NCAA DI men's basketball national tournament played this season at the Sanford Pentagon in Sioux Falls, including top-ranked Gonzaga which lost the national championship game to Baylor. The Pentagon hosted 36 DI games this season, including a pair of games involving the South Carolina women's team, which advanced to the Final Four. Four women's teams who played in Sioux Falls qualified for the DI national tourney.
April 6: Doland native and former NSU assistant Tim Miles is the new head men's basketball coach at San Jose State University. Miles is 399-334 in 24 years as a head coach at Nebraska, Colorado State, North Dakota State, Southwest Minnesota State and Mayville State. He spent six seasons as an NSU assistant under Bob Olson, helping lead the Wolves into two NAIA national championship games. Miles has been a TV analyst since being fired at Nebraska in 2019. San Jose hasn't had a winning season for the last 10 years, and has failed to get to 10 wins in nine of those 10 seasons.
April 6: USD's 2021 spring football season ended at 1-3, with its last four games cancelled due to Covid-19 reasons.
April 7: Mikayla (Barondeau) Arechigo is the new girls' basketball coach at Central High School. She has been an assistant for the past six years, in which the Golden Eagles won state championships in 2016 and 2018 along with three Eastern South Dakota Conference titles. Arechigo was a multi-sport standout at Frederick Area and Northern State, where she earned 12 varsity letters in basketball, cross-county and track with the Wolves. She takes over for the winningest girls' basketball coach in South Dakota history, Dawn Seiler, who became Aberdeen Central's athletic director.
April 8: Pine Ridge native and former South Dakota wrestler David "Bulldawg" Michaud had to put his professional Mixed Martial Artist career on hold. The 32-year-old welterweight (170 pounds) had a fight scheduled for the end of the month, but announced doctors had discovered a congenital heart condition which could end his career. He turned pro in 2009 and was 18-6 with nine knockouts in his MMA career and was known for driving to all his fights across the nation due his anxiety about flying. Michaud was a multi-sport athlete in high school who carried a 4.0 grade point average and was valedictorian of his class.
April 9: Almost 1.5 years, or 579 days, after Crow Creek defeated Lower Brule for the first All Nations Football Conference championship, the league kicked off its second season. Its first season was in the fall of 2019, and the 2020 fall season was postponed until this spring. In the first weekend of games, Tiospa Zina defeated Omaha Nation 44-0; Lower Brule defeated Marty Indian 34-14; and Winnebago (NE) defeated Cheyenne-Eagle Butte 52-0.
April 9: Rapid City Stevens sophomore soccer standout Zach Williams was selected to become a member of the Major League Soccer academy squad affiliated with the Phoenix Rising. Only the most elite junior players in the nation and Canada are picked for the academy teams that run by Major League Soccer teams. They play year round so Williams, who led RCS to an undefeated season and a State AA title last fall, will be living in Arizona with a host family.
April 9: Three-time All-Summit League selection Stanley Umude of USD will play his final season of basketball for the Arkansas Razorbacks under coach Eric Musselman, a former Continental Basketball Association (CBA) coach with the Rapid City Thrillers. Umude will leave the Coyotes as USD's 11 th best scorer in history with 1,520 points.
April 9: Big changes continue on the Aberdeen athletic scene as Derek Larson is named athletic director at Aberdeen Roncalli. Larson, who will continue as head girls' basketball coach, started teaching and coaching at the school in 2006. He will replace long-time Roncalli teachers and coaches Terry Dosch and Mark Stone, who retired from the position, but the duo will remain teaching at the school.
April 9: Northwestern junior distance runner Jessica Boekelheide ran the 100 meters for the first time in her career. She not only won the race in 12.44 seconds, but she also set a school record and recorded the fastest 100 of the season so far for Class B girls.
April 9-11: The Professional Bull Riders returned to the Denny Sanford Premier Center in Sioux Falls without Covid restrictions. It was this season's 13 th PBR stop for its Unleash The Beast series and its first without any mask, social distancing or capacity restrictions. Officials report crowds of more than 5,000 during two of the three shows. Jose Vitor Leme of Brazil won the three-day event.
April 10: Augustana played its first home softball games in almost two years, sweeping a doubleheader from Concordia-St. Paul. The Vikings didn't play any home games last season due to the Covid-shortened season. The Vikings, who won the 2019 national title, last played a home game on April 24, 2019.
April 10: The Presentation College football team lost 20-14 to Mayville State to finish its season that started on Sept. 12.
April 11: Aberdeen hosted the Midwest Youth Wrestling Championships on the Northern State campus. The event featured 303 wrestlers from Minnesota, Nebraska, North Dakota, South Dakota and Wisconsin.
April 11: The Northern State softball team got back-to-back no-hitters in a doubleheader against Minnesota-Crookston. In the first game, the Wolves won 1-0 as Meghan Anderson struck out 13. Teammate Elyse Cuttic followed that performance by striking out seven in the Wolves' 8-0, five-inning win that extended NSU's winning streak to six games. Only three Crookston players reached base (all by errors) in the doubleheader and the two NSU pitchers didn't give up any walks.
April 12: For the first time since 1981, the Dakota State volleyball team had four players earn all-conference honors. Two of the four were sisters from Mellette and Northwestern High School, Madalyn and Peyton Groft.
April 10: USD senior high jumper Zack Anderson cleared 7 foot, 5 inches to win the event at a home track meet in Vermillion, set a school record and qualify for the USA Olympic Trials in June. The 6-foot-1 Anderson from Parker also broke his own state collegiate record (7-4.25 in 2019).
April 14: The Northern State baseball team defeated Augustana in Aberdeen for the first time since the series began in 1969. The Wolves defeated the Vikings 4-3 in nine innings behind the bat of Ramon Vega Jr. who had two hits, including a homer, and two RBIs. Pinch runner Bryce Krattiger scored the winning run in the eighth inning on a wild pitch. NSU pitchers Seth Brewer, Zach Hartford, Mike Stubbs, Max Otto and Zach Hrvol combined for 13 strikeouts. Otto got the win and Hrvol got the save. Augie now leads the all-time series with NSU 58-10.
April 15: Former Northern State basketball standout Parker Fox announced his plans to play his final two years at the University of Minnesota. More than 100 schools contacted Fox after he announced his plans to transfer.
April 16: The Mount Marty baseball team stopped to practice in Webster on its way to Jamestown for a pair of weekend doubleheaders with the Jimmies.
April 16: An undrafted NFL player from the University of Sioux Falls appears to be headed for a third season with the Arizona Cardinals after tearing his ACL in Week 15 of last year's season. From weeks 5-15 in 2020, Dennis Gardeck had seven sacks, the second best season total on last year's team. In his 20 NFL games before that, Gardeck had made a name for himself as an outstanding special teams player before playing his first NFL defensive snap in Week 5 of 2020. In his first game in nine defensive snaps, he had two sacks. Gardeck signed a one-year deal worth $3.384 million to play for the Cardinals in 2021. While in Sioux Falls, Gardeck worked at McDonald's and Panda Express to help pay for college.
April 16: SDSU's Trevor Begeman improved his career best throw in the shot put by more than four feet to win the Sioux City Relays title. The Selby native threw it 61 feet, 9 inches, which earned him the school outdoor record and his first Summit League athlete of the week award.
April 17: After a 28-day Covid layoff, the SDSU football team resumed its season in Fargo and ended rival North Dakota State's 32-game home winning streak at the Fargodome. The Jacks won 27-17 behind 305 yards rushing behind the offensive line (including TEs) of Wes Genant (Parkston), Mason McCormick (Sioux Falls Roosevelt), Eagan Lickiss, Garret Greenfield, Aron Johnson, Blake Kunz and Zach Heins (Sioux Falls Washington) and Tucker Kraft (Timber Lake). NDSU leads the all-time series 63-43-5; the rivalry began in 1903 with an 85-0 Bison win.
April 17: It has been a wacky eight months of dealing with Covid-19 for the Missouri Valley Football Conference. From September-October, conference teams had 11 games scheduled, but six were canceled due to the virus. In the spring, the league set up a 40-game schedule with 10 of 11 conference teams (Indiana State opted out of spring schedule). The first five weeks went as scheduled with all games played. But in the last four weeks, there were postponements, more teams opted out and only seven of 18 games (11 cancellations) were played.
April 17: The Corn Palace Relays have been a spring track tradition for Mitchell and South Dakota for more than seven decades. In recent years, the meet ran into some strange roadblocks. In 2017, the annual meet fell on Easter weekend so it was moved from Saturday to Thursday. In 2018 and 2019, mid-April snowstorms canceled the meet followed by Covid-19 in 2020. On April 18, 1947, the first Corn Palace Relays were held with organizer and Mitchell track coach Joe Quintal reporting about 50 high schools and colleges from the Dakotas, Iowa, Nebraska and Minnesota taking part.
April 18: The SDSU football team has earned the top seed for the first time in school history in the Football Championship Subdivision playoffs. The Jacks tied North Dakota and Missouri State for the Missouri Valley Football Conference title. NDSU is the defending national champion and has earned eight national titles in the last nine seasons.
April 18: One of South Dakota's best and most well high school coaches died at 66. Lifelong De Smet Bulldog Marv McCune not only graduated from De Smet as a standout athlete, but spent most of his life teaching and coaching there. His basketball teams won 337 games in 22 seasons, made 11 state tourney appearances and won three state championships (two in B, one in A).
McCune's DeSmet football teams had a 26-game winning streak from 1979-81 and won two state titles making him one of only three prep coaches in the state to win state football (in the modern playoff era) and basketball titles. The other two were Bill Marquardt (Bridgewater in FB and Hanson in BB) and Kent Mueller of West Central. McCune spent 42 of his 44 years as an educator in De Smet (the other two at Bristol).
April 20: The Minnesota Twins placed three players on its Covid-19 injured list, including former South Dakota State standout pitcher Caleb Thielbar, where all three will be isolated for at least one week.
April 22: Rapid City native and 2017 St. Thomas More graduate Chloe Larson qualified for the USA Olympic Trials June 4-7 in Omaha, Neb., by swimming the 50-meter freestyle in 25.26 seconds. In March, Larson helped Washington State win its first PAC-12 championship by winning the 50-yard freestyle.
April 23: Mitchell radio broadcaster Tim Smith is retiring after almost 50 years chronicling Mitchell High School, Dakota Wesleyan University and area sports for KORN and later KMIT. Smith, 70, figures he has called about 4,300 basketball games and 800 football games in traveling about 25,000 miles per year for his job.
April 23: SDSU 400-meter hurdler Reid Pierzinski took second in the Drake Relays in a school record 51.62 seconds. It broke Don Larson's mark of 52.04 set in 1975. Larson, a Madison native, retired in 2020 after 41 years as the NDSU men's cross country and track and field coach where he led the Bison to 59 conference titles.
April 23: USD freshman Carly Haring of Mitchell won the high jump at all four meets in which she was entered in April, including the famed 111 th Drake Relays. Her season best jump of 5-10.75 is 10 th best in Division I.
April 24: Three freshmen led SDSU past Holy Cross (MA) 31-3 in the first round of the football playoffs: Mark Gronowski (three TD passes); Isaiah Davis (156 yards rushing) and Adam Bock (nine tackles).

April 25: The SDSU softball team won its first regular season conference title in program history. Before SDSU coach Krista Wood was hired in 2014, the Jacks had had one winning season in 16 years.
April 26: TCU basketball assistant and NSU graduate Ryan Miller has taken a job as an assistant coach at Creighton where his nephew Mason Miller will be a freshman in the fall.
April 27: The North American 3 Hockey League approved the purchase of the Missoula Jr. Bruins and the team's relocation to Rapid City. The team will become the Badlands Sabres and compete in the NA3HL Frontier Division starting in the 2021-22 season, which runs from mid-September to mid-April.
April 28: The $5 million baseball makeover of Rapid City Post 22's Fitzgerald Stadium is on schedule to open June 3. The makeover includes FieldTurf for Dave Ploof Field which won't need to be tarped during rain delays and will allow play right after a rain stops. There are 74 games already scheduled for the stadium from June 3-July 4.
April 29: Webster hosted its first invitational track and field meet since it redid its track five years ago. There have been conference and regions meets at the new facility, but this will be the first time that Webster has done all the legwork for a home meet since it had one on its old track more than a decade ago. Plus, it was the first time Webster got to use its new Fully Automatic Timing system.
April 29: Former NSU basketball standout Craig Nelson has left Sioux Falls Washington to become the boy's coach at Brandon Valley. Nelson entered the coaching ranks in 2008 as a Brandon Valley assistant under Brent Deckert, who stepped down after this season for health reasons. Nelson has spent the last nine years at SFW where he also coached girls' golf, a sport he will continue coaching at BV as well. Nelson's SFW boys went 121-83 with six state tourney appearances and two state runner-up finishes.
April 29: North Dakota State quarterback Trey Lance of Marshall, MN, was the third pick in the 2021 draft by the San Francisco 49ers. Lance, 20, attended football camps at SDSU while growing up. His four-year, fully guaranteed contract was worth a reported $34.1 million, including a $22.1 million signing bonus. NDSU now has three active quarterbacks in the NFL: Carson Wentz with Indianapolis, Easton Stick with the Los Angeles Chargers and Lance.
April 29: Sioux Falls Lincoln graduate and Black Hills State senior Molly McIntyre will serve the Sioux Falls Canaries baseball team in the broadcast booth and in media relations for the 2021 season. Her broadcast duties will include a mix of play-by-play, analysis and on-field reporting. She will become the first female broadcaster in team history.
April 30: Pro fisherman Chase Parsons of Denmark, WI, earned $81,992 in cash and prizes by winning the first stop on the National Walleye Tour on the Missouri River at Chamberlain-Ocoma. He caught 10 fish on Lake Francis Case over the two days weighing 31.7 pounds. Four South Dakotans finished in the top 10 of the 113 pros who fished the event: 4, Steve Alverson of Chester; 8, Troy
Lorensen of Oacoma; 9, Travis Sanger of Pukwana; and 10, Brian Bashore of Sioux Falls. The amateur winner (113 amateurs) was Chris Stassen of Marshall, MN, who caught 10 fish weighing 31.4 pounds to earn $6,780.
April 30: Jaden Peters of Wagner pole vaulted 15 feet, 6 inches to win the event at the 96 th annual Howard Wood Relays in Sioux Falls. It tied the fourth best all-time vault in state history. He missed three attempts to tie the state record of 16-1 set in 1995 by Andy Henrichsen of Rapid City Stevens.