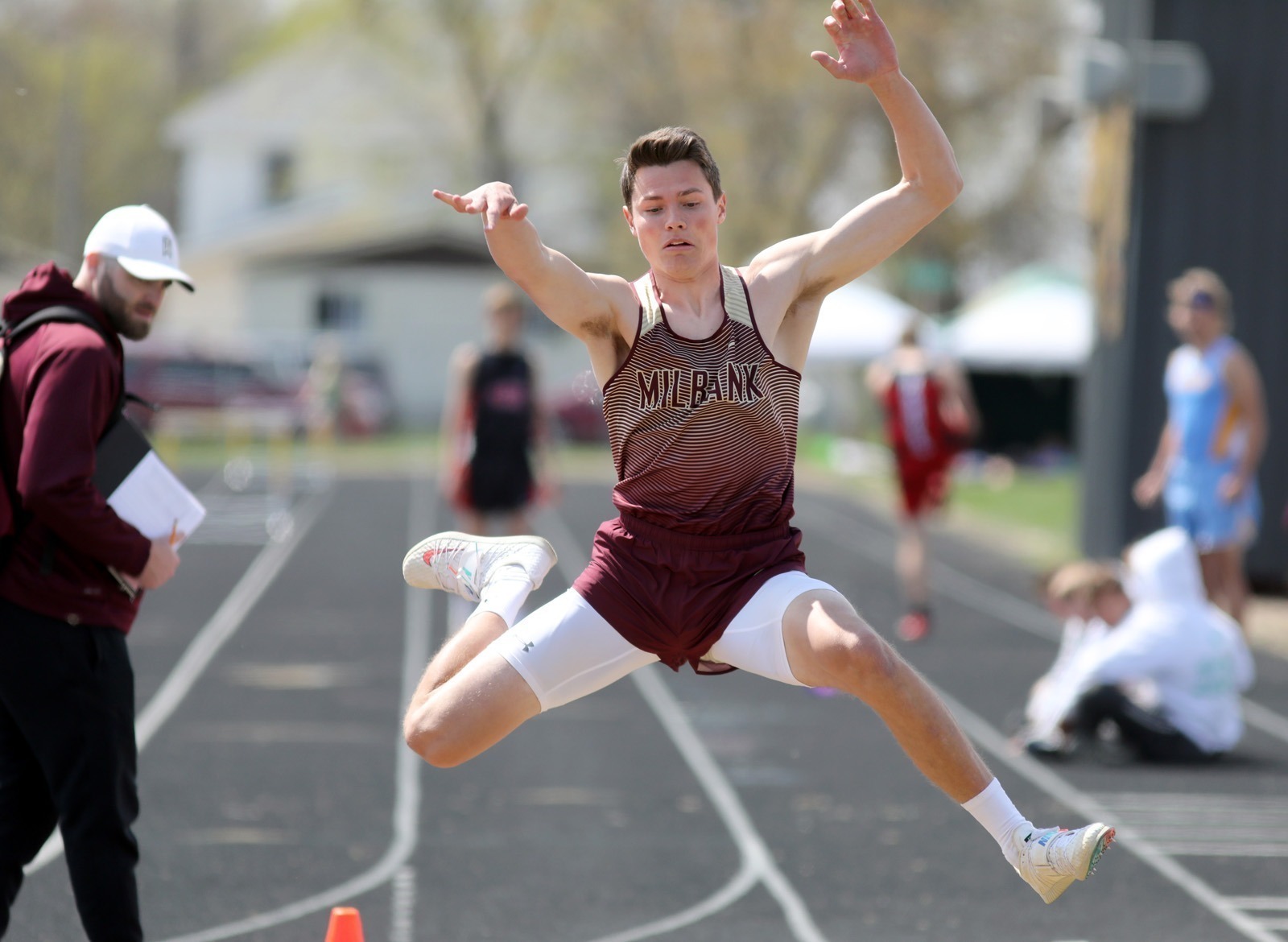 Whether running a sprint race, jumping into a sand pit or handing the baton off to a teammate, Bennett Schwennn is a force for the Milbank Area Bulldogs.
The junior has been among the statewide leaders all spring and currently leads the Class A 200-meter dash and triple jump. He is also third in the long jump, seventh in the 400, and runs on the team with the best time in the sprint medley relay and the second best time in the 1,600-meter relay. In short, Schwenn is having a monster season.
"I just want to go out and perform my best," Schwenn said.
Schwenn won the Class A state championship in the triple jump two years ago and recently beat jumpers from all three classes in the event at the Howard Wood Dakota Relays. He said it is his favorite event.

"We always record my jumps when I'm doing them," he said. "I'll go and watch them and look at where I can improve in each different stage."
Schwenn has improved a ton over the past two years. He is currently jumping two feet better than when he won his state title in 2019.
Schwenn, who also plays football and basketball, said a reason for improvement can be traced to better technique and becoming physically stronger.
"I have a lifting class during school that has really helped," he said.
Schwenn also enjoys running on relays and said it takes a team effort.
"It's not just one runner," Schwenn said. "You have to have four good runners and when you have four good runners then it's hard to beat."
Milbank Area coach Eric Townsend said the thing that really sets Schwenn apart is his demeanor.
"What makes Bennett a special athlete is how humble he is," Townsend said. "He is a pretty quiet kid that works hard and leads by example. He also never seems too excited one way or the other during competition."
Schwenn said it will be up to the coaches to decide where to place him when it comes to the state meet. He is fine with whatever they decide.
While Schwenn can excel in a variety of events, don't look for him to be competing in the 3,200-meter run anytime soon.
"Long distance, I've never tried that," Schwenn said. "I don't think I could run that long."
LEADING THE WAY
There are three athletes who lead a trio of individual events, including a newcomer to the group this week.
Jade Ecoffey of Red Cloud has moved into that upper echelon and now leads the Class A girls in the 400, 1,600 and 3,200. Averi Schmeichel also leads three individual events in Class A girls, topping the fields in both hurdles races and the long jump.
Angel Johnson of Viborg-Hurley continues to the lead the Class B boys in the 100, 200 and long jump. He also runs on some state leading relay squads.
There are 10 other athletes who lead two individual events, including Zander Widener of Langford Area in the Class B boys hurdles races, and Cody Larson of Warner in the Class B boys 1,600 and 3,200.
BY THE NUMBERS
It was a big week for the Brandon Valley girls. The Lynx now set the pace for team leaders, topping eight events in Class AA girls.
Other team leaders include Sioux Falls Christian in Class A boys (seven events), Viborg-Hurley in Class B boys (six events), Colman-Egan in Class B girls (five events), Sioux Falls Lincoln in Class AA boys (four events), and West Central in Class A girls (four events).