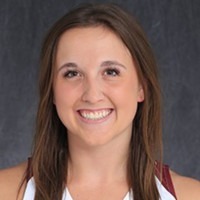 PIERRE – Basketball has always been an important part of Brianna Kusler's life, but the Aberdeen native had no idea the journey the sport would take her on this early in her life.
Kusler was named the head boys' basketball coach at Pierre on Wednesday, becoming the first female in South Dakota history to be a boys' basketball head coach at the Class AA level.
"I had no intentions of being a high school coach, but sometimes there's people that see something you. That was the case here. They really encouraged me to take on this challenge," Kusler said. "It ended up working out far greater than anything I could have ever imagined. I think that just goes to show that a lot times God's plan is far greater than whatever you thought you had planned."
Kusler was planning on running her own clinics and doing summer camps. Now, after just one year of coaching, she finds herself in the best of both worlds.

"I'm extremely thankful that this door was opened, because I have the ability to do both," she said. "I truly am extremely passionate about coaching and teaching young kids. I wouldn't want to be anywhere else."
Kusler served as the sophomore boys' basketball coach last season and as an assistant to head coach Terry Becker. Her familiarity with the players and the program should help make her transition a bit easier.
"That is definitely an advantage going into it, having those relationships built and understanding the areas of strengths and areas of need for the program," Kusler said. "Coach Becker did a great job of building up all of these kids. Now I get to come in and put my twist on a few things, but certainly pick up the work that he established and the culture that he built here."
The former Aberdeen Central and Northern State basketball standout said she sees the game differently from a coaching perspective.
"I'm very thankful that I had the opportunity to be under Coach Becker my first year as an assistant," she said. "There's a lot of things that you might think that you know when you're playing, but until you actually get into a coaching role you have no idea."
The fact that Kusler will be coaching boys is secondary to her. She is just grateful for the opportunity to do something she loves.
"I didn't ever think I was ever going to be at this point in my career coaching high school, let alone boys. Again, there's somtimes people that see things in you," Kusler said. "I will forever be thankful for (Pierre Athletic Director Brian Moser) and the Pierre Administration for seeing that in me. I'm very blessed to be where I'm at right now and to have the opportunity to impact kids, regardless of male or female."
At the end of the day, players still have the same common desires, according to Kusler.
"The game is the game. It really doesn't vary that much across gender," she said. "These kids just want somebody to care about them and love them and give them opportunities to play the sport that they love. That's really what I'm here for, is to hopefully impact them in a positive way."