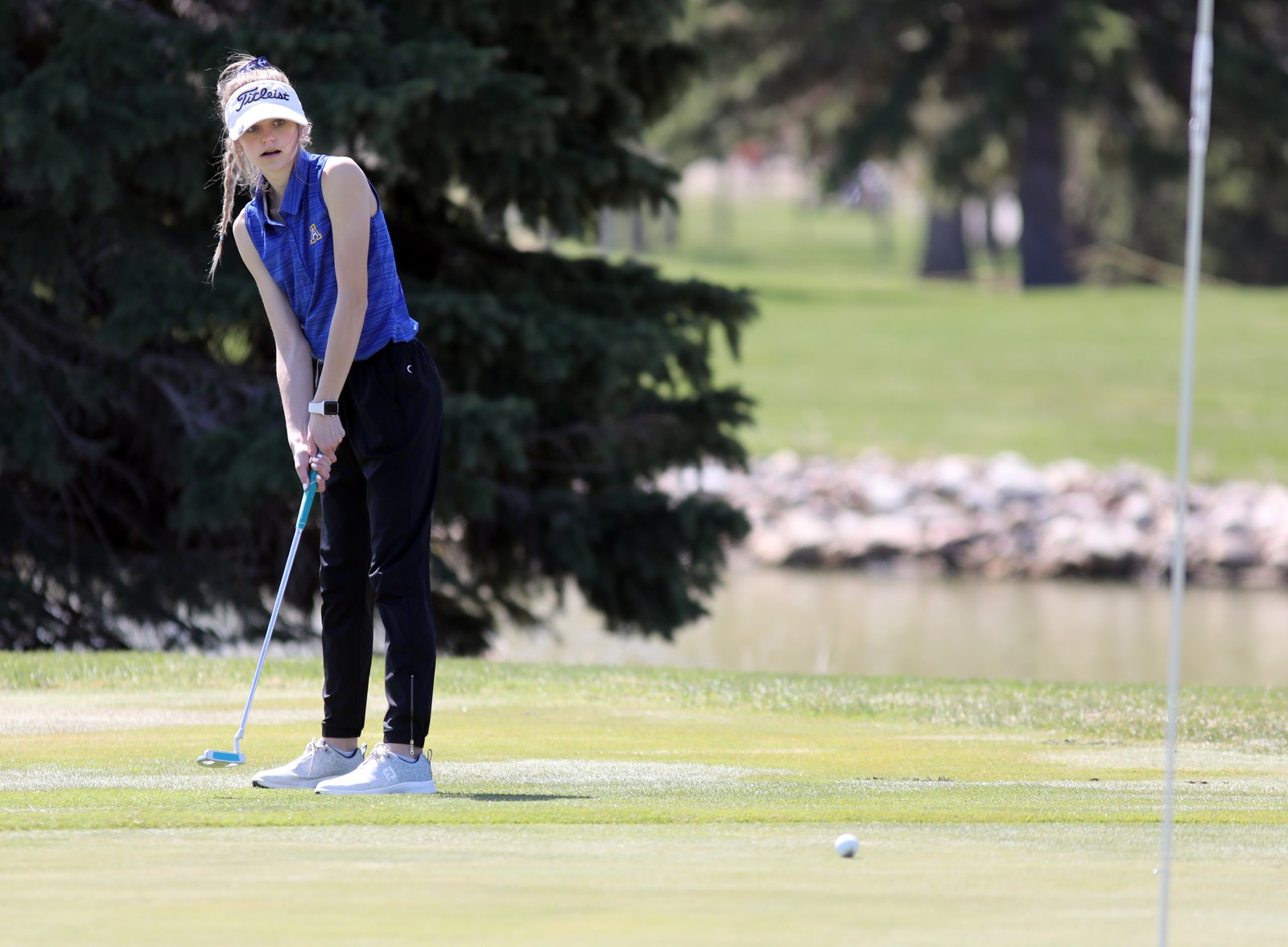 SIOUX FALLS – The Aberdeen Central golf squad had been waiting for a day like this.
The Golden Eagles placed four members under 90, shot a season-low team total and finished runner-up to O'Gorman at the Warrior Invitational girls' golf tournament on Monday.
"I was kind of hoping all along that we could do something like this, we just really hadn't turned the corner in a meet," said Central coach Kim Zimmerman. "There were a lot of positives that came out of today."
The Eagles featured a balanced attack. Danielle Podoll and Olivia Braun had nearly identical days, shooting a 46 on the back nine to start play and then 37 on the front to finish in a tie with two other golfers at 83.

Leah Gough fired an 85 and Emma Dohrer shot in the 80s for the first time this season with an 89.
"That's kind of what we were thinking about all year," Zimmerman said, "four scores in the 80s and that's what happened. A lot of positives and things I was hoping for. It just kind of sets the tone for the next meet. It gives the girls a positive vibe."
Hayley Wirebaugh was just off that pace with a 90.
Braun and Dohrer are just seventh-graders.
"We have two seventh-graders playing varsity golf this year. I have to tell myself that a lot," Zimmerman said. "I think every day that we have a meet, they're learning something and not only the seventh graders, but everybody."
Central still has plenty of golf remaining before the post season. The Eagles will be at Brookings for a meet on Thursday, have two meets next week including the Eastern South Dakota Conference event, and then another meet the following week before the state tournament.
Team Points: O'Gorman 409, Aberdeen Central 430, Mitchell 430, Rapid City Stevens 435, Harrisburg 440, Sioux Falls Roosevelt 426, Brookings 426, Sioux Falls Washington 433, Watertown 443, Sioux Falls Lincoln 450, Brandon Valley 481.
Top 15 Individuals
1, Reese Jana, Harrisburg, 68; 2, (tie) Lauren Sutcliffe, O'Gorman, 75, and Shannon McCormick, O'Gorman, 75; 4, (tie) Tanna Phares, Rapid City Stevens, 81, and Taylor Wit, Rapid City Stevens, 81; 6, Emily Kolb, O'Gorman, 82; 7, (tie) Masy Mock, Mitchell, 83, Danielle Podoll, Aberdeen Central, 83, Olivia Braun, Aberdeen Central, 83, and Ella Flippin, Mitchell, 83;
11, (tie) Mattie Weidenbach, Harrisburg, 84, and Allison Meyerink, Mitchell, 84; 13, Leah Gough, Aberdeen Central, 85, and Rily Zebroski, Watertown, 85; 15, Meg Christoffels, Sioux Falls Washington, 86.
Other Aberdeen Central golfers: 22 (tie) Emma Dohrer 89, 26 (tie) Hayley Wirebaugh 90, 44 (tie) Morgan Jones 103.