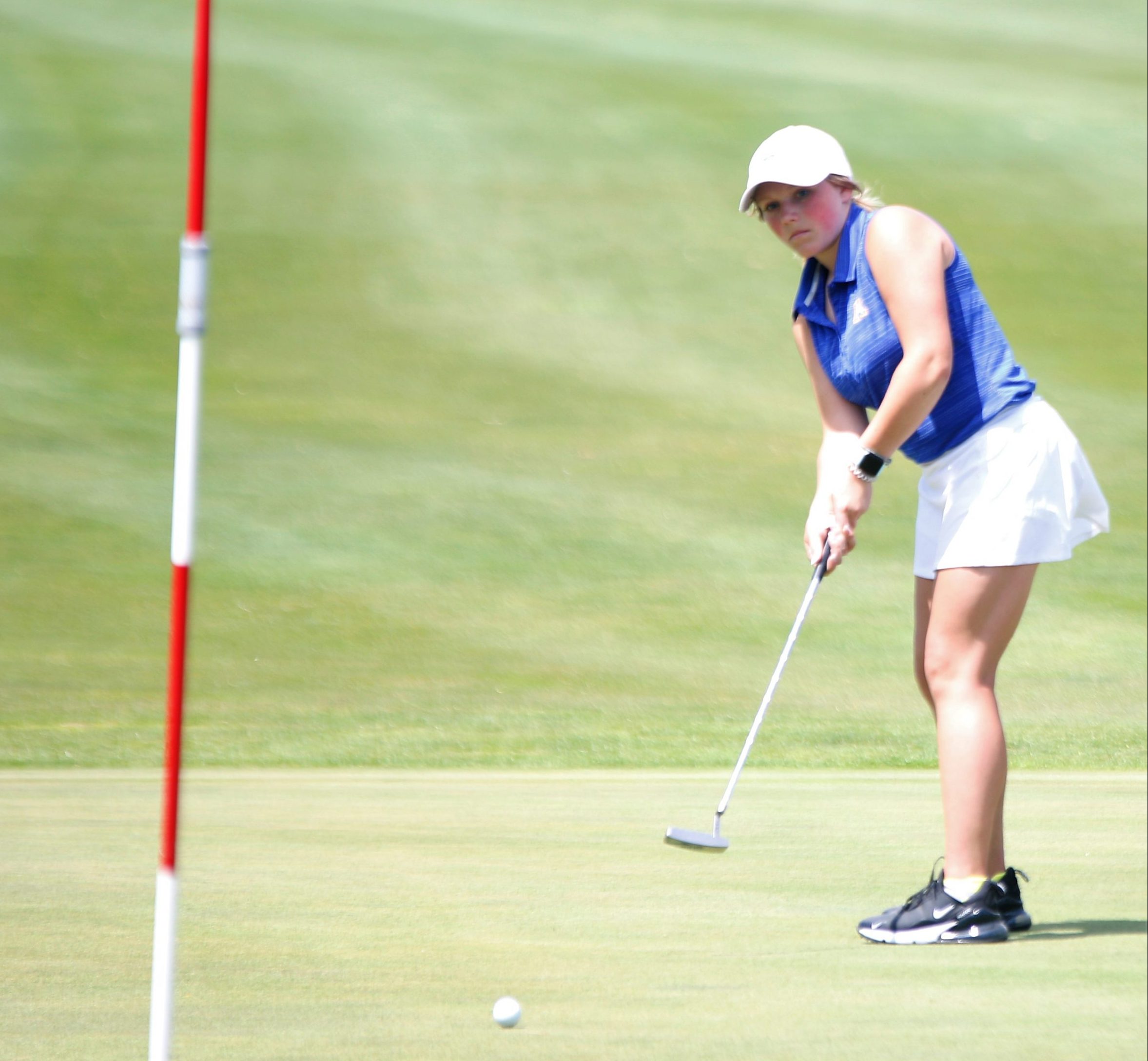 MITCHELL – Friday turned out to be another frustrating day for the Aberdeen Central golf squad at the Mitchell Invitational.
The Golden Eagles finished seventh as a team, but were just a few strokes out of fifth.
O'Gorman won the team title. Central was seventh right behind Rapid City Stevens and Huron.
"I'm a little disappointed in the fact that last week down in Yankton, whatever place we ended up, it was by a couple of strokes out," said Central coach Kim Zimmerman. "The same thing happened today. I think we ended up seventh, one stroke behind Huron and two strokes behind Stevens, so we're kind of coming up a little bit on the short of the end the stick both times out."
Zimmerman said it is a variety of things that are kind of plaguing the squad right now.
"It's frustrating. I think every girl had a little different problem," he said. "Some was putting, some was maybe penalty strokes. So everybody was a little bit different. It wasn't one particular thing that jumped up and got us. It's just different things."
Danielle Podoll led the squad with an 84, tied for 14th.
Zimmerman said it's not like the team has gotten complacent. It's just a matter of the Eagles trying to regain their early-season form.
"It's not like the girls aren't trying," Zimmerman said. "We're definitely working at, but we'd like to get things turned around here."
Central is right back in action on Monday playing in the Sioux Falls Washington Warrior Invitational.
"The one good thing about golf is we don't have much time to sulk about this. We get after it again on Monday," Zimmerman said. "We'll just get back after it again, and talk over today and what we can do better and go from there."
Team Points: O'Gorman 317, Mitchell 328, Yankton 346, Harrisburg 350, Rapid City Stevens 360, Huron 361, Aberdeen Central 362, Pierre 370, Sioux Falls Lincoln 378, Watertown 386, Brookings 391, Sioux Falls Washington 397, Brandon Valley 412, Sioux Falls Roosevelt 418, Douglas 464, Sturgis 493.
Top 15 Individuals
1, Reese Jansa, Harrisburg, 68; 2, Shannon McCormick, O'Gorman, 74; 3, Lauren Sutcliffe, O'Gorman, 75; 4, (tie) Masy Mock, Mitchell, 77, and Riley Zebroski, Watertown, 77; 6, Bryn Huber, Huron, 81; 7 Emily Kolb, O'Gorman, 81; 8, (tie) Claire Yunag, Sioux Falls Lincoln, 82, and Ella Flippin, Mitchell, 82; 10, (tie) Jillian Eidsness, Yankton, 84, Tanna Phares, Rapid City Stevens, 84, and Allison Meyerink, Mitchell, 84;
13, Quinn Dannenbring, Mitchell, 85; 14, (tie) Mattie Weidenbach, Harrisburg, 86, Danielle Podoll, Aberdeen Central, 86, Tatum Hohenthaner, Yankton, 86, and Karlie Bigelow, Huron, 86.

Other Aberdeen Central golfers: 25, (tie) Olivia Braun, 91; 27, (tie) Hayley Wirebaugh, 92; 31, (tie) Leah Gough, 93; 54, (tie) Morgan Jones, 102, and Emma Dohrer 102.