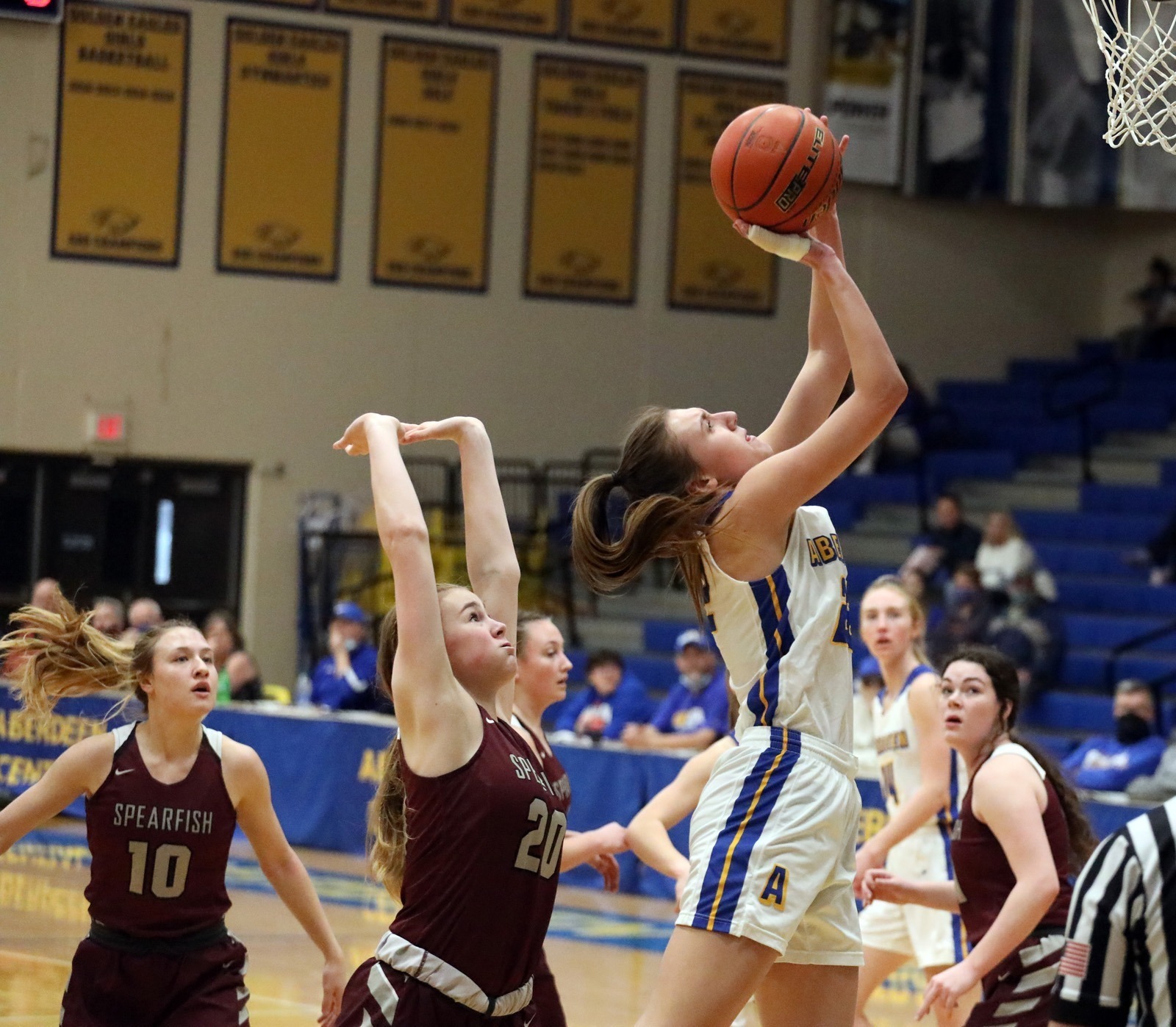 Aberdeen Central's Brooklyn Kusler was named to the Class AA first-team all-state girls' basketball team, selected by the South Dakota Basketball Coaches Association.
Kusler, a senior, averaged 18 points and seven rebounds per game for the Golden Eagles this past season. Her senior teammate Abby Kopecky was a second-team honoree. She averaged 14 points and four rebounds per contest.
Sydni Schetnan of state champion Sioux Falls Washington was chosen as the AA Player of the Year.
Here is a look at each player on the two squads:

First Team: Sydny Schentnan (Sr.) of Sioux Falls Washington (16.1 points, 9.2 rebounds, 67 blocks), Ndjakalenga Mwenentanda (Jr.) of Sioux Falls Washington (15.3 points, 7.6 rebounds), Hilary Behrens, (So.) of Brandon Valley (17 points, 5.5 rebounds, 54 steals), Brecli Honner (Sr.) of Harrisburg (14.8 points, 5.4 rebounds), Brooklyn Kusler (Sr.) of Aberdeen Central (18 points, 7 rebounds), and Isabelle Moore (Sr.) of O'Gorman (13 points, 5 rebounds, 3.8 assists).
Second Team: Hannah Ronsiek (Jr). of O'Gorman (13.4 points, 5.6 rebounds, 62 steals), Jayda McNabb (Sr.) of Rapid City Stevens (12.2 points, 6.2 rebounds, 4 assists, 55 steals), Macy Kempf (Sr.) of Mitchell (12.8 points, 7 rebounds), Abby Kopecky (Sr.) of Aberdeen Central (14 points, 4 rebounds), Jordon Heckert (Sr.) of Rapid City Central (17.1 points, 5.8 rebounds, 3.2. assists, 57 steals) and Emilee Boyee (Jr.) Harrisburg (10.4 points, 8.4 rebounds).
Schetnan was a first-team selection in 2020, while Mwenentanda, Honner, Kusler and Ronsiek were on the second team.