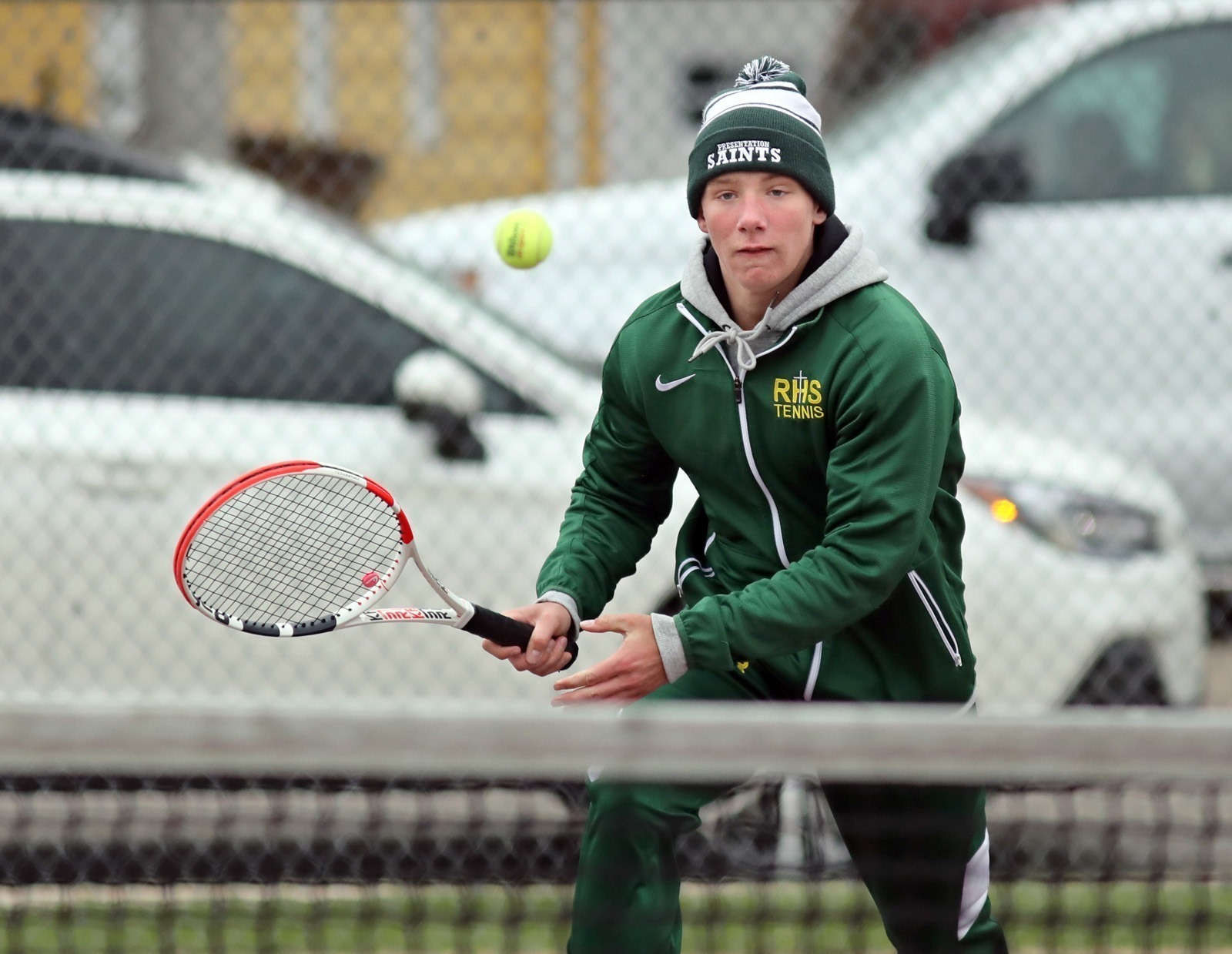 Mason Carrels is experiencing the best of two sports worlds.
The Aberdeen Roncalli junior is a member of both the tennis and track and field squads this spring.
"I was just kind of interested in seeing what it was like. I've never played tennis before. I thought it would be fun," Carrels said. "I'm OK at pole vault. I didn't want to quit on that, so I just ended up doing both."
He is not only on both teams, he's also a key component of each.

Carrels plays number four singles and number one doubles on the tennis team, and is a top pole vaulter for the track and field team.
"I've been doing pole vault for about three years now. It's actually my first year of tennis," he said. "I'm just trying to find a balance between practicing tennis and pole vault, because obviously you have to be able to practice both those in order to do well."
Carrels received the approval to compete in both sports before they started and the arrangement is working out well, according to track and field coach Mark Stone and tennis coach JD Carrels.
"At the beginning of the year we just gave him the freedom to make decisions along the way that he thought were appropriate and good for both squads," Stone said.
It makes for a demanding schedule for the athlete. Last Friday he won a tennis match for the Cavaliers and then on Saturday placed in the pole vault at a meet in Ipswich. He possesses the athletic ability to thrive in both ventures.
"I knew he had athletic ability," Coach Carrels said, "but the combination of the pole vaulting technique converting into tennis, I've never seen it and I don't think anybody was expecting it."
Carrels, who also plays golf and hockey, said he enjoys doing both spring sports, although he has more of a background in one than the other.
"Tennis has come pretty easy, it's just more getting experience playing," he said. "A lot of the guys on the team have years of experience and I have 3-4 months worth of experience and practice. Pole vault seems is a little bit easier right now just because I've doing it, but tennis is definitely coming along well."
While the athlete has had some ground to make up in tennis, he has progressed quickly according to his coach.
"His athletic ability has definitely carried him," Coach Carrels said. "He's very coachable and he listens to what you say in his technique and he's able to adjust really quickly."
The student-athlete has also learned to adjust to a new schedule and decide what works best for both of his teams. For instance this week he will be in Rapid City for three days of tennis while the track squad will be competing Webster.
"I'll be in Rapid City with the tennis team just because it's a three-day event down there," he said, "and my doubles partner Gray (Imbery) will probably need me."
Stone said he doesn't worry if Carrels isn't at track because of tennis. He trusts his judgement and wants to give him every chance to make his decision to compete in both sports work out.
"I believe very strongly that if you can't make two things work for a young person, that's an adult problem, it's not a student problem," Stone said.
The teen has every intention of competing in both the state tennis tournament and the state track and field meet later this spring.
"That's the plan," he said. "Hopefully, everything goes to plan and I'll be at both."
While Carrels plays a big role for both of his teams, what's equally impressive is finding a way to manage his time to succeed in the classroom, which Stone says is the most crucial element of the arrangement.
"Mason as a student is much more important than Mason as a tennis player or a track athlete," Stone said. "10-20-30-40 years from now, nobody's really going to care, outside of Mason, that he was in two sports at once, but they will care if he found a way to be successful as a student and take that into his future and his career."