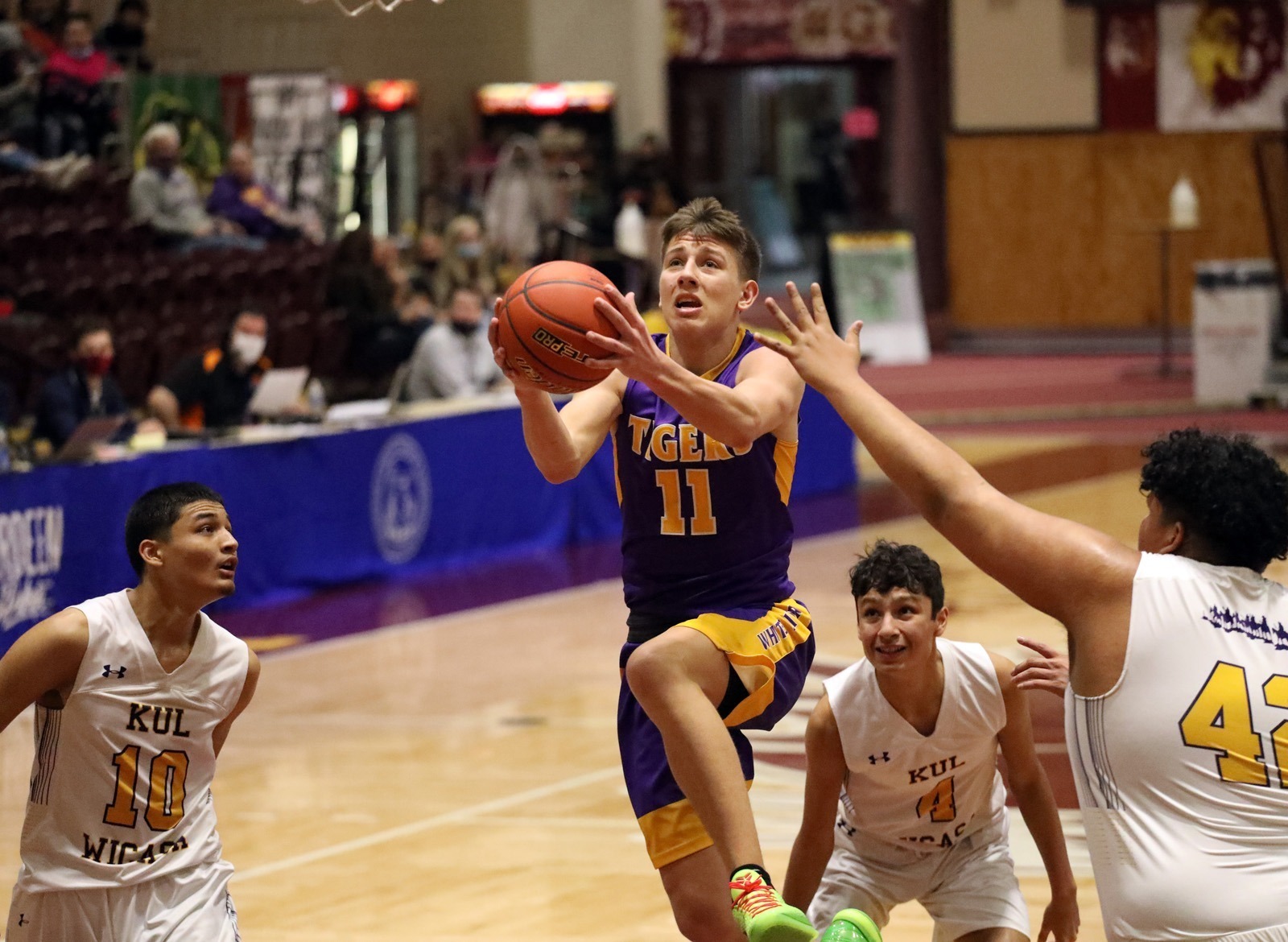 Joe Sayler got to the rim, got to the free-throw line and eventully got his team a victory Saturday afternoon.
The sophomore made two foul shots with 4.5 seconds left to propel White River past Lower Brule 74-72 in the fifth place game of the Class B State Boys' Basketball Tournament at Wachs Arena.
"I had to get to the rim. I ended up getting a foul," Sayler said. "That was huge. I knocked down the free throws and the last seconds we just played straight up D and caused them to shoot a difficult shot and fortunately they missed."
Sayler, who finished with 26 points, has become more aggressive this season, according to White River Coach Eldon Marshall.
"From last year to this year, that was one of the things that we talked about at the beginning of the year, 'Joe you can score. You get in the lane great things are going to happen.' He's been to the free-throw line a lot this year and he's made a lot of free-throws for us," Marshall said.
Sayler got in the lane at will in the first half on the way to scoring 18 points and helping the Tigers to a 47-29 lead. That all changed in the third quarter.
Soon the driving lane disappeared and so did White River's lead as the Sioux tied the score at 55-55 by quarter's end.
"He was getting in there freely in the first half," Marshall said. "They switched it up defensively and they did a good job on him."
Lower Brule Coach Brian LaRoche was disappointed with his team's defense in the opening 16 minutes.
"It was a tough battle. We ended up really letting them get to the rim and we're better than that," LaRoche said. "We have to adjust and we have to cut them off."
Lower Brule led at various stages of the final quarter, the largest margin at 63-59 with 5:17 left.
Lane Gray's three-point field goal with 53 seconds left put the Sioux in front 72-70 before Dylan Marshall tied the score for White River with 40 seconds left. Lower Brule missed a shot and when Sayler got the ball he headed straight for the hoop.
He still had to make the free throws after drawing a foul, which he did for the final margin of difference.
"For me, I personally try to clear everything out and just focus on the rim and focus on the free throw," Sayler said of his mindset when he stepped to the line. "I didn't really listen to anyone out there. They were all trying to talk."
Dylan Marshall added 18 points for the Tigers, Colbe Scott had 12, and Nicolas Marshall and Daice Marshall each netted eight.
Gavin Thigh's 17 points paced a balanced attack for Lower Brule, which finished the season at 17-8. Shane Grey Owl followed with 15, Keshaume Thigh 14, Brian LaRoche Jr. 11, and Gray 10.
"That one was a tough one. We had our chance," Coach LaRoche said. "A lot of credit to White River, but I'm proud of my boys."
White River finished with year at 19-6 and ended up winning a pair of games at the state tourney after dropping its opening round contest.
"Not many teams can say that at the end of the year you can finish with a win," Coach Marshall said. "We wish were in a little better place at the end of the tourney, but just so proud of our guys. I'm really proud that we can finish on a very high note, especially for our seniors."
WHITE RIVER (19-6): Nicolas Marshall 4 0-1 8, Dylan Marshall 8 1-2 18, Colbe Scott 3 5-5 12, Joe Sayler 9 5-6 26, Kenyon Easter 1 0-0 2, Daice Marshall 3 2-2 8. Totals 28-52 13-16 74.
LOWER BRULE (17-8): Keshaume Thigh 6 2-5 14, Shane Grey Owl 6 1-1 15, Brian LaRoche Jr. 3 4-5 11, Gavin Thigh 6 4-4 17, Lane Gray 4 1-3 10, Caleb Flute 2 0-0 4. Totals 27-58 12-18 72.
White River 21 47 55 74
Lower Brule 17 29 55 72
3-point field goals – D. Marshall, Scott, Sayler 3; Grey Owl 2, LaRoche, G. Thigh, Gray, Flute. Fouled out – G. Thigh. Total fouls – White River 17; Lower Brule 18. Rebounds – White River 31 (Sayler 10); Lower Brule 26 (K. Thigh 13). Turnovers – White River 18; Lower Brule 14. Assists – White River 14 (D. Marshall 6); Lower Brule 12 (K. Thigh 4). Steals – White River 6 (D. Marshall 3); Lower Brule 8 (LaRoche 3.