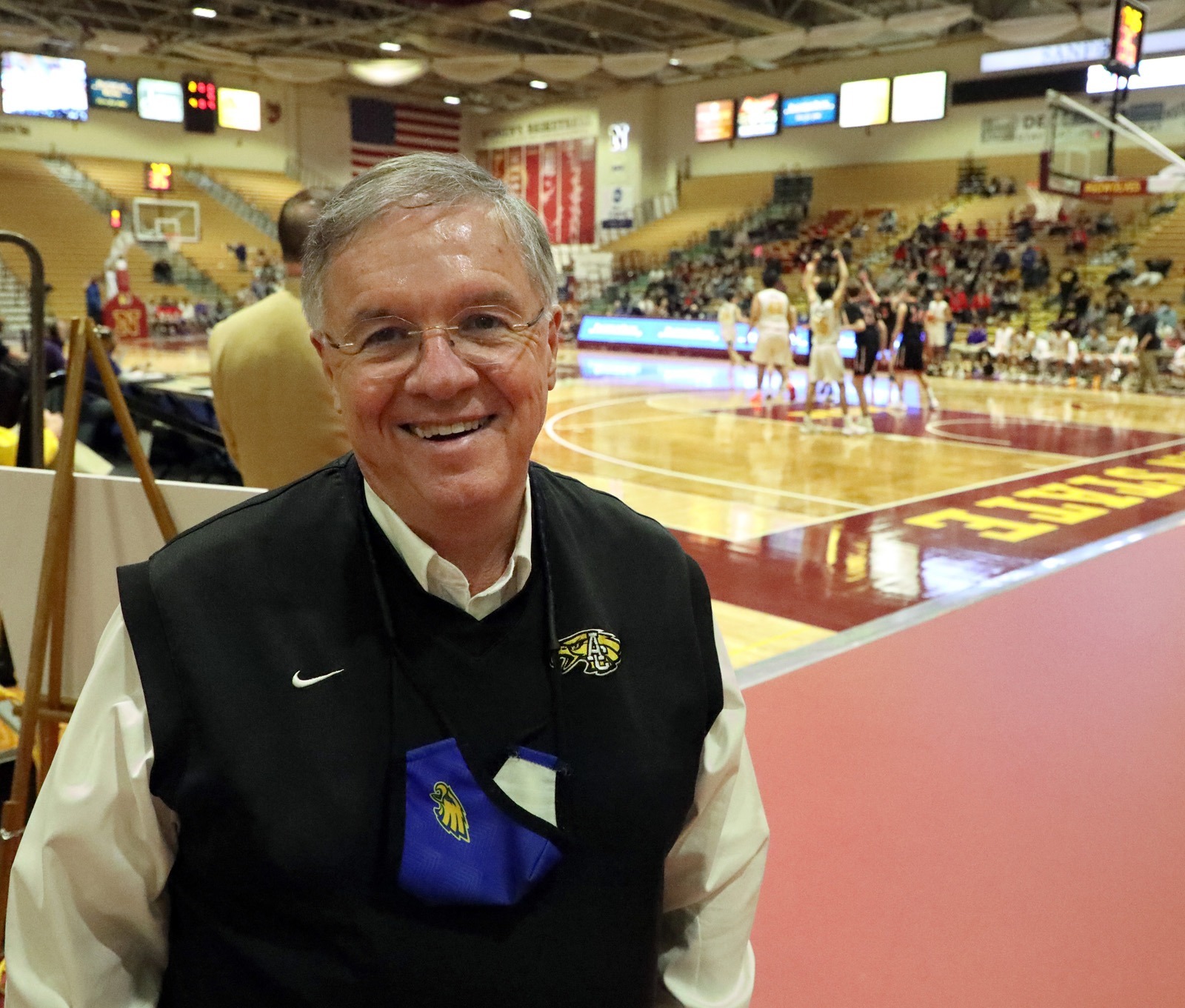 ONE FINAL TOURNEY: This year marks the final State B Boys' Basketball Tournament for Gene Brownell as Tournament Director. He is retiring as athletic director at Aberdeen Central so new AD Dawn Seiler will take over the role as tourney director in the future.
"Well, I haven't thought about it like that, because we're too busy right now," Brownell said of his final tournament. "But I thought about it before hand and I will think about it afterward. It is what it is. You have to move on."
Brownell has served in the same capacity for 23 years. When asked if there was a specific tournament that stands out more than the others, he pointed to a specific player.
"Well, when Louie Krogman (of White River) played here, that was an outstanding tournament. That's the one," Brownell said. "So many people followed him. We had a $100,000 budget that year and we took in $155,000 so Louie made the activities association a lot of money."
One downside of the running the tournament is having to miss Aberdeen Central when it qualifies for the State AA tournament.
"That is difficult because we want to watch our teams play," Brownell said. "It is a little easier now because the girls play a week before. But we're missing the boys out west. I would have loved to have seen the Washington game (Thursday) because our kids played so well at the end."
Brownell is not sure what his future holds for the State B, but would be willing to help out if needed.
"Well, I'll do whatever Coach Seiler wants me to do," he said. "I can sit up there (and help with security) or if she has some paperwork for me, I'll be in business."
MORRISON PULLS DOUBLE DUTY FOR WHITE RIVER: Remedy Morrison is a girl on the go.
Last week, the White River senior was a starting member of the girls' basketball team helping the Tigers win their first ever State B championship. This weekend, Morrison is a member of the cheerleading squad at the State B boys' tournament.
"We always want our boys to do good. Coming off of the state championship, we're all ready for the boys to do good," Morrison said. "Even though they lost (Thursday), we're still so proud of them. We're still going to continue to keep cheering them on for the rest of the tournament."
Because she is in two activities at the same time, her schedue gets pretty demanding.
"From going to basketball practice to going to cheer practice, back and forth, we barely got back and I had a day to pack for boys' state (tournament) and then we took off."
Morrison said winning the state title last weekend was an experience that she will never forget.
"It was a very amazing feeling. We were so emotional. It just felt like it was time to happen," Morrison said. "We were so happy that we could spend all of our excitement and joy with everyone from our community."
Morrison plans to play basketball at Mount Marty next season.
Will she able to exhale once this weekend's tournament is over?
"Well, you know, there's golf in the spring and then I have to start getting ready to play college basketball this summer," she said, "so you never get breaks."
ACCUSTOMED TO THE BIG STAGE: Tyce Ortman is no stranger to the spotlight.
The standout multi-sport athlete from Canistota has played in three state football championships and a pair of state basketball tournaments.
"It's always fun playing against the best," Ortman said. "It's always fun to be here at the biggest stage and compete against the best people."
When asked what he will remember most about his playing days with Canistota, the senior said, "Going to all these state championship games. It's always a blast competing against the best of the best."
Ortman understands that some quality athletes never get a chance to be on the big stage.
"I'm very grateful to be one of those of those guys that can compete at the highestl level," he said.
Ortman, last year's Class 9A Football Player of the Year, will be headed to Northwestern College in the fall to play football.
"They're a very Christian school so that's my number one concern," he said. "And they have a great football program. I love the coaches there and the atmosphere. It's a great school."