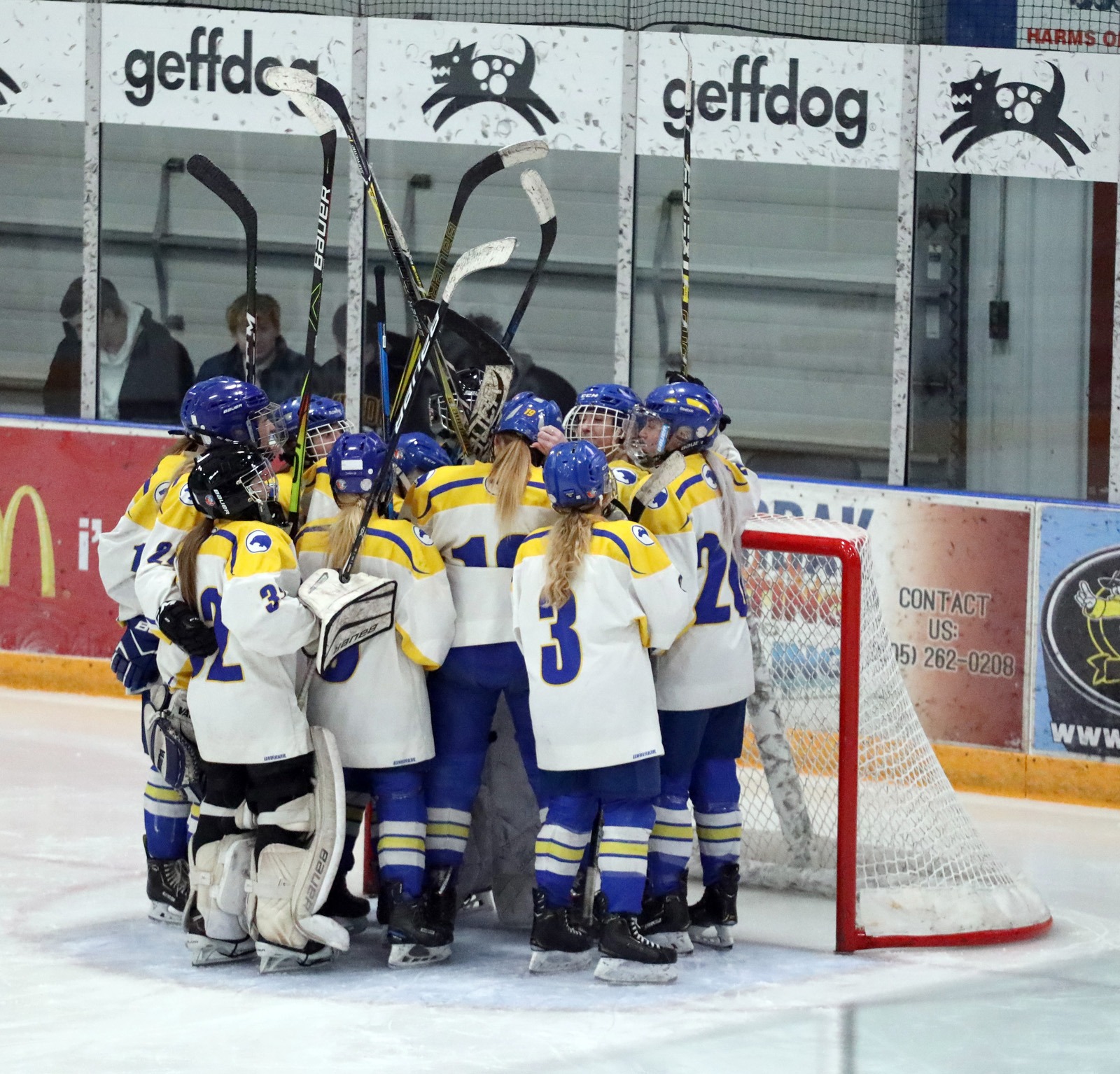 The Aberdeen varsity girls' hockey team has been building itself into one of the most dominating sports programs in state history over the last decade.
It once was a program that only got a handful of wins a season. Now, it has won six out of the last seven titles. And during that run, the Cougars have produced impressive numbers:
On March 7, Cougars defeated Sioux Falls 5-2 to win the 2021 state title.
This was the third year in a row that the two teams met for the state title. Aberdeen has won the last two title battles, while Sioux Falls defeated
Aberdeen 5-4 in overtime for the 2019 title.

The 19-0 Cougars outscored their opponents 178-14 this season.
Led by seniors Danielle Podoll, Justice Small, Morgan Dean, Estelle Harrison, Kaitlyn Holland and Shelby Nash, Aberdeen won its seventh
regular-season league title in a row.
The Aberdeen girls have a league record of 127 wins, 4 losses and 1 tie in the last seven seasons.
In the last seven state tournaments, the Cougars are 20-1, outscoring opponents 169-30 with nine shutouts.
Shelby Edwards coached the 2021, 2020 and 2018 Aberdeen state champs and the 2019 state runners-up.
Rob Weinmeister coached the 2015-17 state champion Cougars.
Only three South Dakota girls' programs have won state titles since the South Dakota Amateur Hockey Association started its varsity girls' state
tournaments in 1999: Sioux Falls (12) Aberdeen (six) and Brookings (five).
Here are the state champions:
2021, Aberdeen.
2020, Aberdeen.
2019, Sioux Falls.
2018, Aberdeen.
2017, Aberdeen.
2016, Aberdeen.
2015, Aberdeen.
2014: Sioux Falls.
2013: Sioux Falls.
2012: Brookings.
2011: Brookings.
2010: Brookings.
2009: Brookings.
2008: Sioux Falls.
2007: Sioux Falls.
2006: Sioux Falls.
2005: Sioux Falls.
2004: Sioux Falls.
2003: Brookings.
2002: Sioux Falls.
2001: Sioux Falls.
2000: Sioux Falls.
1999 (first year): Sioux Falls.