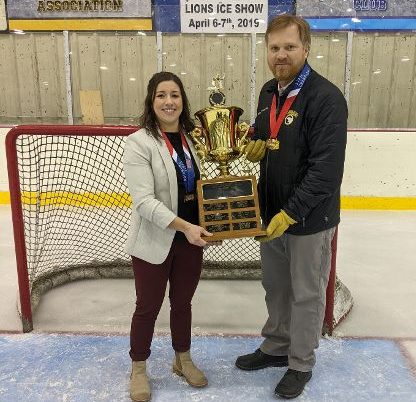 Shelby Edwards is stepping down as head coach of the Aberdeen Cougars girls' hockey team.
Edwards has been the head coach for the past four seasons, during which time the squad won three state championships and finished runner-up the other season.
"Obviously, not an easy decision at all. This is my 11th year coaching hockey. I've been completing a degree for school administration and I'm just kind of looking to take my career in a different direction on that front," Edwards said. "I don't think that I can commit the time that these kids deserve."
Edwards will still be active in girls' hockey, though.
"I'll still be the Girls Development Director for the whole state," she said. "I also think not being the head coach of a team gives me a little bit more time to help develop South Dakota hockey for girls as a whole."
While the Cougars won nearly every time they played, and most of the time by wide margins, Edwards said she will remember the people the most when about about her time with the team.
"I think a lot of people would think that you would remember being so successful," Edwards said, "but all of them, the parents, the players, everybody become like a part of your family. You spend so much time together. I've gotten to watch some of these kids kind of grow up. Just to watch them grow up and become not only great hockey players, but just great people, they're kind of like my own kids I feel like. So, it's definitely not easy, but I still have 100 percent support of them. I'll just be watching from the stands instead of the bench next year."
Edwards totally understands that success does not come easy and appreciates the success that the Cougars have experienced as a program, which include six state championships in the past seven seasons.
"Definitely after 11 years it looks like to the people of Aberdeen that it's always success, but I've also coached teams that also haven't won a game the entire season, too," she pointed out. "Sometimes, not to say that they're complacent or anything like that, but we were talking about ordering championships rings. And I'm like do you know how many people in life actually get to have one of these? And some of them could have six of them. That's a pretty big accomplishment."
Edwards says there is a price to pay for that. It's not just as simple as taking the ice and succeeding.
"I don't think people truly understand how hard it is to stay at the top. You look at people and it's like they have all this success and it's because they're good, but they don't see all the hours of hard work that these girls have to put in and the stress that it causes to know that every single game you go into most people want you to lose."
Edwards gave a shout out to her parents, Joe and Becky, for their constant support throughout her life.
"From first allowing me to play the sport and supporting me as a coach the past 11 years, I don't think they've ever missed a state tournament," she said. "Coaching is not possible without the support of friends and family around you. It takes sacrifice from everyone to be great at something. I know they support me in every aspect of my life and will help me through my next chapter as well."