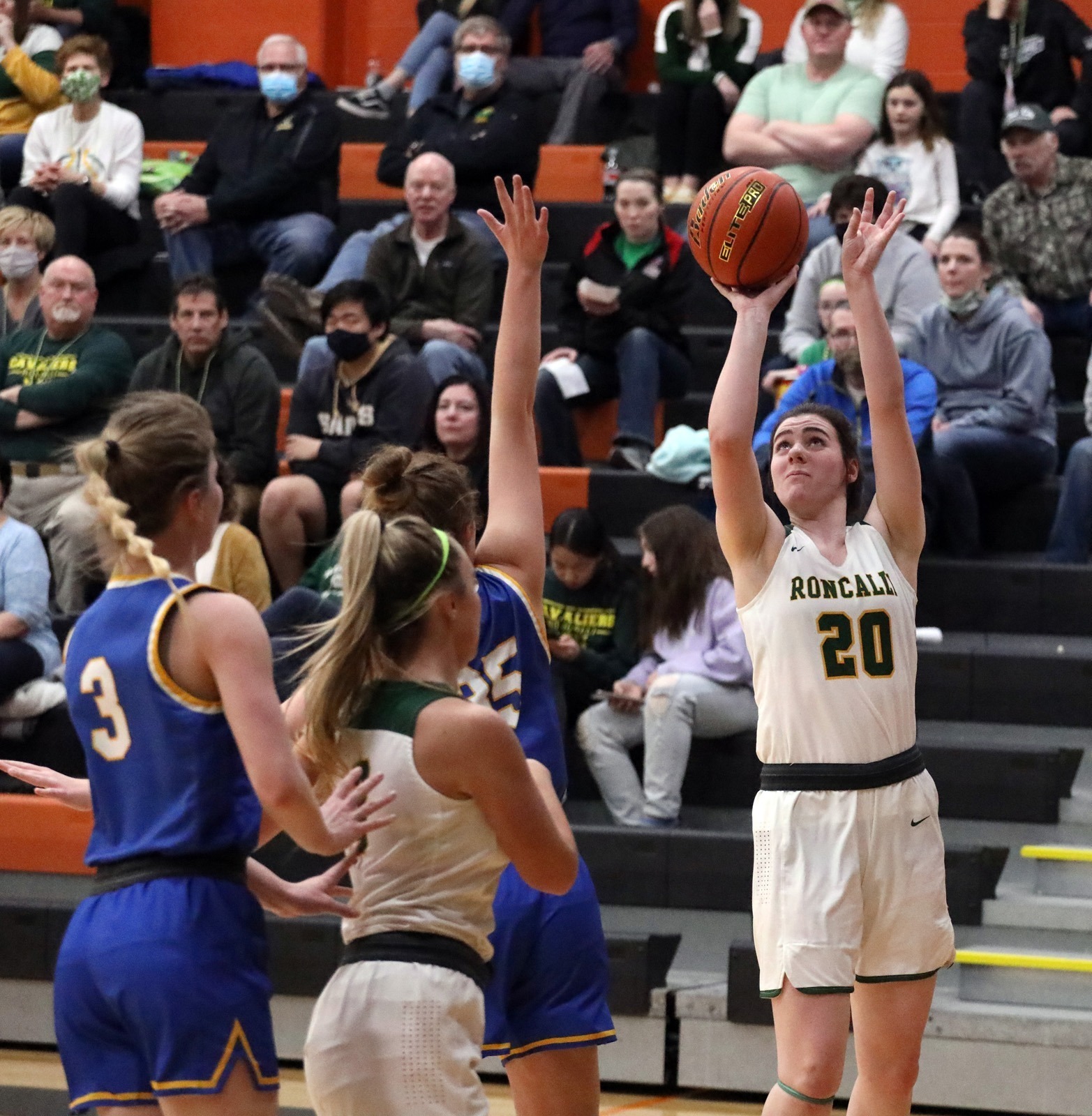 The Aberdeen Roncalli girls' basketball team has plenty of weapons: a potent inside game, a solid outside attack, and a suffocating defense. Just don't forget about the Queen of the Mid-Range Jumper.
Elissa Hammrich knows her comfort zone and when she gets going can make opponents feel uncomfortable in a hurry.
"She kind of knows her game," said Roncalli coach Derek Larson. "We really like how that game has matched up with how we kind of play as a team, also. She's had some really big games for us, especially from that mid-range area."
Hammrich is able to read defenses and gravitate to a spot on the floor where she has become deadly accurate. It's a spot right around the free-throw line on either side of the basket.

"I'm not known as the best shooter past the mid-range so I just kind of know my boundaries and work on where it is," Hammrich said. "My true game is the mid-range jumper. I definitely had to work on it. Big props to Layton Holmstrom. He helped me when I was younger get that mid-range jumper."
As teams work to take away some of Roncalli's other options, Hammrich makes them pay when they leave her unguarded.
"I think she really kind of knows her limitations. It's not like she's shooting shots outside of her realm on offense," Larson said. "She's really good at her craft with that elbow-on-in jump shot."
Hammrich also brings other talents to the table. She is an important of Roncalli's defense, which often sets the tone early and dominates the opposition.
Hammrich said that defense is at the top of the list when it comes to practice.
"I have to say defense is definitely our number one priority in practices. We always say defense creates the offense," Hammrich said. "Every single thing we do is surrounded by our defense. It's not just one person. It's a team effort. We all kind of work well together to get it done on the defensive end."
Hammrich is the lone senior on this year's team. It's a unique situation and puts the leadership role squarely on her shoulders.
"It is a little different. Sometimes in volleyball I had some seniors alongside to make some decisions," Hammrich said. "I just try to be a leader. For sure, there's always extra pressure being the only senior. But I try not to let it get to my head."
Hammrich leads by example with her steady play on both ends of the floor.
"Just a really solid player. You know what you're going to get from her offensively, you know what you're going to get from her defensively," Larson said. "Just a person that we've been able to rely on pretty heavily this year."
Especially when she gets the ball in her favorite spot.
"That's kind of been her MO even going to back to last year. That free-throw on in," Larson said. "She's been really good at that high-post spot. We've really needed her to score from that spot."
Because Hammrich is the lone senior on the squad, she also has earned an elite distinction. When the Cavaliers qualified for their fourth straight state tournament last week, Hammrich became the first girls' basketball player in school history to qualify for the state tourney her entire high school career.
"That still hasn't kind of sunk in, yet," Hammrich said of the accomplishment. "It's amazing. I know it's not just me, it's all the girls from 2018 to now, who put the great effort in. It's great to know that our program has gotten this far."
Hammrich plans to attend North Dakota State University and major in architecture. Outside of intramurals, she will no longer be playing organized sports. That means that this weekend's state tournament will mark the end of the road for her basketball days.
"I imagine it's probably going to be pretty sad, but knowing that I am surrounded by my family and friends I think it will be pretty awesome, too," Hammrich said of the final time she walks off the floor. "And when I go back to the locker room to take off my shoes will probably be pretty sad, too. It will be the real moment for me."