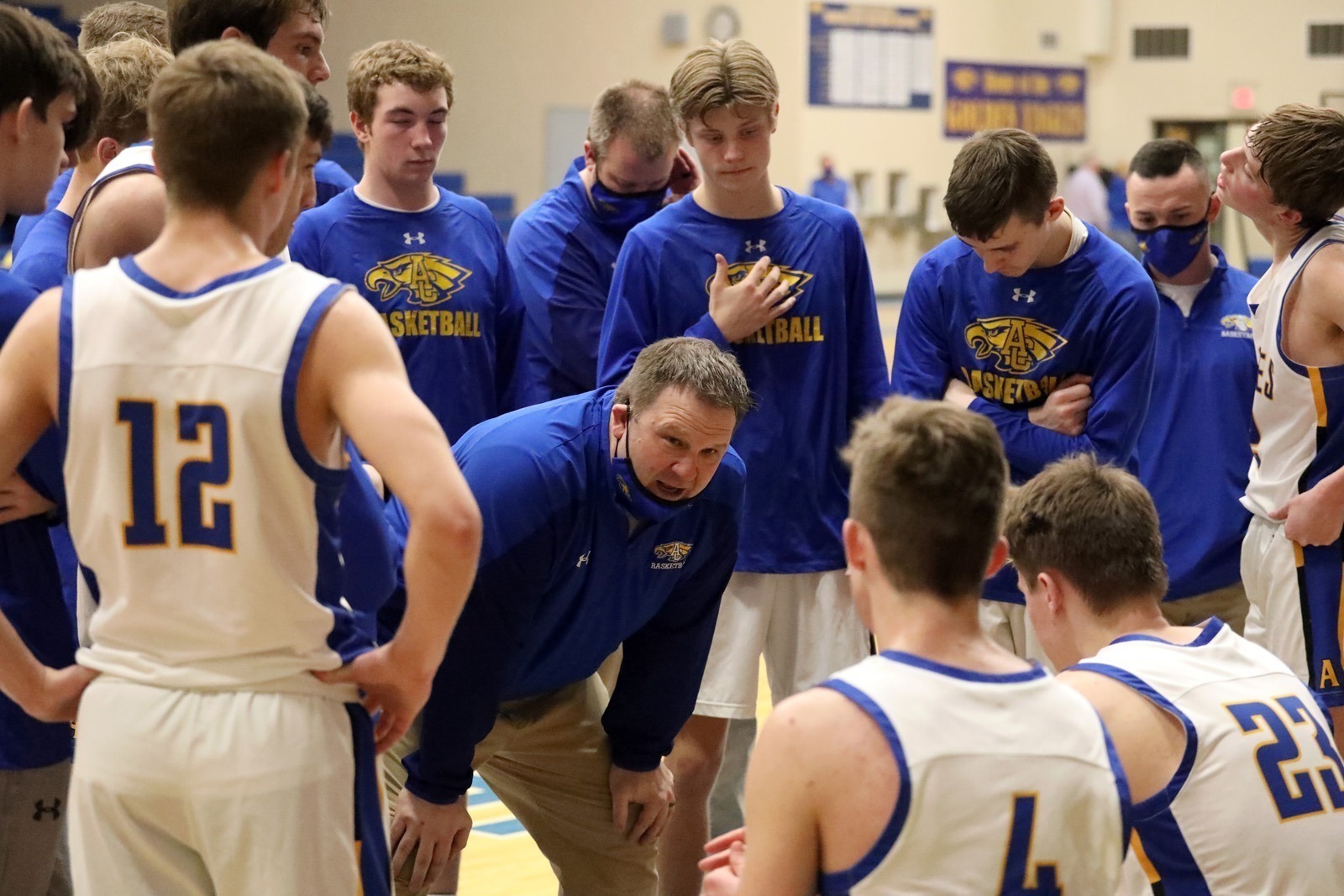 Aberdeen Central may head into the Class AA State Boys' Basketball Tournament as the bottom seed, but the Golden Eagles are excited to be in the field and are hoping to do some damage.
"Our kids are really excited," said Central Coach Brent Norberg. "We have a young group. We've had a lot of ups and down this year, but I think our kids are playing their best ball right now."
The Eagles will face top-seeded Sioux Falls Washington in the opening round at Noon (MDT) Thursday in Rapid City. Central led the Warriors late in the fourth quarter before coming up short in the last game of the regular season.
Washington caught the Eagles off guard in that contest, bolting out to an 11-0 lead.

"We weren't really ready for the pace. I think once we adjusted, we were in really good shape," Norberg said. "I think now we should be ready for that pace. We understand what it is."
The Golden Eagles feature a balanced attack on offense. Sam Rohlfs averages 13 points per game, Harrison Reede 12.8, Alec Voegele 10.6, and Noah Behrends 9.4.
"When we're all engaged and all in it, we're a pretty good team so you have to guard everybody. When you have that, that's certainly an advantage," Norberg said. "Defensively, we've gotten better and better as the year's gone on."
The Eagles, 10-11, battled the top teams in AA this year before coming up short.
"This is a confident group. They go into every game feeling that they can compete," Norberg said. "Every team we played this year we were in the game at one point. We really feel that we can play with anybody."
Norberg believes there are a number of teams capable of winning the state championship this year.
"As the regular season ended, in my opinion, O'Gorman and Brandon Valley were probably playing the best," Norberg said. "Right now, you have a week and a half, almost two weeks in between games, it's almost like starting over so you really don't know. I don't think anyone is going to know until you get out there. I think this is one of those tournaments you play it 4 or 5 different times, you might have 4 or 5 different winners."
What will it take for the Eagles to have a chance in the tournament? Norberg said a variety of things.
"We have to shoot the ball very well. We shoot a lot of perimeter shots. We're not a big post-you up team," he said. "Defensively, we need to be really good. We have to rebound the ball. We can't get bullied inside. We have to keep the ball away from the basket. For us, it's rebounding, take care of the ball and defending, and I think we'll be OK."
First up, is conquering the kingpin in Sioux Falls Washington, which has been an elite squad all season. The Eagles, making their first state tourney appearance since finishing runner-up in 2018, are ready for the challenge.
"What it comes down to is matchups. Obviously, they're very, very good. They're the number one seed for a reason," Norberg said. "They've had a great year, but we do feel it's a team that we matched up pretty good with the first time we played, so we feel like we have a chance to win the game. We feel like we have a chance to win every game that we're in out there."