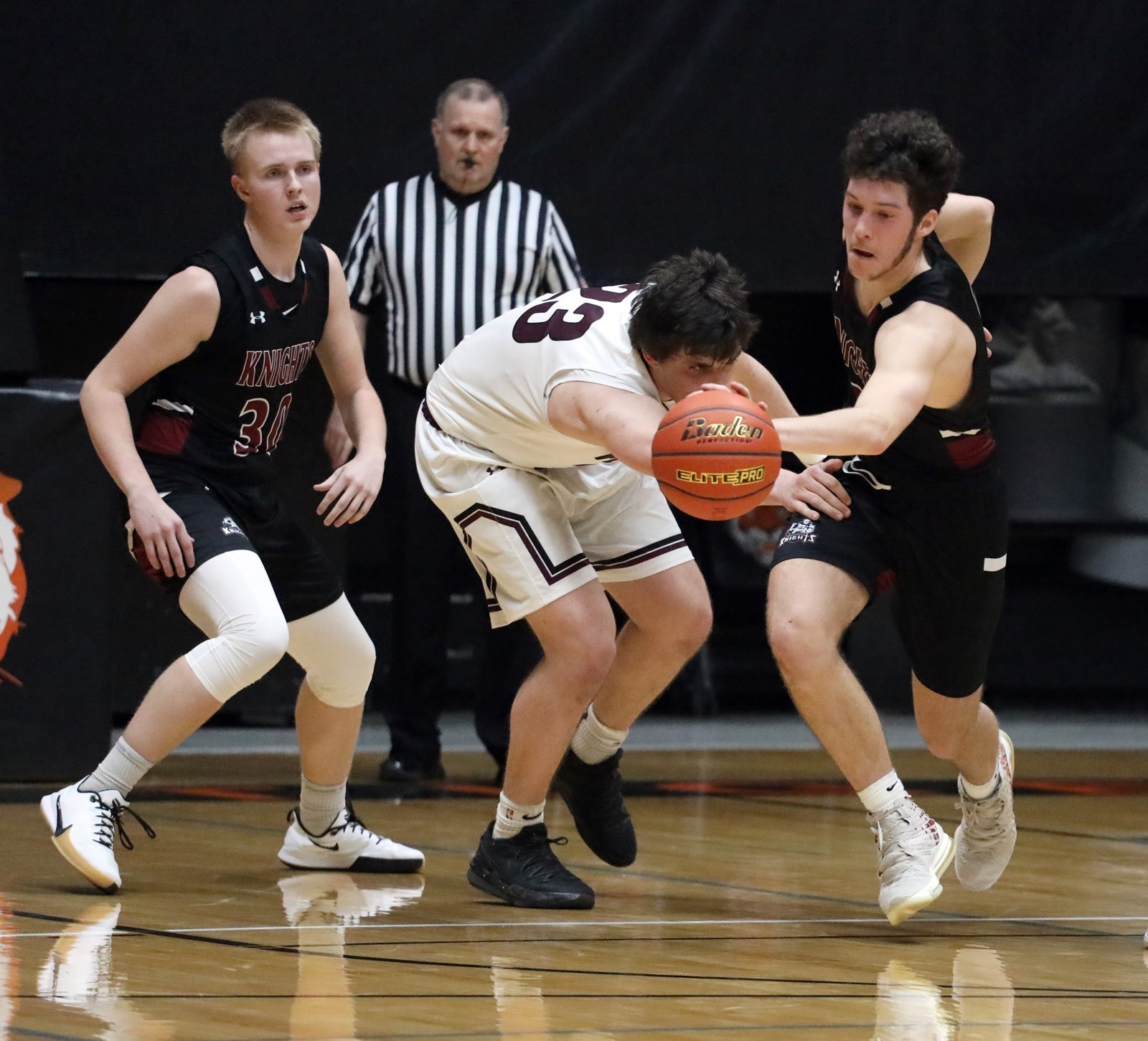 Aberdeen Christian officially qualified for its first State B boys' basketball tournament one year ago. The Knights will officially take the floor in their first state tourney this evening, becoming the first ever Aberdeen squad to play in the State B tournament.
Because COVID wiped out last year's tourney, Christian and all of the other state qualifiers never got a chance to compete.
"It feels good to be back," said Christian Coach David Rohrbach. "It's just a different feel knowing we're going to play. It's just really exciting."
The Knights struggled to start the season, losing two of their first three games, before they began to gel.

"It was definitely a rough start. Getting a little bit of a new group together, it was going to take a little bit of time," Rohrbach said. "We knew had a lot of talent on the team, we just had to figure out a way to make sure our defense was where we wanted, that we were playing together and playing well at the right time."
Christian quickly turned things around and played strong down the stretch. The Knights (18-4) feature a balanced attack with four players averaging in double figures.
"We have a lot of guys that can score and we have a lot guys that can shoot. When we're knocking down shots we can be really tough to defend," Rohrbach said. "That's why we preach defense so much. For us to be successful you have to score, you have to be able to hit shots. But to win consistently and to be able to compete night in and night out – which you have to do at state three days in a row – you have to play defense, you have to compete on the defensive end. You have to let your defense feed your offense."
Rohrbach said it has been an exciting week since the Knights punched their ticket to this year's state tourney. Now, he said the mindset has to change with the games on the horizon.
"Now you kind of have to turn the switch," he said. "Your mindset has to be how do we go now and compete at the highest level possible?"
The Knights have shown that they can score points in bunches and also buckle down on defense. Rohrbach just hopes that his players can all play well at the same time in the biggest games of the season.
"We have a lot of guys that can do different things," Rohrbach said. "Hopefully, we see multiple guys kind of all clicking at the same time. That would be ideal."